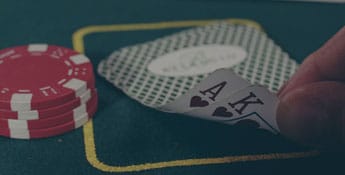 In this article we will dive in to the world of the richest poker players. In fact, we will show you the top 20 poker players with the highest net worth today. This includes poker winnings, but also other assets the richest poker players in the world might have gained from investments and other sources of income.
Top List of the Richest Poker Players 2023
There's a fine line when trying to decide whether something is a game or a sport. Poker is that line. For every heart-stopping score on the field, you can bet there's a heart-stopping hand on the felt. The physical exertion is invisible to most, but the energy that goes into each decision is real.
Professionals never show it because the emotions never get past their shades. Stunning bluffs; insane folds; here-comes-another-mortgage calls. Those are the elements that make poker a more taxing activity than any sport.
In poker, every athlete is on their own. Only a tiny percentage of players can handle the tedious journey to the top. Not every member gets paid all the time, but the rare winners are swimming in cash. Below is a list of the 20 wealthiest poker players whose earnings make some pop stars drool.
20. Vanessa Rousso ($4 Million)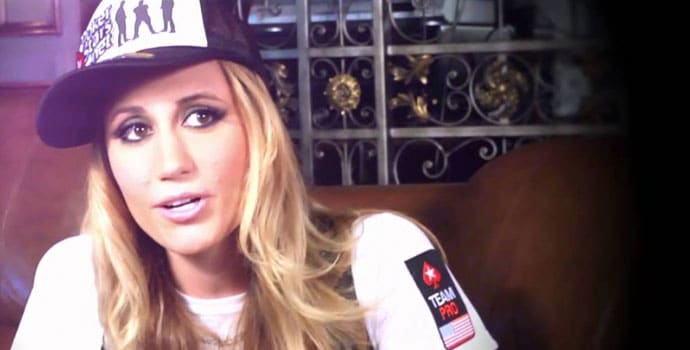 As #20 on the richest poker players right now top list we find Vanessa Rousso.
Vanessa made her name through many incredible accomplishments. They include a 1st place in the No-Limit Hold'em at WPT in 2006 and another at the European High Roller in 2009. Those led to an endorsement by PokerStars sometime later. Her achievements extend beyond poker. She's also a D.J, an attorney, and a Sports Illustrated model.
Many sources claim Rousso has retired from the game. On some level, it's true. Fans have been seeing her less at the tournament tables. That doesn't mean you won't see her pop up at the occasional cash game, high stakes, of course. Vanessa has thrown heads with some of the best out there, including most on this list.
Also read: Vanessa Rousso net worth.
19. Jonathan Little ($9 Million)
Like most poker professionals, this two-time WPT champion began his career online. Jonathan's penchant for card games showed in his early childhood. It all started with Magic the Gathering, and then when that stopped doing it for him, poker came to the rescue. When denied his dad's credit card for some online action, Jonathan bit his lips until he got his own.
He then went on to turn $50 to $35,000 playing Sit&Go. You can bet the look on his dad's face after that was worth more than anything 35 thousand dollars could buy.
Jonathan has an impressive record, even without his WPT wins. Various cash-ins include a 1st place in NL Hold'em Eight Max in 2019 and a few final-table World Series appearances. His tournament earnings added up to a staggering 7 million dollars. He's also attended many high stakes cash games over the years, which earned him over $2 million. Nowadays, his focus has shifted to coaching poker. Jonathan now has a website and a YouTube channel dedicated to teaching strategies.
18. Tom Dwan ($10 Million)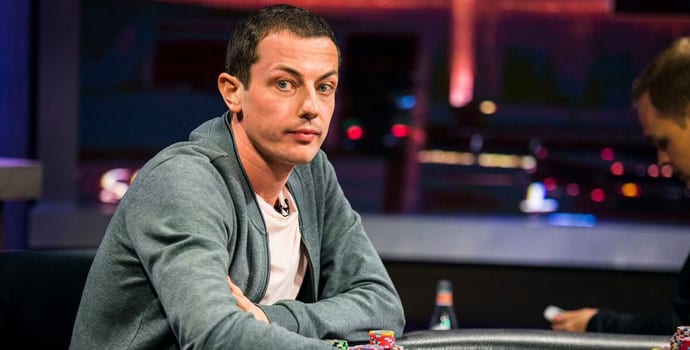 His real name is Thomas Dwan Jr., but some call him Tom, and most call him "Durrr." It sounds like they make fun of him, but that's actually his username on Full Tilt Poker, where he's made over 300 grand. The name stuck with him, and so did the money. Dropping out of college to hit the felt, Tom went on to rack up numerous cash prizes over the years. Some of his best wins include the 6th place in the Aussie Millions 2014 and several come-ups on Poker After Dark.
Dwan is iconic not only for his poker skills but also for his poker face. The way this guy holds still during a hand can make statues jealous. There isn't a shred of emotion, whether he has the best hand or praying for dear life. It's hard to imagine the amount of energy needed to sustain such a state.
Tom is also well known for his banter at the table and side bets that seldom ended in his favor. He's one of those rare players that don't seem to get on tilt after a big loss. After all, he only started with 50 bucks.
Also read: Tom Dwan Net Worth.
17. Doug Polk ($10 Million)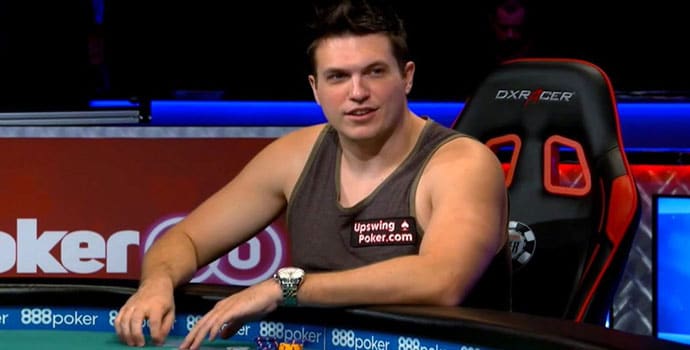 Born in 1988, Doug Polk is one of the youngest poker pros and the youngest on this list. Besides his exceptional poker feats, Doug is well known for his personality at the table. The guy can talk about pretty much anything to anyone. Some say it's part of his strategy to get to know his opponents. Doug never confirmed it, but he did mention conversational tactics in some interviews.
Polk is a proud owner of the World Series bracelet for NL Hold'em in 2017. He had another 1st place in the Super High Roller 100k buy-in NL in 2014. These two trophies make up almost half of his earnings. Doug has also made a few final tables, two of which were the Aussie Millions two years in a row. The young pro now has a poker coaching site called Upswing and a YouTube channel on poker hand analysis.
Also read: Doug Polk Net Worth.
16. Scotty Nguyen ($12 Million)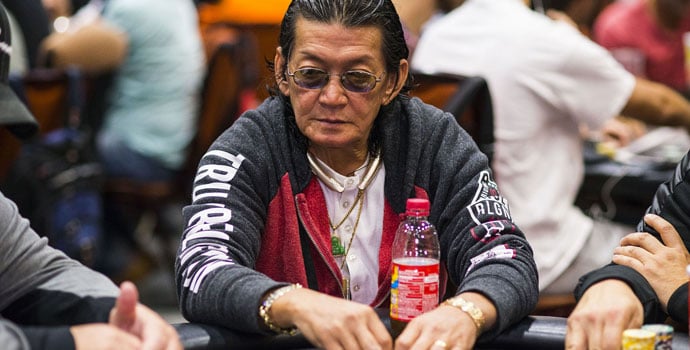 Otherwise known as the Prince of Poker, but not because he has royal blood. Unlike many professionals, Scotty didn't start his poker career online. His journey to poker was rather rough. Coming to the US at the age of 14, his approach to life as a youngster was card games. That got him expelled from school, so he went on to become a casino dealer. As opposed to most top players, Nguyen wasn't a prodigy. He wasn't that keen on math, and he even considered himself a gambler at one point.
Despite his penchant for coin flipping, Scotty is the owner of five WSOP bracelets. That's an incredible feat for any player at any level. One of his bracelets is the 1st place win at the WSOP NL Hold'em in 1998. On top of that, he also won the $50,000 HORSE Championship in 2008. As of now, he is the only player who won both the WSOP and Player's Championship.
With a $12 million net worth Scotty Nguyen grabs spot number 16 on the richest poker players ranking.
Also read: Scotty Nguyen net worth.
15. Jennifer Harman ($15 Million)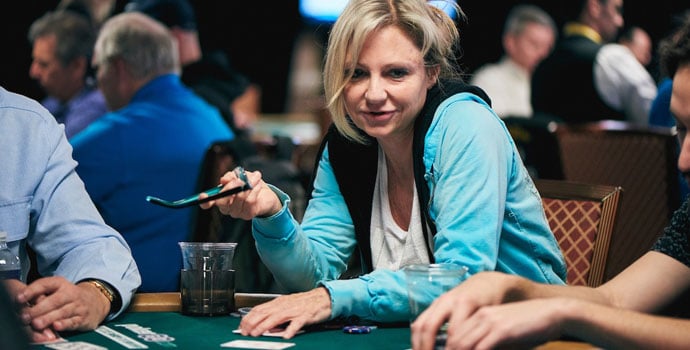 Growing up in Vegas might have played a part in leading this two-time WSOP winner to the path of poker. Jennifer started playing at the casino way before legal age. Poker piqued her interest at an early age. Her achievements began early, too. In 1998, Harman had managed to win her first Limit Hold'em at the Orleans Open for over $30,000.
She didn't stop there. Jennifer won her first WSOP in 2000 in the NL 2-7 Draw. From there, she remained as the only female player to have won the World Series for ten years. What's even crazier is that before the tournament, she didn't know how to play.
She had a 5-minute learning session with a friend before jumping in the fire. You can call it luck, but that would make her the luckiest poker player ever lived. Imagine she had chosen politics instead of cards. It's a dubious supposition, but let's agree that it's a good thing she hadn't.
Now, Ms. Harman is one of the 15th richest poker players. Nice grinding!
Also read: Jennifer Harman Net Worth.
14. Phil Laak ($20 Million)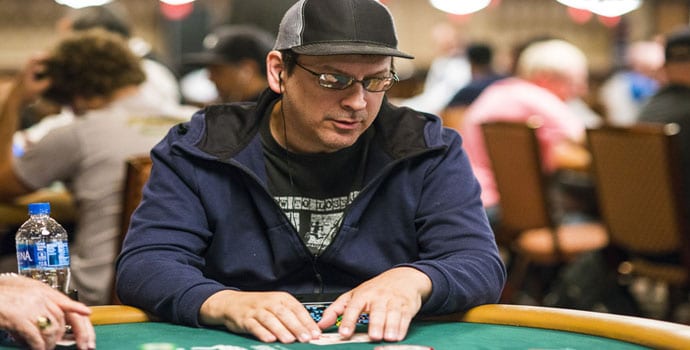 There's a term in poker called the Hoodie, which indicates someone who's super grindy and only there for the cash. You can always tell a player is a Hoodie by their…well, hoodie and shades and a lack of communication. That happens to be Phil Laak's general attire. The difference is, he talks more than anyone at the table.
He often wins more than anyone, too. At the age of 48, Laak is the holder of 1 WSOP Europe bracelet (2010) and a 1st place in the WPT NL (2004). Phil has accumulated many notable victories over the years. Many of them were the WSOP final table NL Hold'em. He also made 6th place in the $5,000 PL Omaha World Series in 2014.
His tournament earnings only account for a small part of his net worth. Most of his winnings come from high stakes cash games. He's known to be a regular on NBC's Poker After Dark, where he seemed to be wearing the same hoodie for five seasons.
Also read: Phil Laak net worth.
13. Phil Hellmuth ($23 Million)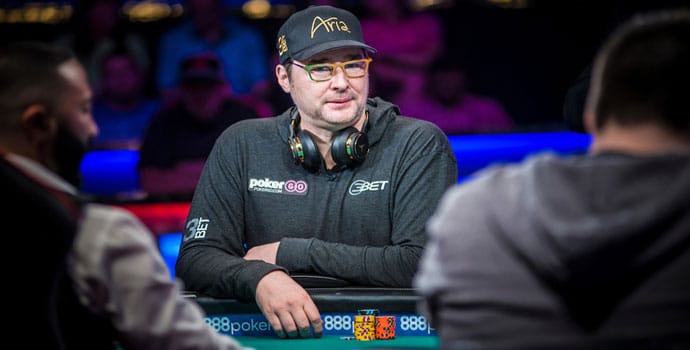 "He calls me with Queen Ten, honey!" Yeah, that phrase is Phil Hellmuth's table personality in a nutshell. It might as well be his slogan. He's more famous for his tantrums than his actual poker achievements. Phil's interests in poker started at a young age.
He never stood out as an adolescent or student, and his classmates would remember him as "that one kid." Now, people refer to him as the Poker Brat. He may not show it, but everyone knows he likes the name.
Hellmuth has a formidable poker record, and he's won so many WSOP bracelets he might have stopped counting. It started in 1989 at the 20th World Series NL Hold'em, where he got his first victory. He became the youngest player ever to win the WSOP. Another notable win was when he took first in the National Heads-up Poker in 2005. It was 100% profit for Hellmuth as he came in with a backer.
Also read: Phil Hellmuth net worth.
12. Jennifer Tilly ($25 Million)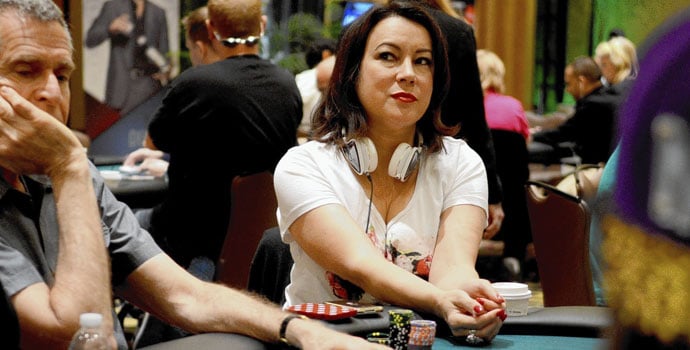 Most people would recognize this Ladies NL Hold'em winner as Tiffany Valentine from Child's Play. Unlike almost everyone on this list, Tilly began her career as an actress. She played in a lot of classic sitcoms like Frasier and Cheers.
Growing up with a gambling-addicted father, Jennifer was never a stranger to poker. After taking a break from acting, she picked up the game on a professional level. She made her presence in the 2005 Ladies NL Hold'em WSOP. She continued to earn a series of cash-ins and final-tables.
One of the most notable in her career to date was a 1st place in the 2010 Bellagio Cup. While she hasn't participated in many tournaments, Tilly's been super consistent. She also has plans to keep playing. So, that leaves the question: is she better at poker than acting?
Today, Jennifer Tilly is the 12th richest poker player, and the highest ranking woman on the list.
Also read: Jennifer Tilly net worth.
11. Patrik Antonius ($25 Million)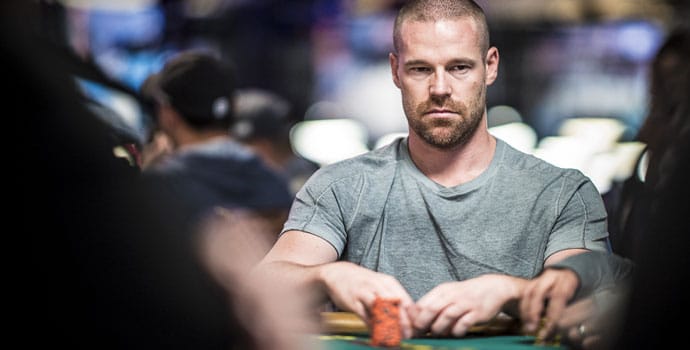 Coming all the way from Finland, this stone-cold player is one of the few without a WSOP title. Antonius takes the poker face to a whole new level. If you stare at him long enough, he might convince you that you owe him money, and you'd pay, too. In his whole table career, this guy has accumulated about two sentences worth of words.
Giving up tennis coaching for poker was a wise decision for Antonius. While owning no bracelets, he makes up for it by his consistency. He's been making the final table almost once a year, at various tournaments. Three of those were at the Aussie Millions NL Hold'em, where he came in 2nd each time.
For some players it's really big wins that put them on the lists of the richest poker players, for Partik Antonius it's proper grinding and consistency.
Also read: Patrik Antonius net worth.
10. Antonio Esfandiari ($27 Million)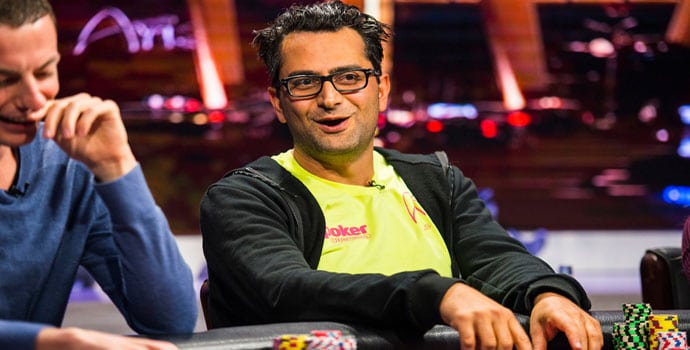 Otherwise known as "the magician." Not only because his skills are magical, but he used to be an actual magician. That's how it started for him, though. A random invite to a poker game, while he was performing magic, was all it took.
Antonio's career went from 0 to 100 in a flash. He won his first WPT in 2004 for a smashing $1.4 million. His streak continued when he took another bracelet at the WSOP a few months later. This guy's complete disregard for variance is insane. Why? Because he went on to make the final table in two more tournaments the following year.
One was the 2005 Heads-up Poker Championship, where he took 3rd place. The next one was a Five-Star WPT event a month later, where he also came 3rd. Forget about magic; three big wins in one year is the biggest trick Antonio had ever pulled.
Also read: Antonio Esfandiari Net Worth.
9. Tony G ($36 Million)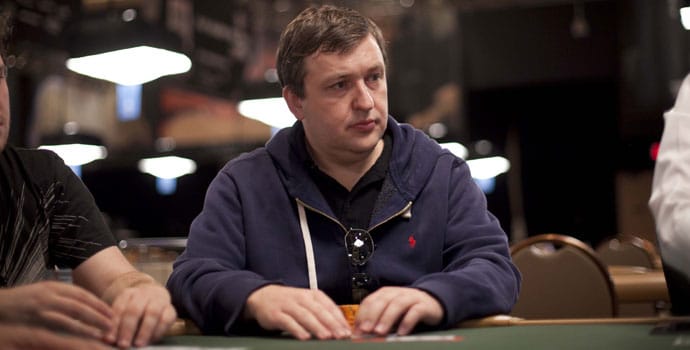 The real name of this Lithuanian entrepreneur/poker professional is Antanas Guoga. Mr. G, here is a total package. He is not just one of the richest poker players of our time. Parallel with his poker career; he'd put in a lot of political work and even became a member of the European Parliament not too long ago. In his free time, he's a simple entrepreneur who owns Pokernews, one of the biggest poker sites.
While Phil Hellmuth may throw a tantrum and call you an idiot, this guy will talk you to death. He's a politician, so what do you expect? Remarkable for his supreme arrogance at the table, Tony G knows how to get into people's heads. His track record in the game is nothing short of impressive.
Tony excels at almost every variation of poker. He's won in Europe twice, once being the NL Hold'em Short Deck championship last year. He also had many cash-ins at the WSOP, including the NL 2-7 Draw Lowball in 2008.
8. Justin Bonomo ($49 Million)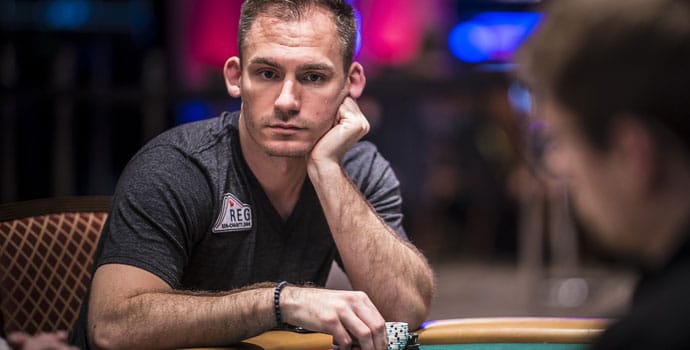 It seems there's a mysterious connection between Magic the Gathering and poker. Like a lot of young pros, Bonomo used to compete at MTG before moving on to the big boys game. Don't let his good looks fool you; the guy is a calculating machine. Some of his best hands got featured on the $10k buy-in Loose Cannon cash games. The way he analyzed every move and explained his decisions is very eye-opening.
One of his most notable accomplishments has to be the 4th place he made at the EPT in 2005. That made him the youngest player ever played at a televised final table. 2018 was a good year for Justin. He made three 1st places, including a $1 million WSOP NL Hold'em bracelet. On top of that hefty prize, Bonomo has two other WSOP bracelets in his career.
Also read: Justin Bonomo net worth.
7. Daniel Negreanu ($50 Million)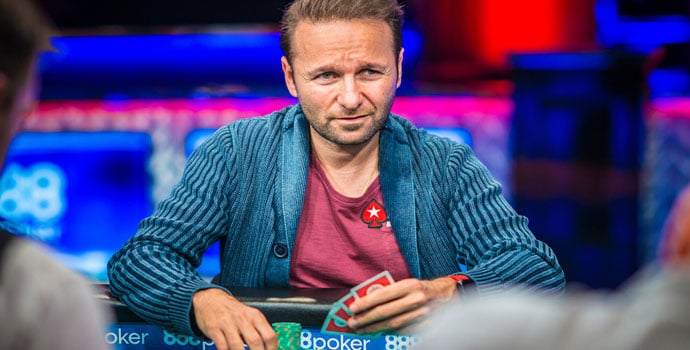 Spot number 7 on the richest poker players top list goes to Daniel Negreanu.
Nicknamed Kid Poker for his talent and accomplishments at a young age. Later on, he became more popular for his table antics. He's one of those guys that would talk to you regardless if you're paying attention or not. When hearing the name Negreanu, most players would chuckle before saying anything.
Well, his skills are no joke by any stretch. Besides his questionable manners, Daniel is well known for his incredible reads. Many times he had analyzed the hand, put his opponent on a hand out loud, then made the right call.
Almost all Negreanu's net worth comes from tournament winnings. He's one of the biggest earners in live tourney at about $42 million. He has won a total of six WSOP bracelets and two WPT events. That is, on top of tens of cash-ins over the years, including many Aussie Millions final-tables.
Also read: Daniel Negreanu net worth.
6. Bryn Kenney ($56 Million)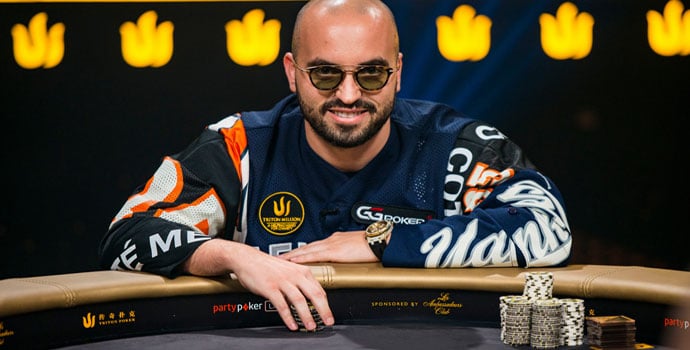 Another Magic the Gathering deserter. Bryn Kenney admitted he loved the game, but it wasn't making any money. Good thing he never took that honesty to the poker table. Otherwise, he wouldn't be the highest earning tournament player today. Though he owns only one WSOP bracelet, Bryn has racked up 28 other titles.
Those, along with 264 other cash-ins, make him one of the most consistent players of all time. He's also one of the few players who make the final table in the Triton Championship. Coming in 2nd at the Triton Charity Invitation in 2019 earned him the biggest win ever. The prize was a little over $20 million, which makes up almost half his net worth.
Bryn Kenney is at the moment the fastest climber on the top list of rich poker players in the world. Let's see if he can climb even further during the year of 2023.
Also read: Bryn Kenney Net Worth.
5. Doyle Brunson ($75 Million)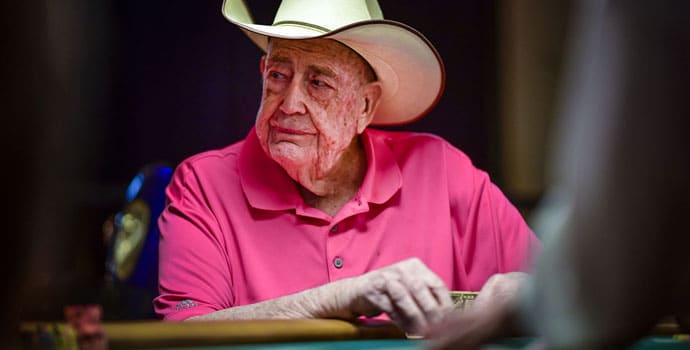 There are brats, and there are kids. There are princes and icons; then there are legends. Doyle Brunson, the number 3 richest poker player ever, is as legendary as they come. People build statues to remember their heroes, and Poker players named a hand after Brunson.
The hand that got this 86 year-old Texan shark famous consisted of ten deuce of spades. It was during the 1976 WSOP final that Brunson took the bracelet with these cards. Tons of debate erupted around this questionable decision. It's due to the simple fact that Brunson had no good reason to call preflop. Some called it a bluff, while others declared it lucky. Up to date, Doyle Brunson has claimed 10 WSOP bracelets in many variations. He also won a series of WPT titles and is a regular on the NBC Poker After Dark.
Also read: Doyle Brunson Net Worth.
4. Chris Ferguson ($80 Million)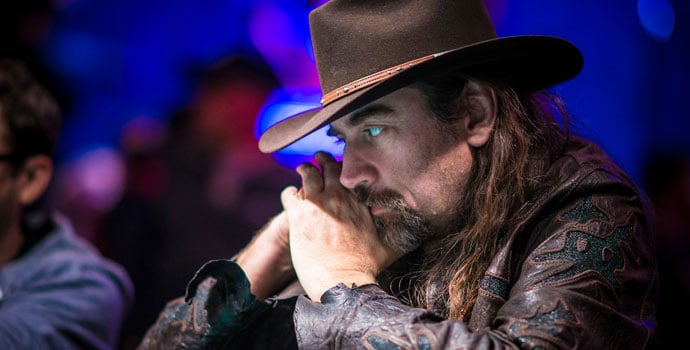 While Phil Laak is unmistakable for his hoodie, they call Chris Ferguson Jesus for his hair and beard. It's hard for an amateur player not to underestimate his ragged appearance. This guy always looks like he's going through two divorces at the same time. That's the trademark of his strategy, though.
Having a Ph.D. in computer science, this Californian cowboy is as analytical as it gets. Both of his parents are mathematicians, so he grew up already with numbers flying in his brain.
Ferguson has squeezed out some juicy wins in his career. He got a total of six WSOP bracelets so far and has plans for more. He's also a huge Omaha and Hi-Lo player and other less popular variations. One of his World Series wins was the Omaha Hi-lo Split 8 or Better in 2001, where he bought in for $1,500.
Our article on the richest poker players contains a few legends, and Chris "Jesus" Ferguson is definitely among them.
Also read: Chris Ferguson Net Worth.
3. Sam Farha ($100 Million)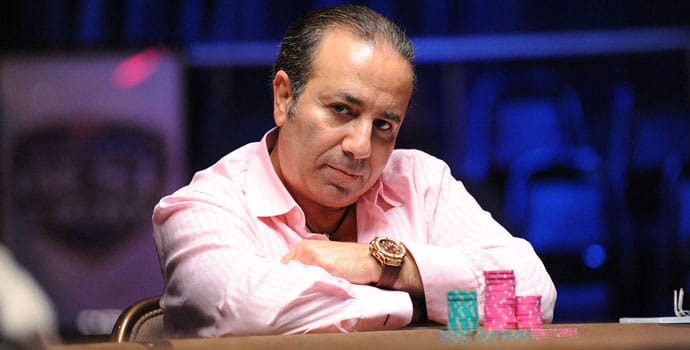 Coming to America during the Lebanese Civil War, Sam Farha landed on the path of poker at an early age. It was the best decision he ever made, besides leaving town, of course. Other players name him Mister Cool, and most call him Sammy. He deserves the name, too.
In all his televised games, Sam has proved to be one of the calmest poker players. He had countered all his tilting losses with nothing but smiles and banters. It's something not even the best of them are always capable of doing.
Farha is well known for his final hand versus Chris Moneymaker in the 2003 WSOP. There had been tension before and during the hand. The two players then later had a rematch where Farha came on top. They then played again in 2011, and this time Sammy did not hold his ground. He now owns three WSOP bracelets and has cashed in at many events. The majority of his earnings come from high stakes cash games. One major event was the NBC Poker After Dark.
2. Phil Ivey ($100 Million)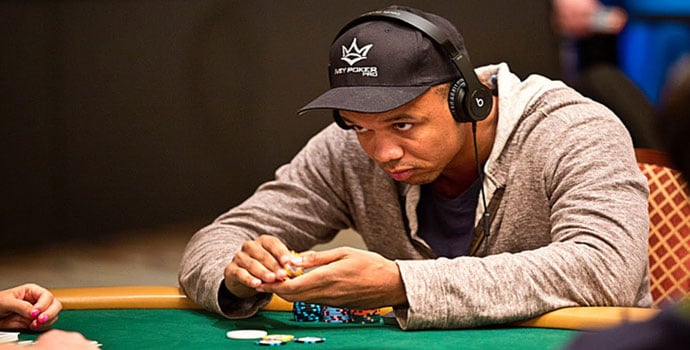 Talking about poker without mentioning Phil Ivey is like frying chicken without thinking of KFC. If he could win another award, it would be the most mysterious player of all time. It's not like he doesn't talk or wears a mask. The guy has a way of concealing information even when he's having a conversation. In his entire career, not too many players have managed to bluff him out of a pot, if any.
Phil Ivey has won ten WSOP bracelets and a WPT title, making him one of the most successful players. He has also managed to take home a 2010 Bellagio Cup spot and a World Series win in the same year. Ivey is also an avid cash game player. He's made his way to the Triton 1 million Euros in Asia. There Phil played among the wealthiest people of the continent, and it's also the highest stake he's ever been in.
Arguably, Phil Ivey is the richest poker player if you count only poker winnings, but in this list we compare the net worth as a whole.
Also read: Phil Ivey Net Worth.
1. Dan Bilzerian ($200 Million)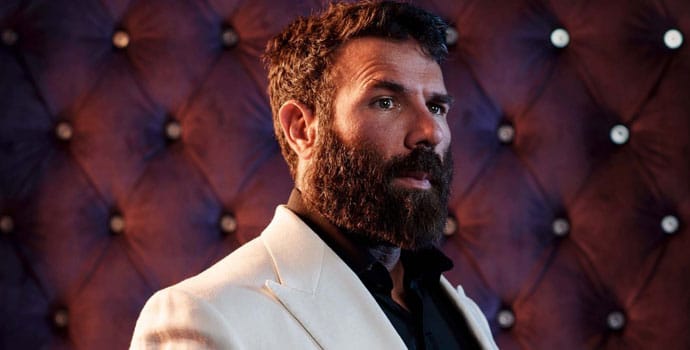 The problem with being the best is that everyone will want to know how you got there. Dan Bilzerian does play poker, it's true, but how he made 200 million dollars, no one ever found out. There's not much to say about this Instagram model slash producer except he's attended the 2009 WSOP; he did not win it as records show. Dan claims most of his winnings came from side bets and low profile cash games.
According to Bilzerian, he one time managed to win over $10 million in one poker session. He also announced a staggering $50 million win in 2014. Despite his loud presence on social media, no sources have been able to confirm this, but the money he has is real. How much of it came from poker? No one is sure.
In a way, listing Dan Bilzerian as number 1 in a top list over the richest poker players right now is wrong. But on the other hand, he does play poker professionally (at times at least) and his net worth is the highest of them all.
Also read: Dan Bilzerian Net Worth.
Conclusion: Richest Poker Players
Poker sure is an interesting profession. It's a career where you cannot lose your job, only your house and everything else. On the other hand, it can give you everything. On average, the players on this list make around $400,000 a year. That puts them on par with any US president, except they walk a lot less.
Most come to poker for the money, some stay for the race. The difference between the best and the rest is that they don't try to win it. Poker is more about chasing and manipulating the odds. Once the hand is over, the thrill is gone, and you do it all again.
There will be more talents coming to the game. Whether they'd be better and more amazing than these top dogs, the cards will decide. For now, these 20 richest poker players remain as the benchmark for excellence.
More rich poker players
We've made poker profiles for some really rich poker players that did not make our list.
Other rich poker players include:
Updated on: