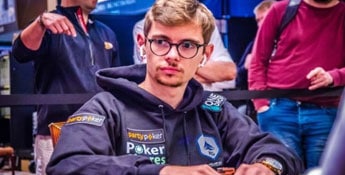 Fedor Holz Net Worth: In the poker world, there are many charismatic and fascinating characters. Fedor Holz is one of these players. Not only has he been hugely successful under the age of 30 years old, but his beliefs make him a role model for many young men worldwide.
So who is Fedor Holz? Why is he so successful at such a young age? Just how much is Fedor Holz's net worth? What is about him that makes him such a good role model? This page is dedicated to him, and we will present to you the history and the net worth of this genuinely individual poker player.
| | |
| --- | --- |
| Name | Fedor Holz |
| Nickname | CrownUpGuy |
| Profession | Pro poker player & entrepreneur |
| Born | 25th of July, 1993 |
| Net Worth | $32.5 million |
Early Career
Fedor Holz was born in Saarbrucken, Germany, on 25th July 1993. His mother was a single parent. He claims that in his early childhood, his family was poor, and as such, he was bullied at school.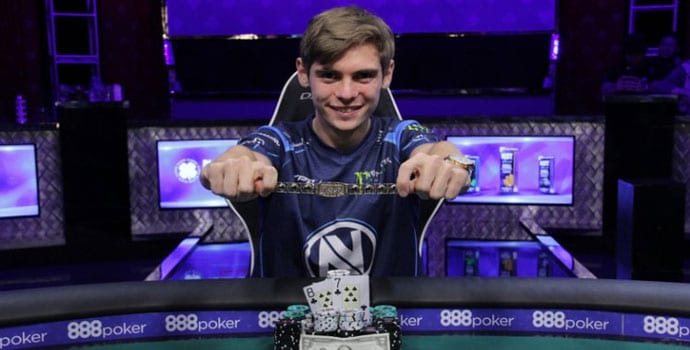 When he was 17 years old, he left school and home to study informatics at university. He found this subject dull and boring, but during this time, he developed a taste for poker. He and his friends skipped school classes to play poker together. Interestingly enough, at first, he was not a good player and repeatedly lost to his friends.
Not one to give up, he decided to study the game and improved his skills. Finally, at the legal age of 18, he began to play poker online, using the nickname CrownUpGuy. This platform was where he rapidly honed his game. Pretty soon, he was winning between €300 and €400 per month. From that moment, he decided that he was ready to start playing professionally.
Professional Poker Career
In 2012, at the age of 19, he came second, winning €15,320, when he played at the €500 No-Limit Hold'em GPT II Deep-stack Series Main Event. As he was so young and new on the scene, the poker industry sat up and took notice. The following year he and his poker-playing friends all moved from Germany to Vienna, Austria, and this was when he started to be more successful. In February of 2013, he achieved 1st place at the Lebanese Poker Tour, winning $4,695.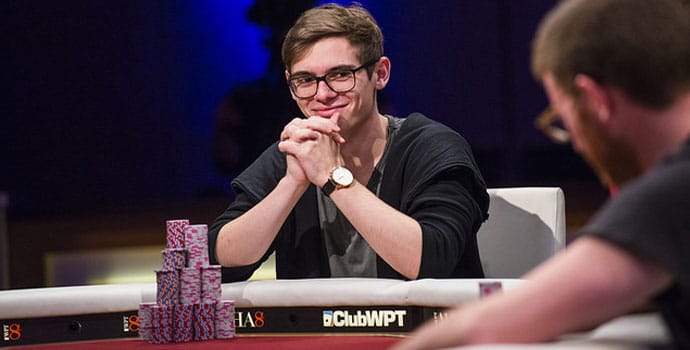 His first colossal win was in December 2015 at the WPT Five Diamond World Poker Classic, where he won his only WPT Title coming in 1st place and receiving $1,589,219. He followed this a month later, earning $3,072,748 at the 2016 World Poker Tour National (WPTN).
His most impressive win was an incredible $6,000,000 at the World Series Poker event in 2018.
Fedor Holz: Achievements at a glance
In his six-year professional run, Fedor Holz achieved greatness in a brief period. A WPT title, a WSOP bracelet, and some of the biggest wins in poker history, he found his name in the Forbes List richest 30 under 30 in Germany.
World Series of Poker Bracelets
In his career, Fedor Holz only won the one bracelet. After he won it, he announced that he would retire from professional poker playing. And while he only played in a selection of tournaments after that, he didn't officially retire until 2018.
| | | |
| --- | --- | --- |
| Tournament | Location | Year |
| 47th World Series of Poker | Las Vegas, USA | 2016 |
World Poker Tour Titles
Fedor Holz won one World Poker Tour title in December 2015, defeating 45 other players, some of the best in the world. He earned $1,589,219, the most substantial score in poker for the year.
| | | |
| --- | --- | --- |
| Tournament | Year | Rank |
| WPT Five Diamond World Poker Classic | 2015 | 286 |
Fedor Holz: Biggest Cashes
In his career, Fedor Holz has won many tournaments, some wins were huge, and some were quite small, following is a list of his biggest successes. These significant amounts have contributed to Fedor Holz's net worth considerably.
| | | |
| --- | --- | --- |
| Tournament | Winnings | Year |
| 49th World Series of Poker | $6,000,000 | 2018 |
| Triton Poker Super High Roller Series – Macau | HK$16,398,000 | 2017 |
| Triton Poker Super High Roller Series – Montenegro | HK$3,472,200 | 2017 |
| PokerStars Championship Macau | HK$6,749,170 | 2017 |
| EPT – 13 – ESPT – 7 – Barcelona | €1,300,300 | 2016 |
| 47th World Series of Poker | $4,981,775 | 2016 |
| Aria Super High Roller 9 | $637,392 | 2016 |
| 2016 Super High Roller Bowl | $3,500,000 | 2016 |
| 2016 World Poker Tour National – Philippines | $3,072,748 | 2016 |
| WPT Five Diamond World Poker Classic | $1,589,219 | 2015 |
| APPT 2015 Asia Championship of Poker | HK$889,000 | 2015 |
Fedor Holz Recent Earnings
In his final year of playing professionally, he played in only two tournaments. The first was his largest ever win. After this event, he didn't need to play anymore and participated in one more game where he placed 36th and won one of his smallest amounts.
| | | |
| --- | --- | --- |
| Tournament | Winnings | Year |
| Partypoker Caribbean Poker Party | $5,500 | 2018 |
| 49th World Series of Poker | $6,000,000 | 2018 |
Fedor Holz Net Worth
Fedor Holz's net worth to date is $32,550,886, and has several business interests. Now that he has retired from poker playing, he wants to use his time to help and inspire others, leading him to create two companies.
Stacking: This business venture focuses on coaching and mentoring up and coming poker players. Fedor believes strongly in helping others to achieve their goals.
Primed Group: This company uses the platform of technology to unlock the limitless potential in people's brains. He firmly believes that our minds are untapped resources and encourages others to achieve greatness on their own merit.
Primed Mind: An offshoot of Primed Group is the Primed Mind app. In conjunction with his poker coach Eliot Roe, they have created this app to inspire users to set goals and achieve bigger and better things in their life, via the use of visualization, and techniques like meditation and hypnotherapy.
Personal Life
Poker players have the reputation of living the high life, filled with wild parties, consuming lots of alcohol or other substances. Not for Fedor Holz. He believes in taking care of his body; he practices yoga; he rarely drinks alcohol and has a clean approach to proper eating. His healthy lifestyle goes beyond the physical; he reads books on philosophy and self-development. No mental slouch, his IQ is reported to be as high as 155.
Perhaps the most unique thing about Fedor Holz is that he made a bet with himself that he will live a 'no porn' life. He will never under any circumstances, watch any pornography. He feels that removing this activity from his lifestyle will, at all times, improve his relationships with women.
Speaking of women, this is a part of his life that he keeps secret. He has been photographed many times with beautiful ladies but has never confirmed anyone as a girlfriend. His view is that he wants to keep his private life just that, private.
He has an impressive social media presence and is fond of Twitter and Instagram, where he has around 50,000 followers on each platform. Like most young men, he also likes to play video games. But not the multi-player games that are so popular right now, he prefers 90s style games like Age of Empires and Mario Kart 64.
Conclusion: Life After Poker
In 2018 not long after his most significant win of $6,000,000, Fedor Holz stepped away from the poker limelight as a player to become more of a coach and mentor. Where he was once ranked number 1 on the GPI list, June 2016 to January 2017, he has now fallen away to number 18,707. His last game was in December of 2018. Because of Fedor Holz's net worth being so large, these days he prefers to focus on his other business enterprises.
He has plans to further his education and to travel the world. He may still enter the odd poker game here and there, but it appears his life at a top poker player might be over.
Sources