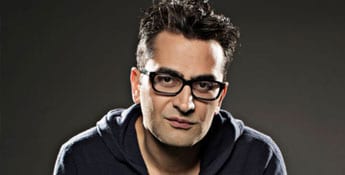 Antonio Esfandiari Net Worth: It's only natural to associate an industry or a sport with the best names in it. When talking about poker, there are a few names that always come up in the conversation. Antonio Esfandiari is one of them. For a multi-faceted game like poker, it would take someone as versatile as "the magician" to conquer it.
So, what makes Antonio Esfandiari special? Is it his big glasses or the perpetual grumpy face? You can't be the magician without that distinct look. While those do play a part in his table presence, it's how he owns the table that counts. This article will discuss Antonio Esfandiari's net worth and victories while exploring his journey to success.
| | |
| --- | --- |
| Name | Antonio Esfandiari |
| Nickname | The Magician |
| Profession | Professional poker player & magician |
| Born | 8th of December, 1978 |
| Net Worth | $27 million |
Early Career
The most well-known characters often come from the humblest backgrounds. For Antonio, that's also the case. Born in Tehran, Iran, in December 1978, his birth name is Amir Esfandiary. Due to war and other political unrests, his father didn't see it as a suitable environment for Antonio. He brought the entire family to America when he turned nine. It was that decision that had led him to the path of becoming the icon he is today. Antonio Esfandiari's net worth would unlikely be what it is today without his father making that call.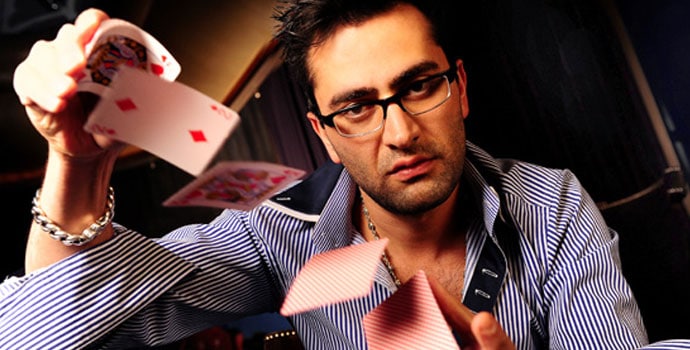 His childhood was rough – escaping a place he called home during dark times. Antonio had a tougher adolescence. He has shared that it was never easy for him to fit in as an immigrant. The language barrier was only the tip of the iceberg. He always had to go the extra mile to stay cool with the other kids. That ended up landing him in jail for drug possession during his last year of high school.
Antonio had always had a strong liking for magic, and the desire to become a magician overtook him at a young age. When he turned 19, he decided to develop an image to better fit his stage presence, and for that, he changed his name to Antonio. He says it sounded more mysterious than "Amir." He even got a nose job for a more distinguished look. Antonio then started doing professional magic in 1999 after dropping out of college. At this point, he'd shown no signs of poker talent or interests.
Professional Poker Career
During one of his magic performances, Antonio got invited to a poker game. It couldn't be more random to most, but for him, it was a divine calling. A little taste of Texas Hold'em was all it took. No one is sure what happened at that game, but all can agree he never looked back. Most magicians seldom say no to another way of manipulating cards, but Antonio takes it to a whole new level. He began playing a lot more after that night and soon found himself in various tournaments. It was the inherent ability to read people's behavior that had given the poker star the edge he needed.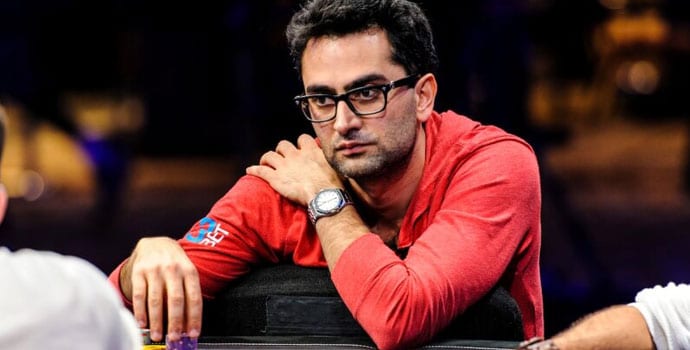 Esfandiari took the poker world by storm after winning his first and one of his biggest wins in the 2004 WPT. He went from a magician slash waiter to a millionaire in an instant. Let's hope he gave some of it to the guy who invited him to that poker game. Following this milestone was a series of victories with each one increasing Antonio Esfandiari's net worth. He went on a hot streak cashing in at two more tournaments in the year after. Those brought his net worth to almost $2 million.
In 2006, Antonio attended the Poker Superstar Invitational tournament and finished second. This was a special moment for him, as the event was super exclusive. Having enough recognition to compete in one of these is already winning.
Antonio won his first and largest WSOP bracelet in 2012 for over $18 million. He made history with this victory as it was the most significant amount anyone's ever won. It meant much more to him that he'd managed to defeat some of the best players at the final table. One of them included Phil Hellmuth, who became one of his rivals later on. As of now, he is the owner of three WSOP bracelets, one of which the Europe WSOP in 2012.
Achievements at a Glance
World Series of Poker Bracelets
| Tournament | Year | Prize |
| --- | --- | --- |
| Event 2 No-Limit Hold'em WSOP of Europe | 2012 | €126,207 |
| 35th Annual Pot-Limit Hold'em | 2004 | $184,860 |
| $1M buy-in Big One for One Drop No-Limit Hold'em | 2012 | $18,346,673 |
World Poker Tour Titles
| Tournament | Year | Prize |
| --- | --- | --- |
| Five Diamond World Poker Classic Main Event | 2010 | $870,124 |
| L.A. Poker Classic No-Limit Hold'em Championship | 2004 | $1,399,135 |
Antonio Esfandiari Biggest Cashes
| Tournament | Year | Prize |
| --- | --- | --- |
| Five Diamond World Poker Classic Main Event | 2010 | $870,124 |
| L.A. Poker Classic No-Limit Hold'em Championship | 2004 | $1,399,135 |
| 44th WSOP One Drop High Rollers No-Limit Hold'em | 2013 | $1,433,438 |
| 43th WSOP Big One for One Drop | 2012 | $18,346,673 |
Antonio Esfandiari Recent Earnings
| Tournament | Year | Prize |
| --- | --- | --- |
| 2019 World Series of Poker No-Limit Hold'em | 2019 | $82,365 |
| WPT Five Diamond Poker Classic | 2018 | $25,886 |
| 2018 World Series of Poker No-Limit Hold'em | 2018 | $57,010 |
| Party Poker Live Millions | 2018 | $13,650 |
| 2017 World Series of Poker No-Limit Hold'em Super Turbo | 2017 | $998 |
Antonio Esfandiari Net Worth
From all his tournament winnings, Antonio Esfandiari's net worth is a little over $27 million. That makes him one of the highest earning tournament players of all time. Antonio may not have as many bracelets as some of the legends like Doyle Brunson, but he's got the best one. The $18 million title that makes up most of Antonio Esfandiari's net worth is also the biggest in history.
Tournaments aren't the only thing Antonio invests his time in. He's known as one of the most loyal attendants of NBC Poker After Dark. It's almost like they pay him to be on the show. Between those seasons, you would find him on GSN High Stakes Poker. A large part of his money goes in and out through cash games.
Antonio makes good use of his winnings and popularity. He has appeared in five movies after his big break at the WPT. In 2012 the magician launched the Secrets to Winning Tournaments app on Insta Poker. He also started a web reality series called Ultimate Poker: Strip Magic in 2014.
Personal Life
Antonio's priorities shifted in 2015 when he became a father. The magician took it as any new father would: he cried. It's rare for a professional poker player to show any emotions, but when they do, you know it's worth it. The way he described his feelings made it clear that it felt better than any poker hand.
Other than his tactical merits, Antonio is well known for his party binging. He did it so much he had to leave home to start waiting tables. Yet that still doesn't compare to his compulsion toward side betting. He once lost a bet to one of his best friends Phil Laak and got dunked in ice water.
It's natural for poker players to love a little extra action when opportunities arise. Antonio will side bet on anything and doesn't care whether or not it relates to cards, as long as the odds are right, of course. In 2019, comedian superstar Kevin Hart challenged the magician to a boxing match.
The distinction in physique was obvious, so the odds were 35-1. Being a man of chance, Antonio took up the bet. He ended up beating Hart in three rounds by decision. It was one of the most discussed topics on Twitter.
Conclusion: From Rags to Riches
There's still a lot more about Antonio Esfandiari worth mentioning, but one article can only cover so much. While he has diverted his attention to family, poker remains his primary focus. The magician plans to keep on playing and will continue to shuffle the chips for as long as he could. He once said that poker was what made him who he is today. For that, it'll always be a part of his life.
Antonio has been making consistent appearances on live games and TV. His most recent participation was at the 2019 WSOP, where he cashed in at 82nd for over $80,000. He had been pretty casual about this event as other things were going on. Still, the little in-and-out prize he won is almost twice the income of an average American.
Sources