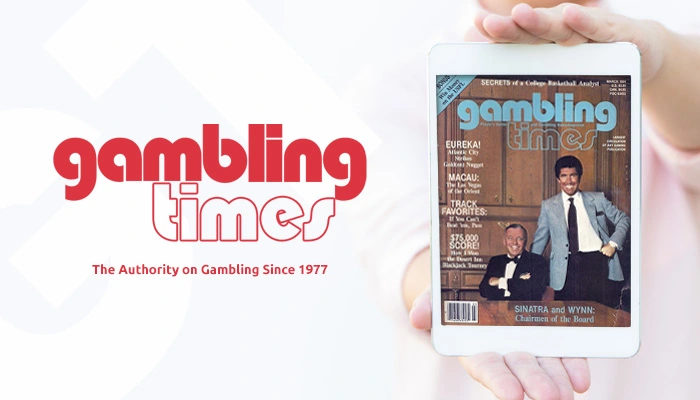 Gambling Laws in the US in 2023
The Wire Act has long overseen US online gambling, and this aging piece of legislation forbids sports bets made over state borders.
In 2011, the Department of Justice opened the way for individual states to pass their online gambling legislation. The first online casinos and poker rooms appeared in 2013 when Nevada, New Jersey, and Delaware passed internet gaming laws.
Online sports betting was illegal in the US until 2018. That year, the US Supreme Court overruled the 1992 PASPA (Professional and Amateur Sports Protection Act), which had prohibited single-sports wagers online. It opened the way for states to pass their sports-betting laws. Land-based and online sports betting are now legal in several US states.
However, the Department of Justice (DOJ) recently concluded that the Wire Act extends to other types of online gambling, like casinos and poker.
The new ruling is being opposed in court, primarily by the New Hampshire Lottery Commission. For now, individual states are permitted to accept online bets as long as they are placed within state borders.
What States have Legal US Online Gambling?
There is more legal online gambling in the USA than ever. However, the process has been slow, and since 2013, only four states have allowed online poker. A handful of states have also legalized sports betting and online casino games.
Here is a guide to US states that have legalized online gambling or are expected to do so in 2020. We also have a list of states where regulated online gaming could be on the horizon.
New Jersey
Regulator: NJ Division of Gaming Enforcement (NJ DGE)
Legal: online casino, online poker, Daily Fantasy Sports, sports betting, lottery & horse racing.
New Jersey was the first state to approve online gambling legislation back in 2013. In New Jersey, there are 30 legal NJ online casino sites (such as Party Casino NJ) and a handful of NJ poker and NJ sports betting websites. You can also bet on horse racing and buy lottery tickets online.
Delaware
Regulator: Delaware Division of Gaming Enforcement (DGE)
Legal: online casino, online poker, Daily Fantasy Sports & horse racing.
The state of Delaware has legalized online poker and casino games. Some DFS is available, and you can bet on the DE Lottery online.
For more information, see the Delaware online gambling guide and the in-depth guide for Delaware online casinos.
Nevada
Regulator: Nevada Gaming Control Board (NGCB)
Legal: online poker, sports betting & horse racing.
Nevada was one of the first US states to legalize online gambling in USA. However, in 2020, Nevada still only offers regulated online poker and limited sports betting. Online casino gaming is prohibited in Nevada.
Pennsylvania
Regulator: Pennsylvania Gaming Control Board (PGCB)
Legal: sports betting, horse racing, online casino, online poker, DFS & lottery.
In Pennsylvania, you can legally go online for Daily Fantasy Sports, sports betting, lottery, and casino games. Online poker has been particularly successful in Pennsylvania, helped by the presence of major brands like PokerStars.
Today, there is a handful of PA online sports betting sites and PA online casinos operating in the Keystone State.
West Virginia
Regulator: West Virginia Lottery (WVL)
Legal: sports betting & lottery.
West Virginia legalized online gambling in 2019. The West Virginia Lottery Interactive Wagering Act makes it legal to play online slots and table games, as well as poker and sports betting. At this point, there are 3 West Virginia online casinos live and more about to launch in the coming months.
Colorado
Regulator: Colorado Division of Gaming
Legal: Sports betting, DFS & lottery.
Since Nov. 5, 2019, Colorado has legal online gambling. Today, players can enjoy Colorado online sports betting, DFS and lotteries, as well as sweepstakes online casinos and poker sites.
Michigan
Regulator: Michigan Gaming Control Board (MGCB)
Legal: online poker, online casino & sports betting.
In 2020, Michigan will become the fifth US state to legalize online poker. Michigan is also legalizing casino games and sports betting. Only Michigan's brick 'n' mortar casinos can apply for gaming licenses in the state. Each casino will be allowed to operate one online casino and one online poker room. See the Michigan online gambling guide for more information about what the state offers.
Also, see:
Rhode Island
Regulator: Department of Business Regulation (RI DBR)
Legal: sports betting.
Rhode Island was the eighth US state to legalize sports betting. The move came just months after the US Supreme Court's ruling against PASPA. Sports betting is legal at Rhode Island's land-based casinos, but online gambling apps could follow.
Iowa
Regulator: Iowa Racing and Gaming Commission (IRGC)
Legal: sports betting.
Iowa legalized online gambling on sports wagering in May 2019. The first Iowa online sportsbooks and apps went live in August 2019.
Mississippi
Regulator: Mississippi Gaming Commission (MGC)
Legal: sports betting.
Sports betting was legalized in Mississippi in August 2018. However, wagers are restricted to land-based casinos like Beau Rivage and Gold Strike.
Tennessee
Legal: Sports betting.
Tennessee now has legal online gambling, even though the state does not have legal land-based casinos.
What US States are Considering Legalizing Gambling Online?
Since the first US states went legal, others have been trying to follow suit. Various bills are stuck in the quagmire of Senate hearings, but some states could finally legalize in 2020.
New York now has legal brick 'n' mortar cardrooms, and a 2020 NY online poker bill is imminent. California and Florida also have land-based poker rooms and are tipped to legalize online poker in 2020.
Some states without traditional casinos are considering online sports-betting laws in 2020. This includes Massachusetts. North Carolina, Montana, Illinois and Colorado all legalized sports betting in 2019 but are still debating the details. For now, legalized sports wagering in these states may be confined to brick 'n' mortar casinos:
California
New York
Florida
New Hampshire
Massachusetts
North Carolina
Browse the Gambling Times' Casino Game Guides
Become a better player by browsing our guides for casino games. These player guides are great for beginners who want to learn the basics and pros who want to perfect their strategy.
At Gambling Times, you can learn more about classic casino games like craps, roulette, blackjack, baccarat, slots, and poker.
Slots: You will find hundreds of slots at the best legal online casinos in the USA. Slots feature a series of vertical reels filled with symbols. You win real cash by lining up matching symbols across the reels.
Roulette: You can also enjoy legal online roulette in regulated US states. Try out American roulette for $0.10 a spin, or hit the VIP tables and put $5,000 on red.
Blackjack: Blackjack is one of the most popular games on legal US online gambling websites. It's easy to play, and you can enjoy one of the lowest house edges in the casino. Read up on online blackjack here.
Baccarat: James Bond's favorite game is a staple of most legalized US casino sites. Bet on the Player or the Banker and win if your hand gets as close to 9 as possible.
Craps: Experience the thrill of the Vegas dice game on your PC or tablet. Bet on the outcome of two dice and enjoy safe, legal craps games wherever you are.
Live dealer games: Online gambling in the USA isn't all about taking on the computer. With live-dealer games, you can gamble against a human croupier on roulette, blackjack, and baccarat. Place bets and chat with the dealer using your computer keyboard.
Online Poker in the US 2023
Online poker in the US suffered a huge blow in the mid-2000s. When UIGEA (Unlawful Internet Gaming Enforcement Act) hit in 2006, some major sites left the country. Black Friday in 2011 led to the shutdown of even more poker rooms.
Since 2013, some states have been going it alone. New Jersey, Nevada and Delaware led the way, and there is even interstate poker where players from one state can compete against those based in another. In 2019, Pennsylvania became the fourth US state to regulate online poker rooms.
In 2020, you can play legal cash games and tournaments online for real money. You will have to be physically based within the borders of participating states. However, for just a few dollars, you can take on players across the virtual felt. You can even play satellites and qualify for major events like the annual World Series of Poker.
Sports Betting and Daily Fantasy Sports Sites
Sports betting: In 2018, the US Supreme Court overturned a 26-year-old law banning bets on individual sporting contests. After PASPA was repealed, several states decided to legalize and regulate sports betting.
Some US states now have legalized online sports betting, where others have regulated sports wagering within land-based casinos.
In addition to professional sports like NFL and NHL, you can bet on college sports like NCAAF (football) and NCAAB (basketball). Not every US state has relaxed the laws on betting on college sports, however.
Daily Fantasy Sports (DFS): Daily Fantasy Sports sites operate in many US states, and it has been made explicitly legal in several areas of the country. In 2020, the industry will be dominated by two or three major companies.
In Daily Fantasy Sports, you pay to enter a tournament or contest and create your team comprised of NHL, MLB or NFL players. You score points based on how well your players do in real life. You win a share of the prize pool by scoring more points than your competitors.
Under UIGEA, DFS isn't considered gambling, and it's likely that even more states will legalize sites in 2020 and beyond.
Gambling Times: Your One-Stop Shop for US Online Gambling
At Gambling Times, we love everything about online gambling, and we want to share everything we know with you.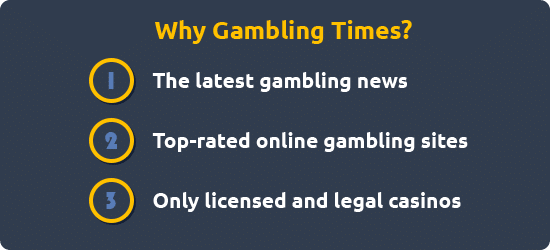 Lately, a lot of states in the US have legalized online gambling. Some, like New Jersey, now have legal online casinos, sportsbooks, and poker sites. Others, like Nevada, only have legal online poker.
But the tide of online gambling in the USA is turning toward the player. More states are starting to regulate internet casinos and sports betting. We all look forward to a future where online gambling is legal in the whole of the United States of America.
The Best Gambling Sites in one place
At Gambling Times, you will find reviews on all legal gambling sites, plus you'll discover guides on where to play. We always do a thorough review of all US online gambling sites. We will never recommend a poor casino or sportsbook.
If you are not located in the US and looking for a casino guide that covers playable casinos reliant on your location, we recommend you to visit the international casino guide online.casino that covers casinos around the world and lists the casinos you can play at based on your location.
Here's what we consider when evaluating US gambling sites:
Great games and software: We always check the range of games available at casino sites and poker rooms. You should be able to access a full selection of games at a range of stakes. Games should be provided by major developers who are properly licensed in the US.
Reliable licensing and security: You can now access reputable US online gambling websites that carry proper licenses. Licensed casinos and gambling sites should carry the latest encryption software so that your personal data is safe.
Good customer support: Got a problem? That's when great customer service is essential. You should be able to get 24-hour customer support via live chat, email, or toll-free phone.
Fast and safe banking options: You can fund your online gambling in the USA via cards, e-wallets or bank transfers. The best gaming sites accept a range of safe methods, with limits to suit all budgets.
We always test US casinos, poker sites, and sportsbooks with our bankrolls. A gambling site will score poorly if its banking is slow.
Mobile apps for easy gambling on the move: You can now play online slots and the best games on the go on your phone or tablet. We download native apps and access instant-play sites via a range of devices to test the game selection and software.
Amazing bonuses every time: You can claim welcome bonuses at all of our top-rated US online gambling sites. As a new player, you can earn free spins or a deposit-match bonus when you use your card or checking account.
Welcome bonuses aren't reserved for US casinos, either. You can also claim promotions at the best poker sites and sportsbooks.
Gambling Sites in the US
There is still no federal law legalizing US online gambling. Gaming laws are passed state by state. Some games will be legal in one state and prohibited in another.
You can refer to our US state guide to view the current legal situation in your own state.
Gambling Sites in the UK
A significant portion of our readers are located in the United Kingdom, and that's why we also review and rate UK gambling sites.
If you're on the hunt for an online casino in the United Kingdom, please browse our UK guide, where we review all major online gaming companies.
Online gambling in the United Kingdom is overseen by the UK Gambling Commission. To read more about legal online gambling sites in the UK, please visit the UK Gambling Commission's website.
Other Markets
Several other markets have regulated online gambling. In Sweden, online gambling was regulated in 2019, and it looks like more EU countries are going the same way.
US Online Gambling FAQ
Is online gambling legal in the United States?
Online gambling is legal in a few US states, but the rules change region by region. Some states have legal casinos, poker, and sports betting, while others only have poker or sportsbooks.
In what states is gambling online completely legal?
In 2020, New Jersey, Delaware and Pennsylvania have legal games across the board. These states have legalized poker, sports betting, and casino games. Nevada only has poker and sports betting.
Can I play for real money?
Yes. You can gamble for real cash as long as you are 21 or over.
Can I gamble on my mobile phone or tablet?
Yes. Many regulated states in the US have mobile casinos and sportsbooks. You can access gambling sites through downloadable apps or directly through the websites themselves.
Do I have to provide any ID in order to gamble online?
Yes. Under most state laws, you must provide a photo ID and a utility bill to prove you are over 21. You can deposit cash and play games once your account has been verified.
Can I play games for free online?
Yes. Many casinos and poker sites have free-to-play games for registered users.
Can I win a progressive jackpot in the US?
Yes. Most legal online casinos in the USA have progressive slots that can award millions of dollars in prize money.