Table of Content
Online casino gaming is legal in New Jersey since February 27th, 2013. To date, the tax revenue generated from online gambling to the state of New Jersey has exceeded $174 million.
NJ Online Casino Spreadsheet
| # | Casino | Bonus | Land-based Partner | Review |
| --- | --- | --- | --- | --- |
| 1 | Hard Rock Casino | $1000 + 50 free spins | Hard Rock Atlantic City | Read Review |
| 2 | Poker Stars Casino | $1500 | Resorts | Read Review |
| 3 | Party Casino | $500 | Borgata | Read Review |
| 4 | Play MGM | $2000 | Borgata | Read Review |
| 5 | Pala Casino | $500 | Borgata | Read Review |
| 6 | Betfair | $2500 | Golden Nugget | Read Review |
| 7 | Sugar House | $250 | Golden Nugget | Read Review |
| 8 | 888 Casino | $1000 | Caesars | Read Review |
| 9 | Golden Nugget | $1500 | Golden Nugget | Read Review |
| 10 | Mohegan Sun | $1000 | Resorts | Read Review |
| 11 | Caesars Casino | $300 | Caesars | Read Review |
| 12 | Borgata Casino | $600 | Borgata | Read Review |
| 13 | Harrahs | $300 | Caesars | Read Review |
| 14 | Churchill Downs | $0 | Golden Nugget | Read Review |
| 15 | Ocean Resort Casino | $100 | Ocean Resort | Read Review |
| 16 | Scores Casino | $500 | Borgata | Read Review |
| 17 | Tropicana Online | $100 Cash Back | Tropicana | Read Review |
| 18 | Virgin Casino | $100 Cash Back | Tropicana | Read Review |
| 19 | Resorts Casino | $1000 | Resorts | Read Review |
For more variety have a look at the NJ online gambling guide.

NJ Online Casino Facts
| | |
| --- | --- |
| How many poker, sports betting & casino sites operate legally in New Jersey? | 23 legal sites to date. |
| Why do all online gambling sites have connections to Atlantic City casinos? | Only New Jersey land-based casinos can get an IGP (Internet Gaming Permit), which is necessary to operate an online gambling site. |
| What's the tax rate for online casinos in New Jersey? | 15% tax on gross gaming revenue + an additional 2.5% tax to the CRDA (Casino Reinvestment Development Authority). |
| How much revenue was generated by NJ online casinos in 2017? | $221.35 million ($245.6 million including poker) |
| How much revenue has been generated in 2018 to date by NJ online casinos? | $199.6 million ($216 million including poker) |
| How much tax revenue have regulated online gambling generated to the state of New Jersey to date? | $174 million |
| What New Jersey online casino generates the most revenue? | Golden Nugget. In July 2018 they generated $9.33 million in revenues. They also have the largest collection of games. |
| What New Jersey gambling sites are legal? | Find a list of all the licenced websites on the New Jersey Division of Gaming Enforcement website.. |
| What is the biggest jackpot won at an online casino in NJ to date? | $1,522,000. The jackpot was won at Betfair casino on the Let It Ride tables back in 2015. |
| When did online casinos in New Jersey become legal? | New Jersey online gambling became legal on February 26th, 2013. However, the first online casino did not appear until the 21st of November, 2013. |
| Which state agency regulates online gambling in New Jersey? | The NJ DGE (New Jersey Division of Gaming Enforcement). |
Full list of NJ online casino sites
Betfair Casino New Jersey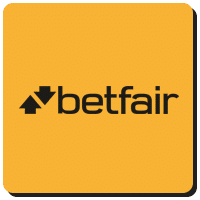 New Jersey's Betfair Casino is a partnership between Betfair plc and the Golden Nugget in Atlantic City. Betfair first had the Trump Plaza as its partner, but as the Trump organization closed down its casino operation, Betfair turned to the Golden Nugget instead.
Betfair is one of the biggest sportsbooks in the world, with a big presence in the European markets. It's definitely the biggest sports exchange, where they allow players to offer bets to other gamblers.
At Betfair, US players can bet legally on all sports and horse races, as well as play online casino and live dealer games.
Golden Nugget Casino Online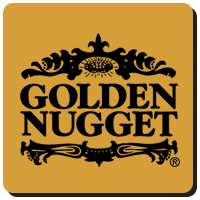 You could say that the Golden Nugget online casino in New Jersey is an online version of their land-based casino in Atlantic City. You can deposit and withdraw money from the online casino at your land-based brick and mortar property in AC, but online payments work just as well.
The Golden Nugget has games from Bally, NetEnt, IGT among others.
Tropicana Casino Online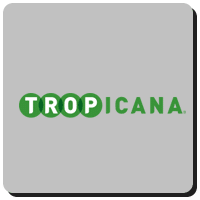 The Tropicana Hotel and Casino's online casino is called simply the Tropicana Casino and goes under the same IGP as the land-based operation. This legend within the online gambling industry is using the online gaming platform solution from Gamesys, also a huge player in this market.
At this moment Tropicana is only offering casino games, and from what we can tell they have no plans of adding sports betting and poker to their online offering in the near future.
Resorts Casino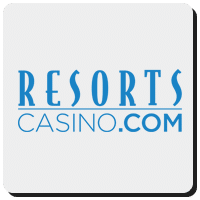 The Resorts Atlantic City Online Casino is connected to the Resorts AC and is using the same IGP. The casino platform is provided by NYX Gaming, another powerhouse in gaming.
At Resorts Casino you can play casino games but not poker. However, the land-based operator have partnered up with Pokerstars, who will be offering online poker under the IGP of Resorts AC. It does not seem like Resorts are planning to add poker to their offering in a later stage, and instead, let Pokerstars and Full Tilt Poker (part of Stars Group) deal with the poker players.
Mohegan Sun Online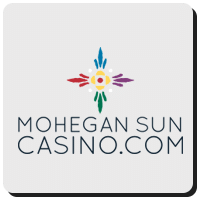 The Mohegan Sun online casino have Resorts as their land-based partner, to gain the New Jersey Gaming Licence. They have a massive game offering with games like classic slots, video slots, blackjack, video poker, roulette and a variety of table games.
A unique feature only found at Mohegan Sun is the daily free spin offered to all players who are registered at the casino (no deposit required). The max win from the free spin is $3 million and can be one time per day (even though it very rarely hits, as you probably understand). Mohegan Sun also offers a big first deposit bonus, which matches your deposit up to 1000 USD.
Virgin Casino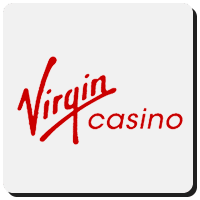 Virgin Casino got their licence for operating online in New Jersey by partnering up with Tropicana. The casino is running on tech game platform Gamesys, just like Virgin Casino in the United Kingdom and other EU markets.
As Tropicana is using the same platform, and as they have an on-going partnership, the Tropicana and Virgin products are very similar. At this time, there is no real money poker on the website, however, they offer social poker, but just for fun.
Sugarhouse Online Casino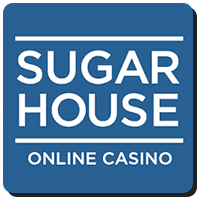 Sugarhouse Online Casino operates on Golden Nugget's gaming licence. The casino has a big welcome bonus of $250 for new players only and offers both casino games, betting on sports (since September 2018) and a fully equipped live casino. Also, players can use their services on all devices, as well through their mobile app both for Android and iOS.
Sugarhouse Online (playsugarhouse.com) is one of the few gambling sites that offer both casino and betting.
Pala Casino Online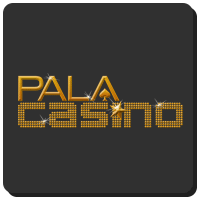 The Pala online casino is operating in New Jersey under the licence of Borgata. However, Pala does not share the technological platform with bwin.party, like Borgata, does. Instead, the Pala Online Casino is operating on a proprietary gambling platform.
Pala Casino offers casino games in New Jersey and was about to add online poker to it's offering. However, Pala recently announced that these plans have been put on hold, so we'll see if they eventually add poker to their New Jersey online casino.
Caesars Online Casino New Jersey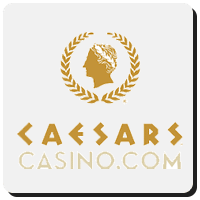 Caesars Online is the gambling site of Caesars Atlantic City, and is one of the bigger sites in the state. The renowned operator uses the platform and software from Amaya among others. Caesars does offer online poker, but through its other brand WSOP NJ (World Series of Poker New Jersey).
Caesars operates in New Jersey, Nevada and will most likely enter Pennsylvania, and other newly regulated markets.
Caesars is one of the most famous US casino brands, both inside and outside of the USA. As their reputation is vital for their ongoing success, it is a very secure place to play.
Borgata Online Casino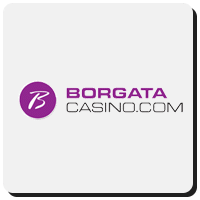 Borgata Online is the casino site of Borgata Atlantic City. It's powered by the software from Bwin.Party, and offers online casino gaming and online poker. The poker product has a shared player pool with Party Poker New Jersey.
Borgata is owned by two land-based giants within the gambling sector, MGM and Boyd. As most states who will legalise online gambling only allows land-based operators to operate online, Borgata has substantial opportunities to grow their online presence to more US states in the future.
PartyPoker Casino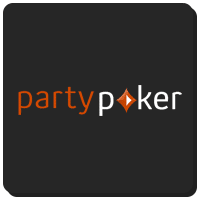 Just like Borgata, Party Poker Casino runs on the bwin.party online gaming platform. The land-based partner of PartyPoker is Borgata, and you will find many similarities if you try both sites. To be quite frank, they are pretty much the same product, just with different logos and colors.
Also, PartyPoker NJ has a shared player pool for online poker with Borgata, which makes sense to increase the numbers of players on the tables.
PartyPoker has not shown any intention of entering the regulated markets of Nevada and Delaware. However, they have made strong statements about entering the state of California as soon as the state legalises online gambling.
Harrah's Online Casino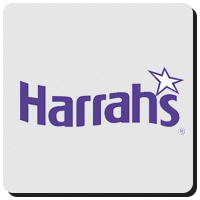 As Harrah's Casino online is operated by (and in partnership with) Caesars, the game selection, features and feel is very similar to Caesars Online.
Just like Caesars, the online casino is powered by the robust gambling platform from Amaya. Harrah's is also part of the Total Rewards program, which all Caesars operated casinos are a part of, nation wide.
888 Casino NJ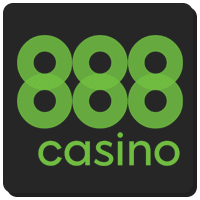 The UK based operator 888 operates in the state of New Jersey through it's land-based partner Caesars Atlantic City. 888 Casino offers both casino games and online poker, including live dealer games and a huge slot machine portfolio.
The online poker operation is in partnership with WSOP New Jersey, which has its benefits.
888, being one of the biggest online casino, poker and sports betting operators in the world (with revenues of $541.8m in just 2017 alone) will most definitely enter all regulated markets in the US as soon as possible. The group already operates in Delaware and New Jersey, and are planning to enter the regulated poker market of Nevada.
NJ online casino game guides
We've collected the best guides for all of the casino games you will stumble upon when visiting online casino sites in New Jersey (see full NJ online casino list above). Read the in-depth guides to become a better casino player today. The following games are available at almost all NJ online casinos, but to be sure, read our reviews to see the full game selection.
NJ online slot machines
At NJ online casinos you will find more than a thousand unique slot machines, and many of them you'll recognize from land-based casinos. At Gambling Times you will find guides and reviews for both progressive jackpot slots, low- and high volatility slot machines. At this time there are more than 500 online slots available in New Jersey.
NJ craps online
The Gambling Times craps guide is well known among casino players, and will surely make you a better craps player. Get to know the basics and try it out at your Ney Jersey online casino today.
NJ roulette online
Roulette is one of the oldest casino games we still play regularly at online casinos today. Learn the basics of the old French game Roulette (meaning little wheel in French), and explore the new variants that have evolved over time.
NJ blackjack online
Blackjack is the most popular casino game at NJ casinos online, and usually, have better rules for the player than landbased blackjack. Also, there are more new exiting variants of the game, if you feel like spicing things up a bit.
NJ live casino games
Live casino is playing online with a live dealer dealing at a real casino. You can then play with other people online and offline, and also chat with your fellow players. Some people prefer the live feeling when playing casino, and you can find live dealer games at almost all of NJ's online casinos.
NJ video poker online
In New Jersey, there are many more ways to play video poker online than offline. Many times, the online casino games offer higher paybacks than playing on a machine in a land-based casino in Atlantic City or Las Vegas. Gambling Times will teach you about the different variants out there and what online casinos offer these types of games.