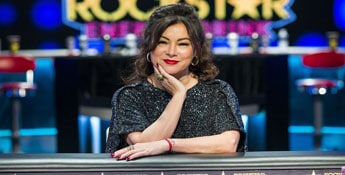 Jennifer Tilly Net Worth: The world of professional poker is home to many players who have talents beyond the table. One of the greats who's also an example of this trope is Jennifer Tilly. A professional poker player, Hollywood actress, and voice talent, Tilly brings her acting chops to the poker table.
Not many people can bluff the way a professional actress can. Tilly is no poker debutante, either. With decades of experience under her belt, this triple threat has shared pots with both poker and Hollywood greats.
Still, there's more to Jennifer than just a successful artist and gambler. She's in a long-term relationship with a fellow pro poker player, too! This page is dedicated to Jennifer Tilly; net worth, accomplishments, and details about her personal life.
| | |
| --- | --- |
| Name | Jennifer Ellen Tilly |
| Nickname | The Unabombshell & J Tilla the Killa |
| Profession | Pro poker player & actress |
| Born | 16th of September, 1958 |
| Net Worth | $25 million |
Early Career
Jennifer was born on September 16, 1958, in Harbor City, Los Angeles. Her dad was a used car salesman, and her mom was a schoolteacher and former stage actress. After her parents divorced, at age 5, Jennifer, her mother, and sister relocated to Canada, where she was raised.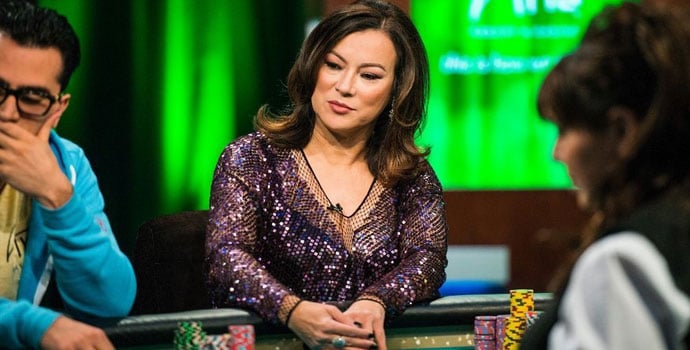 She developed a fondness for card games in her childhood, and her father was an avid poker player. He gave her the video game World Series of Poker, though she wouldn't learn the rules until years later. After moving to Hollywood, a boyfriend taught her how to play so she could join his weekly game.
She wound up playing at the game only once. Still, armed with new knowledge, she beat the World Series of Poker video game that vexed her father for years. The shiny, golden virtual replica WSOP bracelet the game rewarded her with inspired her to set a personal goal. Tilly made up her mind to win a real bracelet.
Shortly after that, Jennifer found herself joining the professional poker tournament circuit. With a clear goal in mind, success didn't take long to find the actress.
Professional Poker Career
Tilly's trajectory as a professional poker player has been outstanding. Tilly began attending live tournaments around 2003. She met her long-time partner, pro player Phil Laak, at the World Poker Tour Invitational tournament in 2004.
Tilly's very first professional poker accomplishment came soon after, in the 2005 World Series of Poker. The series, in the heyday of the early 2000s, Hold'em boom, featured a then-record-setting $7,500,000 cash prize.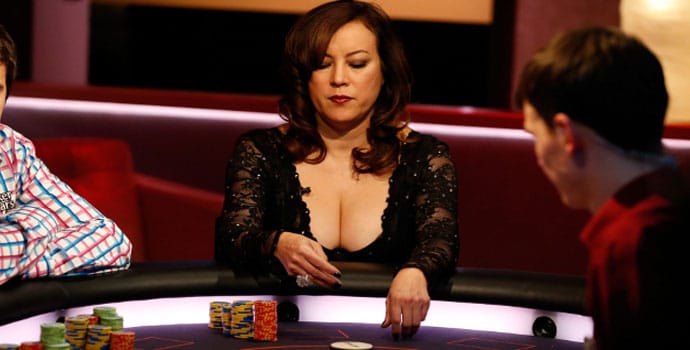 Tilly participated in the 26th event, the $1,000 Ladies No-Limit Hold'em. She walked away with the 1st prize, and her very first real WSOP bracelet, as Ladies Champion. She also won over $150,000, dominating a field of more than 600 players.
Jennifer became the first celebrity to win a WSOP bracelet, and many questioned her abilities. She continued to polish her skills with Laak at her side, though. Three months after her WSOP win, she proved her critics wrong, winning the annual WPT Ladies Night event.
To pull it off, she cleaned out seasoned pros like Isabelle Mercier and Cecilia Mortensen. Tilly later appeared on several celebrity poker events on television, like GSN's Poker Royale Series. In 2006, she finished 3rd in the Bravo Celebrity Poker Showdown, cleaned out by Bravo online poker champion Ida Siconolfi.
Since then, Tilly has continued to concentrate on her career as a professional poker player. She won the Heat 3 event at the 2009 PartyPoker.com World Open V, in London. In 2010, she won the $5,000 No-Limit Hold'em event at the Bellagio Cup VI in Las Vegas.
In 2013, she placed 7th at the $125,000 NL Hold'em event in PartyPoker's Premier League Poker, in London. More recently, in 2017, she finished 2nd at the $5,000 NL Hold'em Turbo 6-Handed of the Bahamas PokerStars Championship.
Jennifer Tilly: Achievements at a glance
During her years in the professional poker circuit, Tilly has accomplished a series of achievements. In 2006, she became the very first celebrity (of any gender) to win a WSOP bracelet.
She's also racked up wins in numerous other events and has reached dozens of final tables. Jennifer has also won a WPT tournament and several invitational tournaments. Check out how her many achievements in poker stack up below.
Jennifer Tilly Biggest Cashes
| | | |
| --- | --- | --- |
| Tournament | Winnings | Year |
| 36th World Series of Poker (Las Vegas) | $158,335 | 2005 |
| Bellagio Cup VI (Las Vegas) | $124,455 | 2010 |
| PartyPoker.com Premier League Poker VI (London) | $98,000 | 2013 |
| L.A. Poker Classic (Los Angeles) | $61,610 | 2008 |
| Borgata Poker Open (Atlantic City) | $52,380 | 2006 |
Jennifer Tilly Recent Earnings
| | | |
| --- | --- | --- |
| Tournament | Winnings | Year |
| 50th World Series of Poker (Las Vegas) | $23,315 | 2019 (Jul) |
| 50th World Series of Poker (Las Vegas) | $5,866 | 2019 (Jun) |
| Aussie Millions Poker Championship (Melbourne) | $30,209 | 2017 |
Jennifer Tilly World Series of Poker Bracelets
| | | |
| --- | --- | --- |
| Tournament | Winnings | Year |
| $1,000 Ladies' No-Limit Hold'em (Event 26) at the 36th World Series of Poker (Las Vegas) | $158,335 | 2005 |
Jennifer Tilly World Poker Tour Titles
| | | |
| --- | --- | --- |
| Tournament | Winnings | Year |
| WPT Ladies Night No-Limit Hold'em at the Legends of Poker (Los Angeles) | $25,000 | 2005 |
Jennifer Tilly Net Worth
Professional poker players tend to build up small fortunes over their careers, and Jennifer Tilly's net worth is no exception. In her case, however, her net worth doesn't originate exclusively from poker. Before she ever set foot in a tournament, Jennifer was already an Academy Award-nominated actress.
Still, despite achieving recognition in Hollywood and collaborating with many of the greats, Jennifer struggled. She shared the screen with heavyweights like Richard Dreyfuss, Stockard Channing, and Henry Winkler, and was directed by the Wachowskis. Yet by the mid-2000s, Jennifer found herself focusing more on her poker career, unsatisfied with her options in Hollywood.
Since then, Tilly has remained an active professional poker player, regularly finishing in the money. She hasn't retired from acting either, though, supplementing her income with occasional parts in movies, TV, or Broadway shows. She also continues to receive royalties for her role in the Child's Play movie franchise, and in Family Guy.
Jennifer's live tournament winnings currently amount to over $1,029,348. Jennifer Tilly's net worth in 2022 stands at roughly $25,000,000. The majority of her wealth is believed to be the result of her work as an actress.
Personal Life
Even though Jennifer was born in California, she was brought up across the northern border in British Columbia, Canada. Ironically, her desire to be a star drove her back to California, settling in LA in early adulthood.
Jennifer has a younger sister, Meg Tilly. The sisters share their passion and talent for the world of entertainment, with Meg becoming a successful actress and novelist. Meg was nominated for an Academy Award for Best Supporting Actress in 1985 and won a Golden Globe.
Like Meg, Jennifer was nominated for an Oscar, though nearly a decade later, in 1994. It was her work in Woody Allen's "Bullets over Broadway" that earned her the nomination. In the end, though, she lost to her co-star in the movie, Dianne Wiest. It was a tough year, and other nominees included Helen Mirren and Uma Thurman.
One of her most iconic parts came four years later, in 1998. That year, she starred in a new installment of the Child's Play horror movie series. She played serial killer Tiffany Valentine, who becomes the eponymous Bride of Chucky in the movie. She went on to star in three sequels and remains popular with the horror movie community.
Jennifer is also an accomplished voice actor. Her most prominent part as voiceover talent is in the Family Guy cartoon series, where she voices Bonnie Swanson. Her voice talent has also been featured in films like Stuart Little or Monsters, Inc, Liar Liar (featuring Jim Carrey) and the cartoon Hey Arnold!.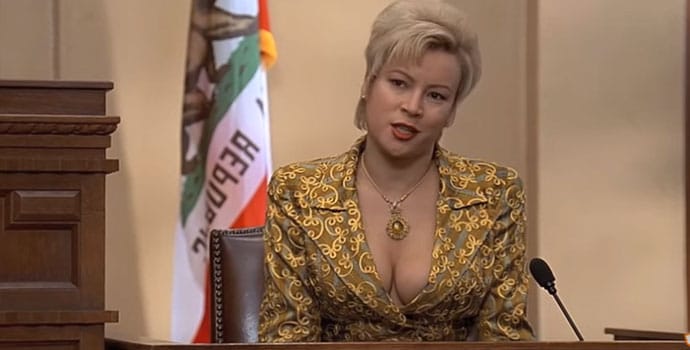 Tilly has also acted in Chinese cinema, starting in 2009 with Christina Yao's "Empire of Silver". In 2012, she joined the Broadway production of "Don't Dress For Dinner", as mistress Suzanne.
In the romantic arena, Jennifer has been married once, to The Simpsons developer and producer Sam Simon. They divorced in 1991. She has been dating professional poker player Phil Laak since 2004, but they remain unmarried. Born in 1972, Phil is 14 years younger than Tilly.
Conclusion: Triple Threat
At 61 years old and with an entire professional acting career behind her, Jennifer Tilly is a triple threat. She's not just a seasoned pro, but an award-winning actress and voiceover talent.
Tilly is one player whose bluffs you won't easily see through, and whose voice will never betray her hand. She's proven herself to be a fast learner, picking up techniques from long-time boyfriend Phil Laak effortlessly.
With an appetite for the game and a continuous presence in the professional circuit, Tilly is a talent to watch. Especially in her home turf, the Los Angeles poker scene. A WSOP bracelet and a WPT title prove she's got what it takes to deliver the goods.
Sources