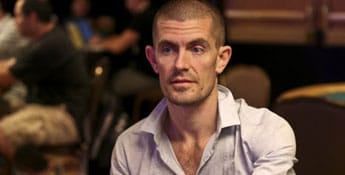 Gus Hansen Net Worth: Gus Hansen is a name that poker fans know and love for a variety of reasons. Not only is he the holder of a vast selection of poker titles and awards, but Gus Hansen is also one of the most handsome men to have ever graced the tables. He even took his place in the list of people magazine's 50 sexiest men.
In this article, we'll take you on the journey of what made Gus Hansen the sensation he is today. We'll also look at how his unique playing style and aptitude for the game has boosted Gus Hansen's net worth into the millions of dollars. Read on to find out everything you need to know about this Danish master.
| | |
| --- | --- |
| Name | Gustav "Gus" Hansen |
| Nickname | The Great Dane |
| Profession | Pro poker player |
| Born | 13th of February, 1974 |
| Net Worth | $1.7 million |
Early Career
Gus Hanson, or Gustavo Jacobsen as he was first known, was born in Copenhagen, Denmark, back in 1974. As with so many poker stars on the circuit today, Hanson's first gambling exploits came through playing Backgammon. He was at a World Championship level at that point in his life, and he was also a champion tennis player before injury cut his career short.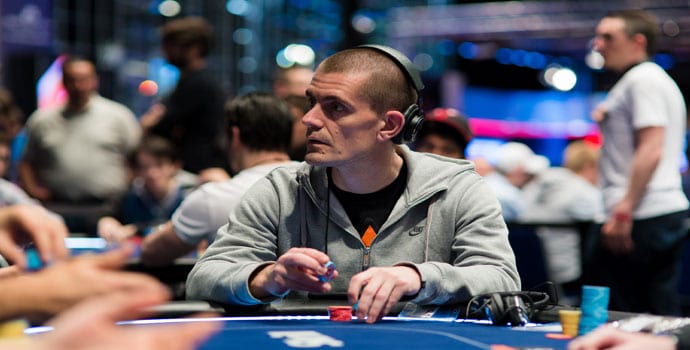 When he made a move into poker in 1997, it couldn't have been more straightforward for Gus, and he knew at that time where his future would take him. Ocean was the first place Gus saw any real success in Santa Cruz's Card Room. When he first started playing, he was a risk-taker, and a lot of that early success came as a result of lady luck, as well as his burgeoning skill. This irked some of his rivals, but nobody can deny that his methods, if not a little unconventional, worked wonders for the Dane.
His charming nature endeared him to many in the early part of his journey to poker success, and his reputation at the tables started to snowball as a result. He began to make serious ground winning smaller competitions along the way, and he made the decision to become professional and set playing poker as his life goal.
Professional Poker Career
Gus Hansen's net worth didn't take long to start accumulating to a life-changing level, and his first significant tournament win didn't take long to achieve either. In 2002, Hansen won his first of three World Poker Tour (WPT) open tournaments. He's the only player to have ever taken three victories at these massive events to date. That first major victory at the Five Diamond Classic bagged Hansen $556,460.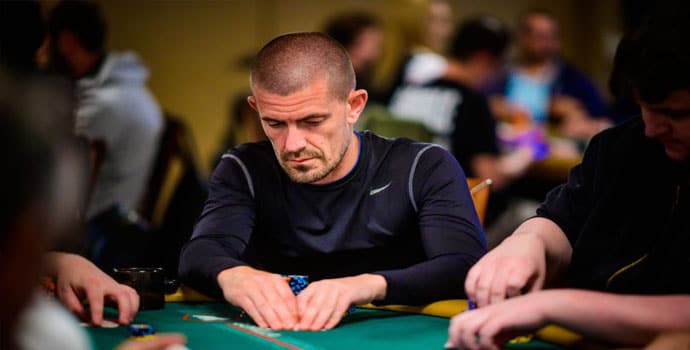 He followed that up later the same year with another outstanding performance at the WPT Poker Classic, where he took home $532,490. Over a million dollars in your first successful year as a professional is no small achievement, and Gus continued to make waves on the poker scene.
In 2004, he arrived at the first-ever edition of the WPT Bad Boys of Poker with a point to prove after a slightly quiet 2013. He took first prize against the odds. It was at that point Hansen was inducted into the WPT Walk of Fame, which secured his place in the list of poker's greatest ever players. He went on to add a spectacular victory at the Poker Superstars Invitational Tournament in Las Vegas. That February 2005 event saw him walk out with $1,000,000.
Gus Hansen's next big win had to wait until 2006, where he took his place at the FullTiltPoker.com London All-Star Challenge tables. This event showed the world once again why this man was one to look out for on the global poker stage. He took the top spot once again and added another $100,275 to his ever-growing bankroll. He continued to appear and win at various tournaments all over the world, and by 2017 he'd amassed an incredible $11,250,000 from live poker tournaments.
Gus Hansen: Achievements at a Glance
Let's take a quick look at Gus Hansen's achievements to date. There are too many to mention, so this gives you a flavor of his most significant cashes and titles.
| | | |
| --- | --- | --- |
| World Poker Tour | Winnings | Year |
| Five Diamond Classic | $556,460 | 2002 |
| WPT Poker Classic | $532,490 | 2002 |
| Poker Stars Caribbean Adventure | $455,780 | 2004 |
| Poker Superstars Invitational Tournament | $1,000,000 | 2005 |
| | | |
| --- | --- | --- |
| World Series of Poker | Winnings | Year |
| WSOP-London (Bracelet) | $444,925 | 2010 |
| WSOP-One Drop Mega Satellite | $1,000,000 | 2012 |
| | | |
| --- | --- | --- |
| Aussie Millions | Winnings | Year |
| No-Limit Hold'em Main Event | $1,200,000 | 2007 |
| No-Limit Hold'em $250,000 Challenge | $823,579 | 2012 |
Gus Hansen Net Worth
Gus Hansen's net worth has taken a hit or two over the years as he's reported to have lost big money in live games. Big Game Las Vegas is one such example, where he lost over a million dollars. His history on Full Tilt Poker wasn't the best for his net worth either, and in 2015 he had losses on the website of around $22 million, which is an unbelievable amount of money.
When you read that, you probably think that Gus Hansen hasn't got much of a net worth left, but that couldn't be further from the truth. He set up his own poker playing site back in 2003, which he sold to gambling giant Betfair for $15,000,000 in 2005. Gus is also a highly successful sports bettor and professional gambler in other fields. Although we can't put an exact number on Gus Hansen's net worth today, we can be sure that he's doing alright for himself.
If we only look at poker winnings, then Gus Hansen's net worth is $1.7 million.
Personal Life
Hansen isn't married but spends much of his time with his parents and siblings. It's been rumored that he is dating Danish tennis star Caroline Wozniacki, which would make sense given his love of the sport that he previously played at a high level. His losses in poker have certainly caused him some problems, but he's living a much quieter life than he did in the past. The Dane is still playing poker, but his focus now seems to be more on his family and his private life.
He's made many training videos to assist aspiring poker players and still has a keen interest in Backgammon. He used the same website for his blog and also helped players with any questions they might have about the game that gave and took so much from this Dane. We expect Gus will settle down and start a family himself at some point in the near future, but that is, of course, something we won't hear much about. Gus Hansen maintains his privacy and doesn't like to be in the media spotlight.
Conclusion: An Ode to the Great Dane of Poker
There's no doubt that the professional poker career of Gustav 'Gus' Hansen places him among the very best of the lot. Hansen stands as arguably the best poker player that Denmark has ever gifted to the world. His intuition, expert analysis of games, and a record of taking calculated risks have made him well-loved by poker fans globally.
As things stand right now, it's unclear whether Hansen has any desire to dip his toes back into the poker pool as he did in the past. One thing is for sure, though, if and when he does make a comeback, he'll be as entertaining as ever to watch.
If Hansen still has the magic, then this Dane will inevitably hold his own among the current elite poker players.
Sources