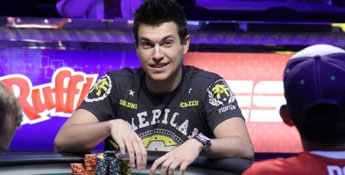 Doug Polk Net Worth: Doug Polk is an American professional poker player and YouTube personality known for his virtuous poker skills and confident personality. In less than a decade, the young talent made a name for himself in the industry and has accrued an impressive net worth. He's also well recognized by his online alias, WCGRider. In his career, Polk has specialized in heads up No-Limit Hold'em.
So what is there to know about Polk? In this article, we'll cover all you need to know about the Upswing Poker star, from his early career to his last games before his 2018 retirement.
| | |
| --- | --- |
| Name | Douglas "Doug" Polk |
| Nickname | Tricky |
| Profession | Professional poker player |
| Born | 16th of December, 1988 |
| Net Worth | $10 million |
Early Career
Doug Polk was born in Pasadena, California, on December 16th, 1988. Polk had an affinity for strategic games from a young age. His father introduced him to chess as a child, and by the age of nine, he was learning from a grandmaster. When Polk was a teenager, his family relocated to Raleigh, North Carolina.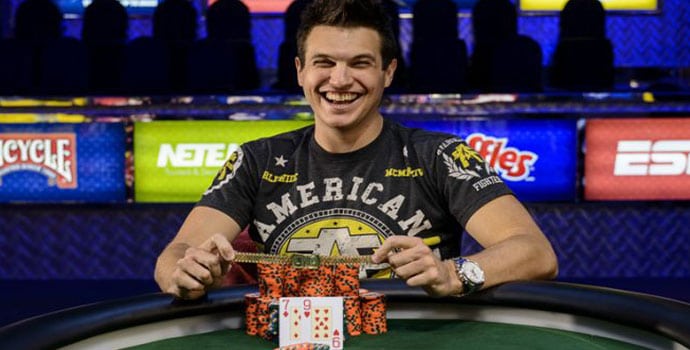 Polk graduated from Wakefield High School in 2007 at the age of 15. He started attending the University of North Carolina Wilmington but soon realized that college wasn't for him. He started looking for other options to pursue as a career.
He was 19 when he started playing high-stakes heads up Texas Hold'em. Before dropping out of college, he opened an account on PokerStars. His screen name was "WCG|Rider," and he started with low stakes cash games. His username was influenced by Warcraft 3, and his affinity for which brought him to World Cyber Games Tournaments.
He started playing games on PokerStars with $0.01 and $0.02 stakes. As time progressed, his skills improved significantly, and he moved to more significant stakes. His aptitude for the game was evident from the start. From 2011 until 2013, he almost broke, but he quickly reignited his focus and started making a name for himself. Polk has been active in the renowned 2+2 Forums since the beginning, but it wasn't until 2013 that he would get significant coverage.
Professional Poker Career
By 2013 Polk was considered one of the best online cash game players in heads-up, no-limit Texas Hold'em. One of his most notable wins was against fellow player Ben "Sauce 123" Sulsky, in a 15,000 hand match. Polk walked away with $740,000 and earned an additional $100,000 victory bonus.
It was a long way from Polk's first tournament win of $753 for 48th place in a $500 tournament at the Wynn in Las Vegas. Fourth place in 2012 $100,000 Challenge at the Aussie Millions was his first significant score. That night, he got to face off against players like Patrik Antonius and Erik Slider and walk away with $770,000.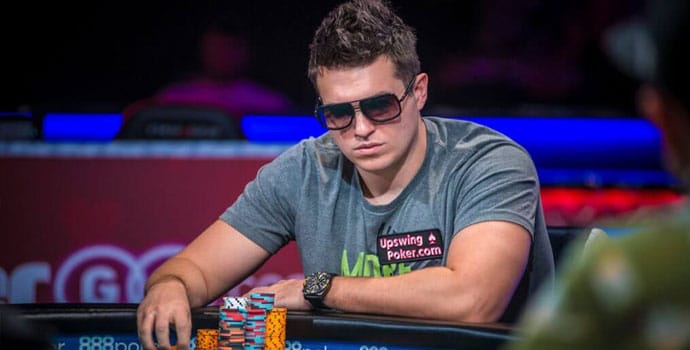 In 2014 he won a $100k Super High Roller for $1.648 at the Bellagio. Later that year, he won his first gold bracelet in the $1,000 NLHE Turbo event. With that massive win over a 1,000 player field, he earned a $252,000 victory payout.
After winning his first WSOP bracelet, Polk began to focus more on high-stakes tournaments, and in the middle of 2015, he started a training site called Upswing Power. He also created his YouTube Channel, which later on went on to become the most popular poker channel on the video network.
In August 2016, Polk started what's known as a "Bankroll Challenge," where he pledged to take a $100 bankroll and turn it into $10,000 by playing online poker. He broadcasted the whole thing on the internet.
Polk worked tirelessly to drive traffic to his Twitch Stream. He included all of the details on Upswing Poker and invited other players to join in on the fun. Fedor Holz, Vanessa Selbst, Doyle Brunson, and James Obst all made appearances on his channel.
He initially aimed to complete the challenge in two months, but it turned out that it was unattainable. It took him two years and 58 sessions to make it. While he kept trying to reach his goal, he participated in many online games as well as live poker tournaments.
Though he may not have completed his challenge as quickly as he had thought, 2016 was a fantastic year for Polk. He won a total of $115,000 at the end of a SCOOP event and also participated in another WCOOP event, where he left with winnings of $455,000, a record-breaker at that point.
Doug Polk won his second gold bracelet from a tag team event in the 2016 World Series. In that tournament, his teammate was Ryan Fee. Later on, Fee became one of the coaches on Polk's poker website, Upswing Poker.
The third golden bracelet was won alongside one of Polk's most notable career victories. Winning first place in the $111,111 NLHE High Roller for One Drop at the World Series in 2017 was an amazing achievement. In this tournament victory, Polk won $3.687 million and defeated a star-studded field packed with fierce competitors. Players at the competition included Phil Hellmuth, Antonio Esfandiari, and his nemesis, Daniel Negreanu.
To win the title, Polk went head-to-head with Bertrand "Elky" Grospreiller; after this significant win, he decided to 'go out on top,' as they say. He announced his retirement in 2018. During his six-year career, Polk has amassed 31 individual cashes for a total of $9.454 million. On top of the three golden bracelets, he had eleven money finishes, and five tables during the World Series of Poker.
Doug Polk Achievements at a Glance
World Series of Poker Bracelets
| | | |
| --- | --- | --- |
| Tournament | Winnings | Year |
| $1,000 Turbo No Limit Hold'em | $251.969 | 2014 |
| $1,000 Tag Team No Limit Hold'em (w/Ryan Fee) | $153,358 | 2016 |
| $111,111 Higher Roller for One Drop No Limit Hold'em | $111,111 | 2017 |
Doug Polk Biggest Cashes
| | | |
| --- | --- | --- |
| $1, Turbo No Limit Hold'em | $740,000 | 2011 |
| $10,000 WCOOP Event | $455,000 | 2016 |
| $111,111 Higher Roller for One Drop No Limit Hold'em | $3,686,865 | 2017 |
Doug Polk Recent Earnings
| | | |
| --- | --- | --- |
| Tournament | Winnings | Year |
| $10,000 WCOOP Event | $455,000 | 2016 |
| $111,111 Higher Roller for One Drop No Limit Hold'em | $3,686,865 | 2017 |
Doug Polk Net Worth
Doug Polk has amassed his net worth of about $10 million through his online poker games, live tournaments, as well as other streams of income. He's undoubtedly one of the most famous poker players in America.
At the young age of 29, he has made a name for himself as one of the wealthiest professional poker players in the world. Despite retiring in 2018, his net worth is on the rise because of his various business ventures. Doug has also been involved in crypto-currency.
Regardless of his many financial streams, fans and critics still gossip about Polk's actual wealth status. There are always speculations regarding how players retain their money when it comes to professional poker, considering the nature of the game. Polk has a different approach to business, though, and with his diverse portfolio, it seems that it's highly unlikely that he'd go broke anytime soon.
Personal Life
Doug Polk has a YouTube channel, but he's far from your average over-sharing blogger. A relatively private person, the only personal information that's well known, is that he has had a long-time girlfriend. He still lives in Pasadena, California.
Most of his time is spent working on his coaching site, but he's known to get into rifts with other internet players. In 2018 Luke Schwarts called Polk's coaching website a scam, which caused some tension between the players. Polk says that his tendency to fall into dramatic situations with other players is one of the reasons that he retired from poker.
When it comes to table manners, Polk has some room for improvement, especially when it comes to his relationship with Negreanu. The two players have a history of fighting at the table, and Polk often has criticized Negreanu publically. At one point, Polk even held a contest calling for his YouTube fans to create the best memes making fun of his rival.
Polk has other critics as well. In July 2018, Fernando "JNanzedez87" Habegger was teaching a Pot-Limit Omaha course for Polk's poker website, Upswing when he unexpectedly resigned. Habegger went on to release a one-hour video criticizing Polk and his site.
Conclusion: Will He Make a Return to the Table?
It seems like it's game over for the 2017 WSOP One Drop High Roller Champ, at least that's what Polk told his fans in a 2018 Youtube video. In the clip, the Upswing Poker Champion said he was taking a hiatus, indefinitely.
"I'll probably play occasionally from time to time for fun," Polk said, "Maybe at some point down the road it will be something that I want to get back into, and the flame will reignite and I'll want to play a lot of poker, I really don't know."
No one knows if Polk will find his way back to the tables. After almost ten years of playing and nearly $10 million in the bank, we don't blame him for taking a break. It'll be interesting to see what the new decade brings to the player and businessman, but he remains one of the best heads-up online poker specialists of all time.
Sources