Doyle Brunson Net Worth: When it comes to the achievements of making poker history and impressing with wins and earnings, only a handful of players come to mind. One of those is Doyle Brunson, who retired from tournament poker in 2018.
There is so much more to the man and the legend than just bracelets and cash prizes. Anyone interested in poker can learn a thing or two from Brunson and how he achieved his impressive career. The details of his life and career give us a glimpse at how he became a living legend and so this article is dedicated to him.
| | |
| --- | --- |
| Name | Doyle F. Brunson |
| Nickname | Texas Dolly |
| Profession | Professional poker player |
| Born | 10th of August, 1933 |
| Net Worth | $75 million |
Early Career
Brunson was born in Fisher County, Texas, on 10th August 1933. His love of sports saw him on the track, playing college football, and All-State basketball. Brunson came close to joining the Minneapolis Lakers, but a knee injury brought an end to any hopes of a professional career in basketball.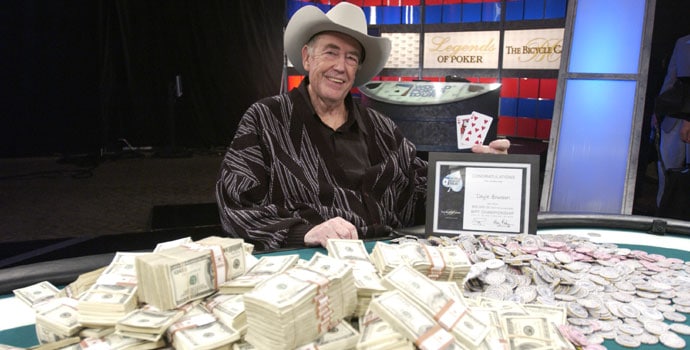 It was around that time that Brunson started playing five-card draw poker. Unable to participate in sports the way he used to, Brunson became a frequent player and started to see how much the game could earn him. He continued his studies, achieving a bachelor's and a master's degree in administrative education.
He went on to become a salesman, but immediately upon starting the job, played a game of seven-card stud, and took home more than a month's wages as his winnings. Not long after, he left the role in the pursuit of a career as a professional poker player.
He started out playing illegal games with his friend Dwayne Hamilton in Fort Worth but soon started traveling to games in Texas, Louisiana, and Oklahoma. The games got bigger and better, and along the way, Brunson met other professional players Amarillo Slim and Sailor Roberts.
It was a rough scene due to the criminal gangs that ran the games. The players pooled their money and decided to head to Las Vegas. They lost it all, which is often a part of the game, but Brunson still wanted a Vegas jackpot and became a regular on the strip.
Professional Poker Career
Also known as Texas Dolly, Brunson became a regular at the World Series of Poker (WSOP), attending the first tournament when it launched in 1970. He made it to the final tables from those early events when it was winner-take-all. He has played at almost every tournament until his retirement.
In 1976, Brunson went all the way and took his second win the following year in 1977. It was at these tournaments that the name for the Doyle Brunson hand came about, as he held 10-2 for his final hands. In the years to follow, he finished high in the tournament, losing to Ungar in 1980, coming 4th in 1982, 3rd in 1983, and 16th in 1997.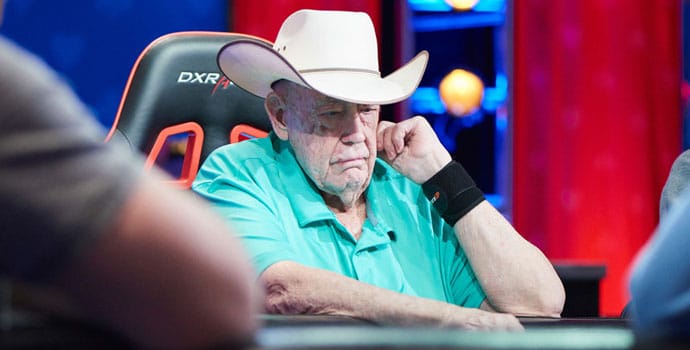 The year after his back-to-back wins, Brunson authored and published Super/System, a poker resource book, whose authority has earnt it and the author a place in poker history. It's unusual for a poker player to reveal their tips and strategies, especially while active. He admits it cost him a lot of money at the tables around that time.
In 2004, Super/System 2 was published as a revised edition of the original. Several top professional poker players contributed chapters to the book, including Joey Hawthrone, Chip Reese, and Mike Caro. At this time, his success was evident with a World Poker Tour title and over $1 million in winnings from one event.
Brunson was a regular at Bobby's Room in the Bellagio throughout his career. He played at some of the largest poker games across the globe and took a seat and several large international tournaments. In 2006 Bluff Magazine voted Texas Dolly as the most influential personality in poker. At his last game in 2018, Brunson received a standing ovation.
Doyle Brunson Achievements At A Glance
Texas Dolly has won an impressive 10 bracelets in his career spanning 5 decades. The only player with more bracelets is Phil Hellmuth.
World Series of Poker Bracelets
| | | |
| --- | --- | --- |
| Tournament | Winnings | Year |
| $5,000 Deuce to Seven Draw | $80,250 | 1976 |
| $10,000 No-Limit Hold'em World Championship | $230,000 | 1976 |
| $1,000 Seven Card Stud Split | $62,500 | 1977 |
| $10,000 No-Limit Hold'em World Championship | $340,000 | 1977 |
| $5,000 Seven Card Stud | $68,000 | 1978 |
| $600 Mixed Double with Starla Brodie | $4,500 | 1979 |
| $2,500 No-Limit Hold'em | $208,000 | 1991 |
| Seven Card Razz | $93,000 | 1998 |
| $2,000 H.O.R.S.E | $84,000 | 2003 |
| $5,000 No-Limit Shorthanded Texas Hold'em | $367,800 | 2005 |
World Poker Tour Titles
Brunson's largest tournament winnings come from the time he beat all the other legends and took the World Poker Tour (WPT) title.
| | | |
| --- | --- | --- |
| Tournament | Winnings | Year |
| WPT Legends of Poker | $1,198,290 | 2004 |
Doyle Brunson Biggest Cashes
| | | |
| --- | --- | --- |
| Tournament | Winnings | Year |
| No-Limit Hold'em Championship Legends of Poker WPT | $1,198,290 | 2004 |
| No-Limit Hold'em Championship Day 1 Chip Count Five Diamond World Poker Classic WPT | $563,485 | 2005 |
| No-Limit Hold'em Shorthanded WSOP | $367,800 | 2005 |
| No-Limit Hold'em World Championship WSOP | $340,000 | 1977 |
| H.O.R.S.E WSOP | $274,560 | 2006 |
Doyle Brunson Recent Earnings
| | | |
| --- | --- | --- |
| Tournament | Winnings | Year |
| $10,000 No-Limit 2-7 Lowball Draw | $43,963 | 2018 |
| WSOP Main Event | $28,063 | 2013 |
| European Poker Tour London | $13,892 | 2011 |
| Five-Star World Poker Classic WPT | $37,167 | 2011 |
| NBC National Heads Up Poker Championship | $30,000 | 2011 |
Doyle Brunson Net Worth
Texas Dolly is in the history books because of his earnings too. He's the first poker player to have earned $1 million from poker tournaments. From his thirty-seven WSOP cashes alone, Brunson has earned over $3,000,000. His net worth from live tournament earnings is more than $6,100,000.
Today, Doyle Brunson's net worth is estimated to approximately $75 million.
Besides being a successful published author, he also established his own online poker room. He called it Doyle's Room, it ran successfully on several different poker networks, moving from Tribeca Poker Network to Prima Poker Network, and then Cake Poker Network. Brunson was approached to sell the site, but declined.
Not long after the offer, the Unlawful Internet Gambling Enforcement Act was passed, causing the site to drastically lose value. The room was investigated in 2011 in connection with online gambling law violations, and Brunson discontinued his involvement shortly afterwards.
Doyle Brunson Personal Life
Brunson is more than a famous name in poker. Almost always seen wearing his cowboy hat, his silhouette is just as famous. Those who are close to him know that there is more to the man than poker hands and his hat.
Brunson married in 1962, and soon after, his wife Louise got pregnant. It was in that same year that a cancerous tumor was discovered and removed from his neck. Additional tumors were found, and a second surgery was planned in the hope that it would keep him alive long enough to see the birth of his baby.
Brunson returned to full health and thanked friends and family for their prayers. He went on to have a daughter Doyla, who sadly passed away at 18 due to a heart valve condition. He and Louise also have a son Todd and a daughter Pamela. They both followed in their father's footsteps.
Todd won a bracelet at the 2005 WSOP in Omaha Hi-Lo, making them the first father and son pair to win World Series bracelets. Pamela played the main events at the 2007 and 2009 WSOP, outranking her father and her brother. When retiring from poker, ever the family man, Brunson, stated that his wife was not in very good health and that they would spend as much time together as possible in their last years.
Conclusion: A Legend Who Will Remain In The History Books
Texas Dolly's poker career has hit every note that a player could wish for, and some more besides. His back to back WSOP main event wins marked him out early on as someone special. His time at the felt stretches over 60 years, and he has kept pace with the changes. From illegal games run by gangs and the first-ever World Series of Poker to an online poker room, Texas Dolly has seen and done it all.
The unheard-of achievements continued as he became the first player to earn $1 million through tournaments. He reached 10 bracelets, added a WPT title, a poker hand named after him, a place in the Poker Hall of Fame, wins and cashes across the decades, and several respected poker books published. He then enjoyed playing at the same tournaments as his son and daughter.
His net worth is enough to make him stand out from the crowd, estimated at $75 million. Combined with his achievements in the industry, it makes him a player to remember. There is still so much to learn from this poker hero, and his presence at the table will be missed. Fortunately, the legacy he leaves will go on to inspire and encourage future generations of poker players.
Sources