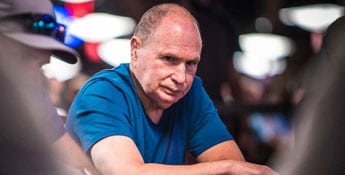 Gabe Kaplan Net Worth: Not many poker professionals have such a varied CV as Gabe Kaplan. In the poker world, you will undoubtedly know him as a professional champion poker player and High Stakes Poker commentator, but did you know that Gabe Kaplan started his career as a comedian? In this article, we'll take you through his life and career to date. We'll also cover Gabe Kaplan's net worth, and what it took for him to get to where he is today.
| | |
| --- | --- |
| Name | Gabriel Weston Kaplan |
| Nickname | Gabe |
| Profession | Poker player, actor & comedian. |
| Born | 31st of Mars, 1945 |
| Net Worth | $50 million |
Early Career
Gabriel Weston Kaplan was born of Dorothy and Charles Kaplan in Brooklyn, New York, on 31st March 1945. Kaplan graduated from New Utrecht High School in Brooklyn, New York, and now lives the Hollywood life in Los Angeles.
His childhood dream was to be a Major League Baseball player, and he even began training with the NY Giants. However, it wasn't meant to be, and after a few years, Kaplan stopped trying to turn professional.
In the mid-1960s, one of his first jobs was as a Bellman at a New Jersey hotel where comedians often performed, and which inspired his career as a stand-up comedian. He toured the country as a successful comedian and even appeared five times on the Tonight Show Starring Johnny Carson between 1973 and 1974.
Acting Career
Spurred on by his Tonight Show television performances, Kaplan moved into the limelight further as an actor.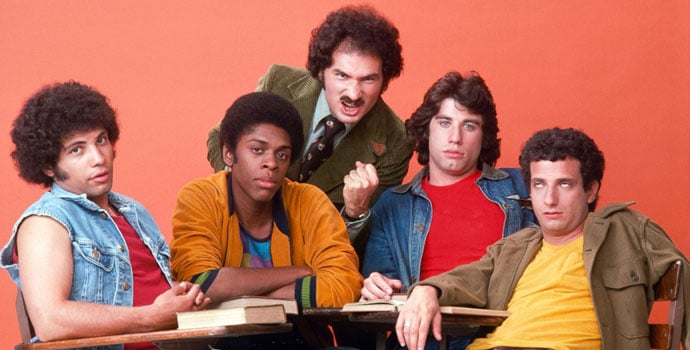 He's most famously known for starring as Gabe Kotter in the sitcom Welcome Back, Kotter, which ran from 1975 to 1979. Kaplan played a retorting teacher who returns to his alma mater and teaches a high school class of slackers called the 'Sweathogs,' The ABC show was based on Kaplan's personal experiences as a student in the 1960's, and it launched John Travolta's acting career. Travolta soon went on to star in Saturday Night Fever and Greece.
From 1976 to 1978 was captain of the ABC Network team competing in Battle of the Network Stars, a celebrity athletic competition TV show. Kaplan appeared in several movies, including The Love Boat, Nobody's Perfekt, and Tulips, and starred in the 1979 film Fast Break. In 2007 Kaplan published a book called Kotter's Back: Emails from a Faded Celebrity to a Bewildered World.
Professional Poker Career
Kaplan has made a name for himself predominantly in No-Limit Texas Hold 'em, but he started playing poker during his acting days, describing it as a hobby. He moved away from his Hollywood career in the late 1970s, making financial investments and playing in poker tournaments. Both activities have significantly increased Gabe Kaplan's net worth over time.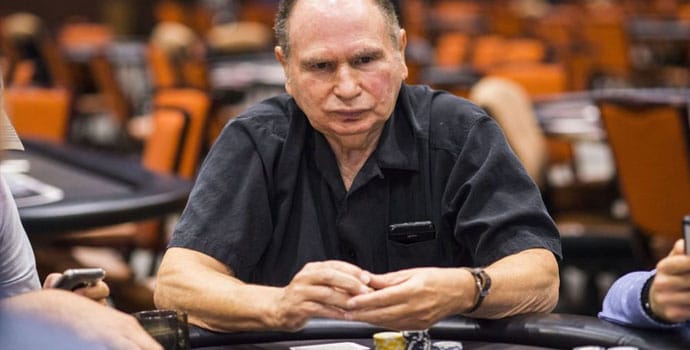 In 1978 Kaplan made his earliest appearance at the World Series of Poker and entered the $10,000 Main Event but didn't last more than a few hours. However, soon after, in 1979, he came first in the Main Event at Amarillo Slim's Super Bowl of Poker, winning $190,000. He made the final table two more times within five years, cementing his reputation in the poker world.

In 1987 he came first in Knights of the Round Table No-Limit Hold 'em at Tropicana Casino, Atlantic City netting a decent $108,000. At the 1988 and 1989 World Series of Poker, Kaplan finished in the money a few more times; 3rd and 5th in the $5,000 Seven Card Stud event, and 8th in the $1,000 Seven-Card Razz event.
In the 1990's Kaplan continued to play well and won further at the 1993 $2,500 NL Deuce to Seven event ($25,250), the 1995 $1,000 Deuce to Seven Draw event ($34,925) and was 3rd in 1996 World Series of Poker's $5,000 Limit Hold 'em event earning a substantial $222,515

In 2004 he finished third netting over $250,000 in the No-Limit Texas Hold 'em World Poker Tour event at the Mirage Hotel, Las Vegas. In 2005 he finished second in World Series of Poker $5,000 Limit Hold 'em winning around $222,000.
In 2007 he was the winner of the Poker After Dark episode Queens and Kings in a $20,000 buy-in, winner takes all Sit-and-Go no-limit Texas Hold 'em. He also finished ninth in WSOP's HORSE event that year, winning over $131,000.
In 2008 he won Poker After Darks Cowboys week event beating the likes of Chris Ferguson, Hoyt Corkins, and Andy Bloch. He also won against Tom Dwan in the 2010 Poker After Dark's the Commentators III episode. His performances on these events made him a notorious player and a favorite to many, and the show was hailed as one of the best comebacks in Poker After Dark's history.
2014 saw Kaplan win his highest ever cache at the Bellagio No-Limit Hold 'em Super High Roller finishing eighth of sixty-six entries and winning $258,390. You can see why Gabe Kaplan's net worth is not a small amount of money even today.

In addition to his poker playing, Kaplan was a frequent commentator at major poker events. He was the host for Game Show Network's High Stakes Poker, being replaced by Norm MacDonald in 2011. Kaplan, alongside Phil Hellmuth, was a broadcaster for the only outdoor World Series of Poker in 1997 held in Fremont Street outside Binion's Gambling Hall.
Other commentating roles include for the National Head' s-Up Poker Challenge on CNBC in 2005, at the World Series of Poker 2002, and Intercontinental Poker Championship on CBS.
Gabe Kaplan: Achievements at a Glance
Gabe Kaplan Biggest Cashes
| | | |
| --- | --- | --- |
| Tournament | Winnings | Year |
| $100,000 NLHE | $258,390 | 2014 |
| World Poker Tour No-Limit Hold'em | $250,000 | 2004 |
| WSOP $5,000 Limit Hold'em | $222,515 | 2005 |
| Amarillo Slim's 2nd Annual Poker Classic (Super Bowl) | $190,000 | 1979 |
| $50,000 H.O.R.S.E Championship | $131,424 | 2007 |
Gabe Kaplan Recent Earnings
| | | |
| --- | --- | --- |
| Tournament | Winnings | Year |
| $100,000 NLHE | $258,390 | 2014 |
Gabe Kaplan Net Worth
Gabe Kaplan's net worth is purported to be worth between $30 and $50 million. His total poker winnings to date stand at over $2m, but he made the bulk of his fortune as an actor and investor.
He has successfully used his acting and poker earnings to make savvy investments, which have increased Gabe Kaplan's net worth dramatically. He took risks in the 1980s and 1990s not only on his career but on dicey private placement investments.
Personal Life
Kaplan has always kept his private life out of the spotlight, and very rarely has he been linked to anyone romantically. He has one daughter, Rachel Kaplan, though his daughter's mother's name has never been disclosed publicly, and he has never married.
Kaplan was in the headlines for the wrong reasons in 2011 when he, and a handful of other celebrities, were sued for supposedly winning cash stolen from investors in a Ponzi scheme. He agreed to return over half his $62,000 winnings as part of a settlement.
Conclusion: A Funny Old Game!
Comedian, Actor, Professional Poker Player, Financial Investor, Commentator, Screenwriter, Author, and Disc Jockey. Kaplan has had an eclectic career, though each career seems to have worked in perfect synergy; what better than a poker player that can act or a comedic poker commentator.
Since being replaced as a commentator on High Stakes Poker in 2011, Kaplan continues to play poker, act, and occasionally performs his stand up at various comedy clubs. No doubt, he is still investing in the financial world and enjoying his profits.
Sources