More sportsbooks will open in the coming years. That said, you'll enjoy plenty of variety when betting in Pennsylvania.
You can use this guide to narrow down the list of available bookmakers and choose one that's right for you. This page also covers placing wagers, betting bonuses, legality, banking, and more.
Best PA Online Sports Betting Sites
Fox Bet
Bet Rivers
Draftkings Sportsbook
Sugar House
FanDuel Sportsbook
Is Online Sports Gambling Legal in Pennsylvania?
Pennsylvania was one of the earliest states to legalize sports wagering. Gov. Tom Wolf approved this form of gambling when he signed HB 271 into effect on October 30, 2017.
At the time, though, the Professional and Amateur Sports Protection Act (PASPA) still outlawed betting on a federal level.

The Supreme Court repealed PASPA on May 14, 2018. Sports betting became fully legal in Pennsylvania right after.
The Keystone State allows both land-based and online sportsbooks. It also lets you place a variety of wagers.
Below are the different types of legal bets in Pennsylvania:
Moneyline - A straight-up bet that assigns handicapped odds to the favorite (e.g., -110) and underdog (+130).
Point spread - This wager handicaps teams by point spreads, with the favorite (e.g., -2.5) needing to cover more points than the underdog (e.g., +2.5).
Totals - You bet on two teams' combined point total being over or under a specific amount (e.g., over/under 80 points).
Parlay - A parlay requires you to choose the outcome of 3+ matches in a single bet. You must correctly guess every outcome to win.
Teaser - A teaser works similarly to a parlay. However, it lets you adjust point spreads to improve your odds of winning each outcome.
Futures - These bets involve you wagering on an outcome that will be settled days, weeks, or months later (e.g., preseason Super Bowl bet).
Prop bets - You wager on a proposition that doesn't involve the match's final score (e.g., basketball game's leading scorer).
Live betting - Live wagers are available at different points of an active match.
You may initially find the various types of bets to be confusing. However, Pennsylvania online sportsbooks feature resources that explain the wagers they offer.
If you're looking for a starting point, then you'll find moneylines, point spreads, and totals to be the simplest bets. In contrast, parlays and teasers are among the most difficult wagers to understand.
How to Get Started with PA Online Sports Betting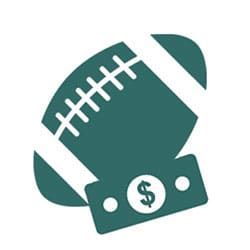 Each PA internet bookmaker does its best to make the registration process as simple as possible. Nevertheless, you might need help if you're new to online betting.
The following steps will help you get started quickly:
Choose one of the online bookmakers listed on this page.
Visit their website and click on the join or sign up button.
Complete the registration process.
Enter a bonus code (optional).
Agree to the sportsbook's terms and conditions.
Submit your account for approval.
Place a deposit.
You'll typically need to download an app when betting through a smartphone or tablet. This action replaces the second step because it comes before registration.
The registration process requires you to enter basic information about yourself, such as your name, birth date, and address.
The Pennsylvania Gaming Control Board (PGCB) requires operators to obtain this information to ensure that you're not on the state's gambling self-exclusion list.
You must enter the proper bonus code if you want to qualify for a bookmaker's welcome bonus. Our codes ensure that you get the best deals possible.
Geolocation in the Pennsylvania Gambling Market
You need to be located within Pennsylvania boundaries when making bets. After all, PA sports betting laws don't apply to other states.
Bookmakers use geolocation to pinpoint your location via your Wi-Fi data. If you're in the Keystone State, you shouldn't experience any trouble when placing wagers.
Geolocation technology has improved over the years. Early online gambling adopters, like New Jersey residents, initially experienced trouble with this software.
Gamblers who were close to state borders commonly received false warnings that they were outside the boundaries. Luckily, Pennsylvania online sports gambling launched after geolocation's rough early days.
PA Sports Betting Banking Options
Many top-tier payment options serve the regulated PA betting market. Therefore, you can use plenty of safe banking methods when depositing or withdrawing.
Deposit Methods
ACH (e-check): You can send an e-check from your bank to an online bookmaker instantly.
Cash at cage: Some online bookmakers let you make cash deposits via their land-based partners.
Credit/debit card: Mastercard and Visa-branded credit and debit cards also let you make instant deposits.
E-wallet: You can deposit after linking your e-wallet with a bank account.
PayNearMe: You can purchase a payment voucher at 7-Eleven and use the code to fund your betting account.
Prepaid cards: Various bookmakers offer branded prepaid cards that you can use for deposits.
Withdrawal Methods
ACH: Send money from your sportsbook account back to your bank.
Check: Some bookmakers can mail you a check, which can take 10-14 days to arrive.
E-wallet: E-wallets, including Neteller, PayPal, and Skrill, also double as withdrawal options.
Prepaid cards: Sportsbooks' branded prepaid cards are also available for cashouts.
PA Sports Betting Apps
Every active Pennsylvania bookmaker is compatible with mobile devices. However, they're divided regarding the apps they feature.
Some online sportsbooks boast both Android and iOS apps. You can visit these sites and download their app via your Android, iPhone, or iPad.
Other sportsbooks only offer an Android app and iOS browser-based betting. The latter requires you to download GeoGuard from the App Store for geolocation purposes.
You can see the current app situation for active PA sportsbook apps below:
DraftKings - Android and iOS apps
FOX Bet - Android and iOS apps
FanDuel - Android and iOS apps
Unibet - Android and iOS apps
PlaySugarHouse - Android app and iOS browser-based betting (with GeoGuard)
BetRivers - Android app and iOS browser-based betting (with GeoGuard)
Parx Casino Sportsbook - Android app and iOS browser-based betting (with GeoGuard)
BetAmerica - Only browser-based betting (with GeoGuard)
Why are there Differences Between PA Android and iOS betting apps?
On June 3, 2019, Apple announced major changes to its policies on gambling apps. It gave developers until September 2019 to convert new gambling apps to the native iOS programming language.
Existing iOS betting apps were safe from these changes. Therefore, the earliest PA bookmakers benefited immensely by not needing to recode their apps.
However, all sportsbooks that launched after June 2019 have dealt with this headache. Many bookmakers prefer to offer cost-effective HTML apps over native iOS products.
SugarHouse developed a solution to this problem by working with GeoComply, the makers of GeoGuard. The site now offers browser-based wagering to iOS users while using GeoGuard to remain compliant with PGCB regulations.
Multiple bookmakers have followed in SugarHouse's footsteps. Future Pennsylvania sportsbooks will likely use the same measures to get around the App Store's new policies.
Of course, Android betting apps come with their own set of challenges. Google Play doesn't allow real-money gambling products.
Therefore, you must download PA sports betting apps directly from bookmakers' websites. Fortunately, you shouldn't experience any trouble locating Android download links at Pennsylvania sportsbooks.
Should you care about Wagering Through Apps?
Both apps and internet browsers offer convenient ways to place bets in Pennsylvania. Therefore, you may wonder if it's worth caring about an app.
You should consider the advantages and disadvantages of betting apps to determine whether they're right for you. Here are the key benefits and drawbacks to consider.
Pros of Betting Apps
Launch directly from your home screen.
Offer quicker load times.
Better in areas with slower Wi-Fi.
Cons of Betting Apps
Require storage space on your device.
You may need to download extra software for geolocation purposes.
Most PA bookmakers don't feature iOS apps.
PA Sports Betting Bonuses
Pennsylvania online sportsbooks are in competition to earn your betting action. Many offer lucrative welcome bonuses to entice you.
Welcome offers typically consist of both a no-deposit and deposit bonus. These deals can be based on either cash or free bets.
No Deposit Betting Bonuses
A no-deposit offer doesn't require you to fund your account. Instead, you receive this bonus after completing registration.
Here's an example:
You sign up at Unibet.
You receive a $20 no-deposit bonus.
The offer is split into two free $10 bets.
Free bets give you an opportunity to earn back potential losses stemming from wagers. If you lose both of the free $10 wagers from Unibet, for example, you could recoup up to $20 total.
No-deposit bonuses give you a chance to win free money from sportsbooks. You might consider registering at multiple PA betting sites to cash in on these deals alone.
Deposit Betting Bonuses
You'll be eligible for a deposit bonus upon funding your account for the first time at a new sportsbook. These deals can deliver either a free bet or match-percentage bonus.
Here's an example of the latter:
SugarHouse offers a 100% match bonus worth up to $250.
You deposit $100.
You now qualify for a $100 bonus.
Unlike free bets, cash-based deposit bonuses don't require you to lose money to benefit. Instead, you merely need to satisfy rollover (a.k.a. playthrough) to cash out.
Bonus Codes
In many cases, you must use a bonus code to qualify for sports betting bonuses. You input relevant codes during either the registration or deposit process.
You can use the codes listed on this page. Our bonus codes qualify you for the best available deals in Pennsylvania.
Some bookmakers don't require you to enter a bonus code. In these situations, you can visit PA sportsbooks through our links to ensure that you get the top offers.
Terms & Conditions
Online betting sites place terms and conditions on bonuses. They want to draw wagering action from you before handing over bonus funds.
Rollover is one of the most important terms. It calls on you to bet your match bonus or free wager by a multiple of the bonus amount (e.g., 10x).
Here's an example:
You place a $25 free bet and lose.
Rollover on losses is 10x.
25 x 10 = 250.
You must wager $250 to reclaim your losses.
Playthrough isn't the only term you need to consider. You should carefully examine T&Cs before pursuing an offer.
Loyalty Rewards
Sportsbooks don't offer VIP programs with the same frequency that online casino and poker sites do. Nevertheless, some PA bookmakers do feature loyalty schemes.
Typically, you rack up VIP points through your wagers. You can exchange these points for cashback and other rewards.
Again, loyalty programs are rarer in sports gambling, so it's a big plus when a sportsbook does offer a VIP program.
What can you bet on in Pennsylvania?
The Coal State lets you wager on professional sports leagues, college athletics, major sporting events, local teams, and horse racing. The following information explains more about all of these opportunities.
Professional & College Sports
Available markets vary from bookmaker to bookmaker. However, the following pro and college markets are common across the board:
Australian rules football
Boxing
College basketball
College football
Golf
MLB
Motorsports
MMA/UFC
NBA
NHL
Soccer (Premier League, MLS, and more)
Tennis (men's & women's)
NFL betting is the most popular form of sports gambling in the state. College basketball, college football, MLB, NBA, and NHL wagering are also sought-after.
Major Events
Here are some of the biggest betting events available in PA:
College Football Playoffs
Kentucky Derby
March Madness
NBA Finals
Super Bowl
Stanley Cup Playoffs
The Masters
Wimbledon
World Cup
World Series
The Super Bowl draws countless wagers in Pennsylvania. It offers plenty of unique prop bets and live wagering opportunities.
March Madness is another premier sports gambling event. It gives you an opportunity to cash in on many upsets, especially in the early tournament rounds.
Betting on Local Teams
Pennsylvania is well-represented in both college and professional sports. The Keystone State features multiple pro baseball, football, and ice hockey franchises.
It also spreads several prominent college basketball and football teams. Many PA sports fans enjoy wagering on one or more of the following:
Pro sports teams in PA
Philadelphia Phillies (MLB)
Pittsburgh Pirates (MLB)
Philadelphia 76ers (NBA)
Philadelphia Eagles (NFL)
Pittsburgh Steelers (NFL)
Philadelphia Flyers (NHL)
Pittsburgh Penguins (NHL)
Philadelphia Union (MLS)
Notable college sports teams in PA
Penn State football
Pittsburgh football
Temple basketball
Villanova basketball
Horse Racing
HB 271 doesn't cover online horse betting. However, the state does feature off-track betting (OTB) facilities.
OTBs let you wager on horse races that take place around the world. They're especially popular just before the Kentucky Derby takes place.
You can also visit racetracks in the state to place wagers. Pennsylvania houses the following racecourses:
Harrah's Philadelphia (harness)
Hollywood Casino at Penn National Racecourse (thoroughbred)
Meadows Racetrack (harness)
Mohegan Sun at Pocono Downs (harness)
Parx Casino and Racing (thoroughbred)
Presque Isle Downs & Casino (thoroughbred)
What Betting Markets are Illegal in PA?
Pennsylvania only features betting on "real" sports. It doesn't allow gambling on non-sporting contests, such as the Oscars or political elections.
PA also considers the NBA Draft and NFL Draft to be non-sporting affairs. After all, no athletic competition takes place at these events.
You can't wager on high school sports, either. This rule is common in other states with regulated sports gambling, too.
The Quaker State also bans esports betting, but it's available in other states. Because some pro gamers are minors, PA chose to omit esports wagering from its market.
Responsible Betting in PA
The Pennsylvania Gaming Control Board takes problem betting seriously. It includes self-exclusion lists that let gamblers ban themselves from both land-based and Pennsylvania online sports betting.
Gamblers who want to be excluded from online and/or land-based sportsbooks must complete the PGCB's required paperwork. They can choose to exclude themselves for one year, five years, or a lifetime.
When a one- or five-year ban is up, excluded gamblers must contact the PGCB to participate again. Otherwise, their bans remain in effect past the requested timeline.
The Council on Problem Gambling offers a questionnaire for anybody who's unsure if they're a problem bettor. It also features help resources on its website.
Sportsbooks do their part by providing various tools to help curb problem gambling. For example, they let bettors place limits on wager sizes, deposit amounts, and time spent on the site or app.
Pennsylvania Sports Betting History
PA legalized sports betting in October 2017 through HB 271. Considering the federal ban on sports betting at the time, Pennsylvania was merely preparing for PASPA to be repealed.
The latter happened in May 2018. Amid a challenge from New Jersey, the Supreme Court ruled that PASPA was unconstitutional.
Penn National Gaming (Hollywood Casino) became the first company to apply for a betting license in early August 2018. Parx Casino became the second entity to apply later that month.
Since then, many more companies have applied for and obtained betting licenses. Most approved license holders have already launched a brick-and-mortar and/or online sportsbook.
FAQs on Pennsylvania Online Sports Betting
Is sports betting legal in PA?
Yes, HB 271 makes land-based and online sportsbooks legal across the state. You can legally place a wide variety of bets, including futures, live wagers, moneylines, parlays, point spreads, prop bets, teasers, and totals.
Do PA online sportsbooks offer apps?
Almost every Pennsylvania online bookmaker offers an Android and/or iOS app. You can visit your preferred sportsbook to find instructions on downloading PA betting apps.

Sportsbooks require you to download Android apps directly from their websites. IOS versions may or may not be available in the App Store.
Why doesn't my betting site feature an iOS app?
In June 2019, Apple shook up the betting industry by announcing that all gambling apps must use the iOS programming language.

Existing apps that used HTML before June 2019—including the earliest PA applicants—are exempt from this rule. However, all subsequent operators must comply if they want to be listed in the App Store.

SugarHouse invented a workaround that includes offering a combination of browser-based gambling and GeoGuard. PA bettors with iOS devices can place wagers through their mobile browser after downloading GeoGuard.
What is GeoGuard?
Developed by GeoComply, GeoGuard is a location validator that pinpoints the location of Android and iOS devices. Pennsylvania bookmakers can use GeoGuard to determine if you're within state boundaries.
Does Pennsylvania offer the "cashout" feature?
The cashout option lets you cash in on a bet before an outcome is officially completed. For example, you might bet on an underdog and want to take guaranteed money if they grab an early lead.

Some Pennsylvania sportsbooks, such as FanDuel and FoxBet, offer this feature. However, other bookmakers don't let you cash in early on wagers.

Our reviews discuss features available at PA online casinos. You can refer to our reviews to see if a bookmaker offers cashouts.
How do I deposit at an online sportsbook?
You need to visit the banking section of any prospective PA online bookmaker and review the deposit options. Your goal should be to find at least one reliable method you can use.

Next, you must ensure that your chosen deposit option is funded. If so, you can place a deposit and begin making wagers.
Does Pennsylvania ban any bet types?
PA excludes gambling on the following four categories:

1. Esports
2. High school sports
3. Non-sporting (e.g., political) events
4. Sports drafts

Some states and countries around the world allow betting on esports, non-sporting events, and drafts. However, Pennsylvania's market focuses on sports that involve adult competitors.

Esports gambling may come to fruition in PA in the future. New Jersey sports betting sites, for example, allows residents to bet on esports matches where all competitors are 18 or older.

For the time being, though, PA has chosen to completely cut out esports betting. State politicians don't like that some esports pros are under the age of 18.
Is college football & March Madness betting legal?
Much like high school sports, college basketball and football strictly involve amateurs. This amateur status creates a moral dilemma on whether NCAA sports betting should be allowed.

The PA Legislature ultimately approved college basketball and football betting via HB 271. In contrast to high school sports, NCAA contests involve adult competitors.
What is the best PA online sportsbook?
You can refer to the list on this page to see our current pick for the best Pennsylvania betting site. We've vetted each bookmaker in the market to determine our top choice.

Of course, you may want to develop your own opinion on the matter. If so, you should pay special attention to bookmakers' bonuses, customer support, markets, and website navigation.
Why was my credit card deposit declined at a PA betting site?
Each bank that issues debit and credit cards holds its own policies on gambling. Some financial institutions, such as Bank of America, are staunchly opposed to online betting—even in Pennsylvania.

You aren't doing anything wrong when your PA betting deposits are declined—the issuing bank is merely enacting its policy.

However, you should take steps to ensure that you don't experience this problem again. You can either choose a different deposit method (e.g., e-wallet) or find a new bank.
Is the FanDuel sportsbook legal?
FanDuel rose to prominence through daily fantasy sports (DFS) in the mid-2010s. At this point, DFS was a grey area that drew the attention of many state politicians.

Along with DraftKings, FanDuel eventually got into heated legal battles in various states. These legal clashes brought FanDuel's legality into question.

Even today, their presence in the Pennsylvania sports gambling market raises questions. FanDuel is legal in PA, though, and it holds licensing with the PGCB.
Does Pennsylvania allow online betting on horse racing?
HB 271 doesn't make provisions for you to place internet wagers on horse racing. Therefore, no Pennsylvania online bookmakers cover this sport.

However, internet horse betting isn't illegal in the Keystone State. Horse racing received a carveout in the Unlawful Internet Gambling Enforcement Act (UIGEA).

The UIGEA prevents gambling businesses from accepting payments in states where doing so is illegal. Due to its exemption, betting on horse races is generally tolerated in PA and many other states.
How do I withdraw money from PA betting sites?
Withdrawal options vary between Pennsylvania internet bookmakers. However, you should find some or all of the following cashout methods at PA sportsbooks:

1. ACH
2. Check
3. E-wallet
4. Branded prepaid card

ACH is a popular way to withdraw money from online betting sites. It lets you transfer funds to your bank instantly for a small fee.

E-wallets serve as another reliable option. You should receive betting funds within 24 hours or less when withdrawing via e-wallet.

Many Pennsylvania bookmakers feature branded prepaid cards that offer yet another quick way to cash out.

Checks are the least popular option as they take up to 14 days to arrive by mail.