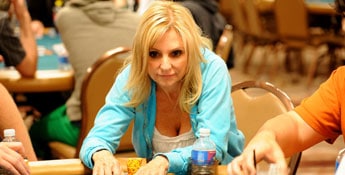 Jennifer Harman Net Worth: Let's take a closer look at the life and career of a leading lady in poker, Jennifer Harman. From an early age, this inspiring woman has dedicated her life to her passion, which is poker playing. Despite undergoing setbacks such as kidney transplants, bankruptcy, and divorce, she has forged herself a solid reputation as a respected leading player in the world of poker. In addition, she has earned herself a spot in the Top 10 Richest Poker Players in the World list. Let's explore what it is that made Jennifer Harman's net worth into one of the biggest in poker history.
| | |
| --- | --- |
| Name | Jennifer C. Harman |
| Profession | Professional poker player |
| Born | 29th of November, 1964 |
| Net Worth | $15 million |
Early Career
On the 29th of November 1964, a baby girl was born in Reno, Nevada. Little did the happy parents know that their new daughter would later rise to fame in the poker world. At the young age of 8, Jennifer Harman was introduced to this exciting world by going with her dad to watch him play home poker games, eventually being dealt into the games. According to Jennifer, it was not long before she was able to help her father win back his losses. It was through these outings where Jennifer developed her interest and love for the game.
Despite suffering from a chronic illness affecting her kidneys, resulting in a transplant during her early years, she pursued her passion for poker playing. Following her recovery and return to school, she continued to learn strategy and improve her playing skills. On reaching her 16th year of age, she acquired a fake ID, thus allowing her the freedom to play when and where she wanted. She was, however, coming to understand, through her many losses, the level of learning that she still needed to achieve.
Upon completion of her high school career, she enrolled at the University of Nevada to study Biology. As with most students, she needed an income to pay her bills and therefore took up a part-time job as a cocktail waitress. During this time, after she had clocked off from work, she continued to play poker.
Professional Poker Career
Once Jennifer had completed her degree in biology, she moved to LA and secured herself employment in a hotel as a bartender. This job was very short-lived, lasting a mere five days after which she quit following her introduction to the Bicycle Casino. It was at this point that she decided to take her poker playing to the next level and play professionally full time. Jennifer did not see eye-to-eye with her father regarding her career choice; regrettably, leading to an estrangement between them.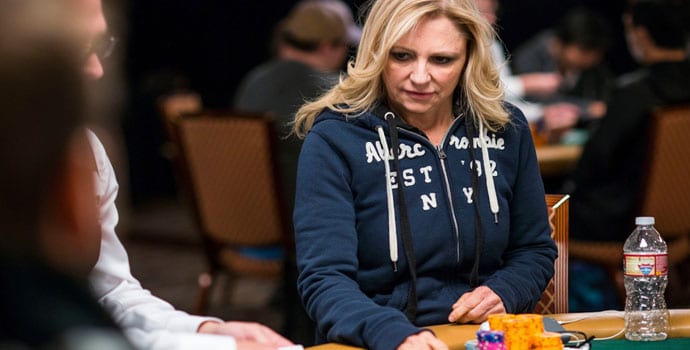 After two years of playing in LA, Jennifer decided to give it up and instead have a go at opening her own business. Her entrepreneurship did not pan out the way that she had hoped, resulting in bankruptcy. With a loan from a friend, she returned to her previous career as a professional poker player.
She entered the Vegas gambling scene to pursue her passion once again. She stuck to mid-limit games for years, slowly progressing from $50 and $100 games to $200 and $400 games. In 1993 she once again lost everything, having to take another loan from a friend, using this, she managed to get back up on her feet and back into her winning stride.
It was in 1994 that she entered the world of poker tournaments, but it was 1995 when she started to experience winnings reaching high amounts. At the Hall of Fame Poker Classic in Las Vegas, she took 6th position with a five-figure sum. In 1996, she participated in a $2500 pot-limit Texas Hold'em event hosted by the World Series of Poker (WSOP), finishing in a very respectable 6th position. By this time Jennifer Harman's net worth was growing exponentially.
Through the ensuing years, she took park in Texas Hold'em events, winning 1st place at the 1998 Orleans Open and again 1st place at the 1998 Heavenly Hold'em. 1999 saw her come in at 13th position when playing at the 30th WSOP.
It was in the year 2000, though, when she reached new heights, walking away with her first big win. It was an extraordinary win and a defining moment in her career, as she had received five minutes of tutoring for No-Limit Deuce-to-Seven Draw poker before the commencement of the game. She won her first bracelet and a cash prize of $146, 250 at the 31st WSOP event.
A mere two years later, in 2002, she achieved her second bracelet at the 33rd WSOP event in Las Vegas. Taking away winnings of $212,440 from Texas Hold'em event.
From 2003 through 2019, Jennifer continued her participation at each of the annual WSOP Events. Her biggest winning was at the 2005 Main Event, where she came in second playing the $10,000 + 200 Circuit Championship event and won $383.840. In 2007 she played at the WSOP Europe event, which took place in London. Again, coming very close to taking the lead, claiming the second position.
She has also made her presence known at the World Poker Tour (WPT) through the years. In 2003 she finished 18th at the $10,000 No-limit Hold'em Championship at the Los Angeles Poker Classic. She continued on her winning streak, taking 7th place at the $5,000 + 100 No Limit Hold'em Championship event.
In Atlantic City WPT, she took 7th place, and in 2004, she placed 47th at the Five-Star World Poker Classic. Later in that same year, the Legends of Poker in L.A. saw her placed in 29th position. 2004 continued to be an excellent year for her at the WPT, where her 4th place position gave her winnings of £299,492. This was at the Five Diamond World Poker Classic event. In 2005 also at the WPT, she won $30,000 playing the $25,000 + 500 Main Event No Limit Hold'em championship.
In 2007, she took 1st place when she took part in $20,000 Week 8 Poker After Dark, which took place in Las Vegas. In 2008, she took home her second highest-earning of $330,000 when she won 3rd place at the Bay 101 Shooting Stars $9,600 + 400 No Limit Hold'em championship event.
One of the biggest successes came when Jennifer was playing as part of The Corporation, a team of professional poker players who came together to pool resources of 10 million USD to go up against billionaire Texas banker, Andy Beal. It almost came undone when they were down the $10 million. Not willing to admit defeat, the team pooled their resources yet again for a rematch. Their persistence paid off with Jennifer paving the road to victory with a winning pot of $9 million.
Jennifer Harman: Achievements at a glance
World Series of Poker Bracelets
| | | |
| --- | --- | --- |
| Tournament | Winnings | Year |
| $5,000 No-Limit Deuce-to-Seven Draw | $146,250 | 2000 |
| $5,000 Limit Hold'em | $212,440 | 2002 |
World Poker Tour Titles
Jennifer Harman's Biggest Cashes
| | | |
| --- | --- | --- |
| Tournament | Winnings | Year |
| WSOP Circuit Event | $383,840 | 2005 |
| $10K Bay 101 Shooting Stars championship | $330,000 | 2008 |
| World Poker Tour | $299,492 | 2004 |
Jennifer Harman's Recent Earnings
| | | |
| --- | --- | --- |
| Tournament | Winnings | Year |
| $1,500 No-Limit 2-7 Lowball Draw – WSOP | $3,862 | 2019 |
| $1,500 Eight Game Mix Six Max – WSOP | $4,015 | 2019 |
| $10,000 H.O.R.S.E WSOP | $17,826 | 2019 |
Jennifer Harman Net Worth
Jennifer is currently registered at number 9 in the Top 10 Richest Poker Players in the World list. Jennifer Harman's net worth is estimated at USD 15 Million. Although she did try her hand in the world of entrepreneurship, this, unfortunately, did not work out as she had hoped, which instigated her to return to the world of poker playing.
Jennifer has even ventured into the world of acting. She starred in Warner Bros film 'Lucky You' in 2007, and she also starred in Sin City rules, which is an American Reality TV show.
She remains a regular at the Vegas Big Games and has appeared on Friday Night Poker on PokerCentral.
Personal Life
Both Jennifer's mother and sister tragically succumbed to the same chronic kidney illness, which has plagued Jennifer throughout her life. She had to undergo not one, but two kidney transplants. Following her second procedure in 2004, she founded the charity, Creating Organ Donation Awareness (CODA). Empathizing with people suffering from kidney disease who are on the donations list, many of whom die in their wait for organ match, her vision was to create awareness and education regarding organ donations. The charity also works at raising money for organ donations.
Jennifer's charity work does not stop there; she actively donates her time in raising funds for the Nevada Society for the Prevention of Cruelty to Animals (NSPCA). Through participation in live tournaments, she has succeeded in raising hundreds of thousands for the charity.
In addition, she has been involved in charity poker tournaments for the National Kidney Foundation, and she has hosted the Jennifer Harman Charity Poker tournament, where over half a million dollars was raised.
Jennifer was married in the year 2000 but has been divorced from Marco Traniello for several years now. At the time when they met, Marco was also a professional poker player. Their marriage produced two healthy boys, a set of twins. Jennifer and Marco currently share joint custody. When she has her kids on alternating weeks, Jennifer is a single mom doing school runs and keeping them entertained but is back to playing poker when they are with their father.
Conclusion: The Leading Lady in the world of Poker
Jennifer has truly lead an inspirational career in a world primarily dominated by men. She forged her path and made the world stand up and realize that she is a serious contender in the world of poker. We look forward to seeing where her career will take her in 2020. We will certainly be watching for her participation at the WSOP and WPT, and expecting Jennifer Harman's net worth to continue to rise.
Sources