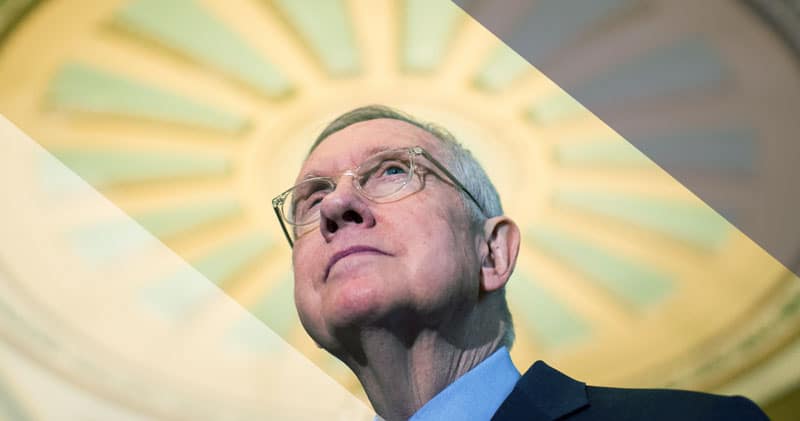 McCarran International Airport in Las Vegas may soon be getting a name change. A campaign to rename the airport in honor of former Nevada senator and house majority leader (D) Harry Reid received $2.1 million in donations over the month of September.
The Federal Aviation Administration gave the green light to the plan back in June this year, as reported by Reuters. However, as this is the 7th busiest airport in the US, any changes will require an extensive physical and bureaucratic effort to implement.
The Clark County Commission report states the project will be rather expensive.
"We estimate the combined cost of these phases will be approximately $7 million, all of which must come by way of private donations," said airport spokesman Joe Rajchelsaid.
Several major Las Vegas individuals and organizations have duly taken up the mantle and donated to the cause over the past few months. This includes a private contribution from Boyd Gaming founder William Boyd ($1 million), $75,000 from Brownstein Hall Faber Schreck – a lobbying and law firm based in Vegas – and $50,000 from the family foundation of former MGM Resorts CEO Jim Murren.
Pardon Me?
However, one donation the County Commission may have wanted to keep quiet is that of William (aka Billy) Walters and his, wife Susan. Billy is a well-known gambler on the strip and was convicted of insider trading in 2017 – before being pardoned by Donald Trump in 2020.
But any questionable donations will probably be glossed over because the man the airport is currently named after has been just as controversial in recent years.
Built in 1954, the Las Vegas Airport was christened McCarran International Airport to honor that year's death of prominent Nevada senator (D) Pat McCarran.
McCarran was the first senator born in Nevada to serve in his role and was a strong proponent of commercial aviation in the state and also helped in establishing the US Air Force.
However, McCarran also had some opinions that would not be considered very Democratic today. For example, he was so anti-communist he consistently opposed bills to allow Jewish Holocaust survivors refugee status in the US for fear of Soviet infiltrators. He also spoke in support of the fascist forces of General Franco in the Spanish Civil War.
Despite all this, McCarran died some 75 years ago – and although his name might be recognizable, he's probably not overly relatable to modern Las Vegas residents.
Moving Forward
Given that no taxpayer money will be put towards the renaming, we may have to wait a little while before any changes begin.
With $2.1 million donated in the first quarter of the campaign, the campaign goal might not be reached until 2022 at the earliest.
However, with all the money currently flowing back into Las Vegas now that the COVID-19 situation is improving, a last-minute donor might just step up to cover the whole cost of the renaming.
If it happens, we'll let you know – and we'll keep you updated on all the other gambling news stories from around the globe every week at gamblingtimes.com.
Also see: