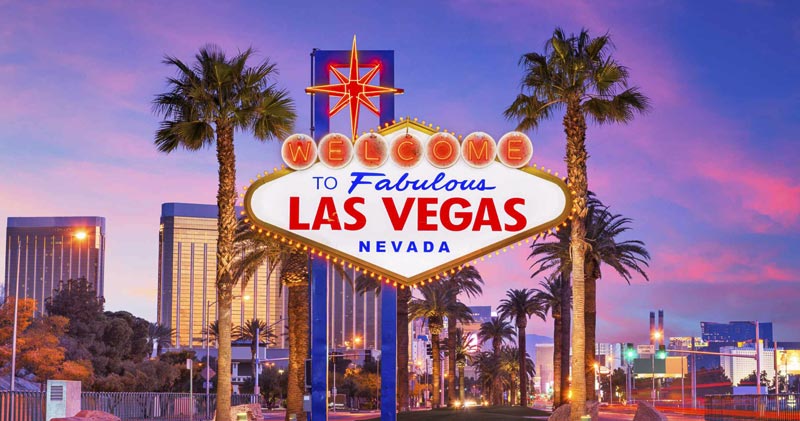 Last year, we reported on Las Vegas' record lows across revenue and visitor numbers as much of the US economy (and people) suffered under the COVID-19 pandemic.
With the effects of the epidemic in the US beginning to fall off, things are looking a bit brighter for Sin City going into Spring and Summer 2021.
The Las Vegas Review Journal published the February 2021 statistics from the Las Vegas Convention and Visitors Authority yesterday, and they're encouraging.
Overall visitor numbers and hotel occupancy rates may be down compared with February 2020, just before the pandemic really hit. However, both numbers are up on January's figure.
1.54 million people visited the Nevada gambling hub in February 2021 – 18.9% more than in January 2021. That is down by 53% in February last year, but the return to a steady month-on-month growth is a positive sign.
Return of Conventions
Analysts also noted that there were still zero convention attendees in January. Traditionally a big share of Las Vegas visitors come for conventions or corporate events, and March is a big time of year for that.
As coronavirus social distancing measures are relaxed across the US, some limited convention-style meetings could return in April and later in the year.
Several hotels and resorts that had previously been on a restricted schedule are now returning to nearly 24-7 operations.
Planet Hollywood, Wynn Las Vegas, and Palazzo at the Venetian have all returned to a more normal schedule in the last weeks of March.
Wynn Las Vegas was actually used as a drive-through COVID testing center less than ten months ago, so seeing it re-open on a full-time basis is another good sign.
Bouncing Back to Life
"The fact that Las Vegas is able to re-open more hotel rooms, restaurants, shows, and attractions is all comforting news, not only for visitors to Las Vegas, but also for the many workers returning to their jobs," said University of Nevada, Las Vegas professor, Alan Feldman.
"The same can be said for residents of Nevada, who are relieved to see our state's major industry start to bounce back to life," he added.
Some investors are even confident enough to be opening new projects and hotels in the city.
The Virgin Hotel's Las Vegas Resort is a brand-new, renovated facility that opened in the old Hard Rock Hotel site just this week.
It held a fairly fancy opening ceremony, given the times, with live music and a golden chain across the doors.
"How proud we are to be opening tonight, not with fireworks, not with lasers shooting up to the sky, but as Las Vegas begins reopening and recovery," said Virgin Hotels Las Vegas' owner, Richard "Boz" Bosworth.
March Madness
The start of the National Collegiate Athletic Association (NCAA) basketball tournament, postponed last year because of the pandemic, could also bring in crowds – and bettors.
The tournament often kicks off a big month in Vegas sports betting, but even more so this year because five West Coast teams are in the last 16. That includes Los Angeles' UCLA Bruins and USC Trojans – the closest metropolis to Las Vegas and a big source of visitors.
For the freshest updates on Las Vegas' continued economic recovery, as well as all the other biggest stories in the gambling world right now, keep up with gamblingtimes.com!