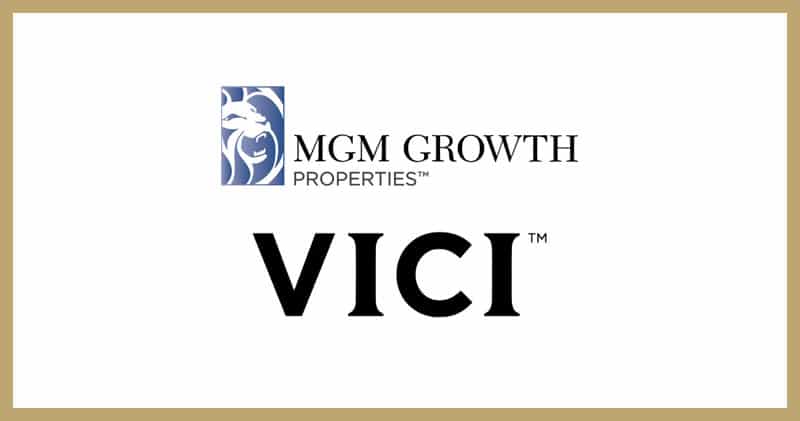 Last week, we reported on Goldman Sachs' upgraded outlook for MGM Resorts. This week, there's more good news for the cash-rich US-based casino operator.
That is a $17.2 billion sale of its subsidiary MGM Growth Properties (MGP) to VICI Properties Inc. It involves the land underneath 15 Vegas strip casinos and hotels, including Mandalay Bay, MGM Grand, Park MGM, Luxor, and more.
The sale also means VICI will take on the $5.7 billion of MGP's outstanding debts. MGP is the real estate arm of MGM, known as Real Estate Investment Trust (REIT). It was set up in 2016 to diverge the company's Vegas real estate and actual casino operations.
MGM has been paring MGP down considerably over recent years – although it did recently add the land under the Aria and Vdara hotels to its portfolio.
This sale to VICI values MGP shares at $43 each, representing a 9% premium on the market price of $39~ they hold at the time of writing. It is expected to complete in Q1 or Q2 of 2022 but has yet to be formally approved by VICI's shareholders.
Funnily enough, VICI is a partner company to another of Vegas' biggest operators, Caesars. When this deal completes, it will be the single "Largest Owner of Experiential Real Estate," according to the deal's press release announcement. It will hold an enterprise value of some $45 billion.
Transformative Acquisition
Ed Pitoniak, CEO of VICI Properties, also had this to say in the announcement literature:
"Through this transformative strategic acquisition, we are merging MGP's best-in-class portfolio into VICI's best-in-class management and governance platform, creating the premier gaming, entertainment and leisure REIT in America."
MGM Resorts' President and CEO Bill Hornbuckle also made a statement about the deal. He said:
"In 2016 we started on our journey to become asset light and this announcement, together with our recently announced Springfield and CityCenter transactions, reflects the culmination of those efforts."
"As a result of these actions," he continued, "we are well positioned and remain focused on pursuing growth opportunities in our core business, with significant financial flexibility."
Execution of Goals
After a disastrous 2020 for most casinos, MGM offset its losses slightly with the well-timed launch of its BetMGM brand.
Opened just two years ago, it is fast closing in on the very top spot in the growing US sports betting market.
Given that and all these recent consolidation sales, Mr. Hornbuckle's company must now be one of the most cash-rich casino operators in the world.
In fact, the business's recent press release told us just how much liquidity it currently owns – "the company expects to have $11.6 billion of domestic operations liquidity available to enable execution of its goals."
That's a lot of cash. But what has the company sacrificed to get it? Well, it's no longer a big real estate owner on the Vegas Strip, where it was once the biggest player. Yes, it still partly owns some of Sin City's most iconic casino operations, including the MGM Grand, the Mandalay Bay, and The Mirage. However, it has sold all the land it once owned on the strip. Instead, it simply leases operational rights from the new owners – in most of those cases, New York investment firm Blackstone Group.
This new sale represents the culmination of a real change of direction for the MGM Group, with future investments listed on the company's About page, including potential casino resorts in Japan and a heavy focus on growing BetMGM online.
As for the buyer, VICI, it will be one of only two casino-focused REITs that own a decent percentage of the land casinos stand on in Las Vegas. The other one is Gaming and Leisure Properties.
For the latest updates on the biggest moves in Las Vegas and the wider world of gambling, keep checking gamblingtimes.com!