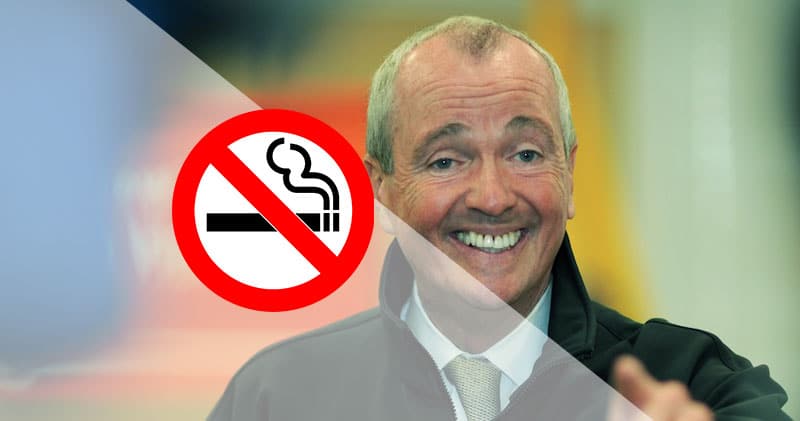 Atlantic City's casinos may see the end of indoor smoking sooner than some might have hoped, as Governor Phil Murphy this week reaffirmed he would support any potential future smoking ban.
Speaking on his weekly Q&A segment on local TV news station News 12 New Jersey, Governor Murphy said:
"I've said this unequivocally… If legislation comes to my desk that would ban smoking in casinos, you should assume that I will sign it."
Smoking was banned for much of the past year and a half in Atlantic City casinos because of the coronavirus pandemic.
However, at the end of July, the emergency legislation expired. Since then, smokers have been once again allowed to light up inside gambling venues in the city.
"There was a period of time due to the public health emergency where we did not allow that [smoking] in the casinos. But at a certain point, that was always going to expire, and it did expire," Governor Murphy said.
Governor Phil Murphy is also the person who approved and updated the New Jersey sports gambling bill in June 2018.
Compelling Cases
At the forefront of efforts to ban smoking indoors in casinos in New Jersey and Atlantic City is the ANR – or Americans for Nonsmokers' Rights.
The group was buoyant after Governor Murphy's comments, calling it an "unequivocal statement of support" for their cause.
However, leading figures in the movement want NJ politicians to start processing legislation as soon as possible.
"We are grateful for the Governor's clear answer that he would sign legislation to close the casino loophole and protect the health of gaming employees while they are at work," said ANR president and CEO Cynthia Hallett.
"The Governor must go further and publicly call for Senator Sweeney and Speaker Coughlin to send a bill to his desk in the lame-duck session," she continued.
Governor Murphy has previously supported the idea of an indoor smoking ban without being so direct. In May this year, he was asked about the potential to keep the smoke-free policy after the pandemic risks have ended.
Currently, only 25% of casino floor space is designated for indoor smoking – but anti-smoking campaigners say this doesn't go far enough.
Murphy replied that the ANR had made a "compelling case" for making the ban permanent.
Counter Arguments
However, not everyone is happy with a possible ban on the horizon.
"A smoking ban would have a significant adverse effect on Atlantic City, resulting in a decline in customers which would cause job loss, and ultimately a decline in tax revenue," said the Casino Association of New Jersey.
With the effects of COVID-19 still being felt by Atlantic City casinos and those around the world, casino owners are worried that a smoking ban could cut into their revenue figures even more.
However, any plans for a permanent smoking ban may have to wait until after Mr. Murphy's election campaign scheduled for November. The incumbent Governor Murphy is up against Republican Jack Ciattarelli.
Although, if you were an interested bettor, the challenger is rated as having only an outside chance of winning the Governor's race.
Still, a smoking ban is a contentious issue, and it's always possible (although unlikely) that it could tip the scales between the two in some way.
For the latest updates on important events for the NJ casino business in Atlantic City, the wider US, and the rest of the world – keep checking gamblingtimes.com/news.