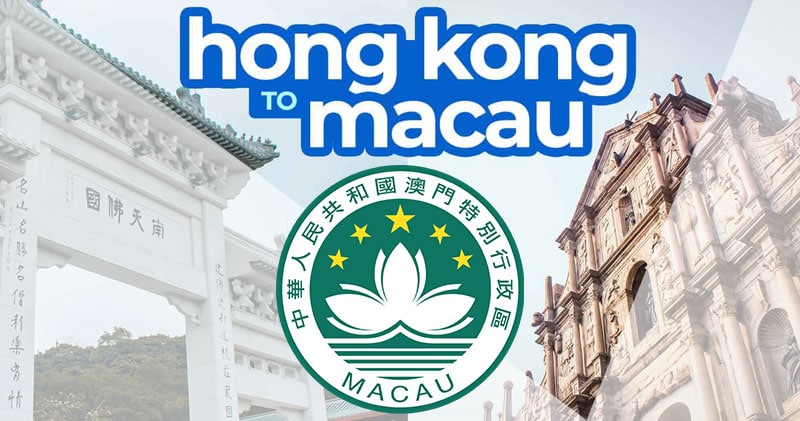 The current Covid policy of two weeks of mandatory quarantine for those arriving in Macau from Hong Kong may soon be drastically reduced or even scrapped entirely, according to the HK Standard.
Before the pandemic, Macau saw 7 million incoming visitors a year from Hong Kong. These visitors accounted for about 10-15% of casino revenues each year, according to some estimates.
Right now, as the region slowly heads back towards normality after COVID, travelers from Hong Kong to Macau must first provide a negative COVID test and then quarantine at a designated hotel for two weeks.
That policy has, understandably, put off many would-be visitors from the nearby megalopolis from going to Macau. However, officials in the Special Administrative Region are now negotiating with the local government in Hong Kong to reduce or even potentially eliminate the quarantine measures.
Hong Kong has seen no confirmed COVID-19 cases for 14 days now. This was often mentioned as the starting point for discussions to ease border controls in the past, so it's no surprise the authorities are talking now.
Once Hong Kong reaches 28 days, it is rumored that quarantine measures will automatically expire. That means a final date of July 3 if all goes well with public health in Macau's megacity neighbor over the next two weeks.
Macau itself has seen four cases in the past month, none of which seemed to cause or come from community transmission.
Throughout the pandemic, the city has not seen one single death from COVID in the locality, although high-level restrictions (including complete border and casino closures) were in effect for much of 2020.
Cautious Concern
Despite this excellent record throughout the pandemic, Macau's administrators seem to be sticking with the cautious approach.
Only 13% of the city's 650,000 residents have been fully vaccinated. That means any outbreaks could potentially bring a full-scale epidemic back if left unchecked.
The city's casino operators, such as Melco, are taking things into their own hands with multi-million dollar vaccination drives for casino employees, but the administration still feels tight border controls and light-touch internal regulations such as capacity limits are the way forward.
"The health and safety of Melco colleagues, guests and community is a top priority," said Melco CEO and Chairman, Mr. Lawrence Ho. "Our commitment to creating a safe environment and contributing to the government's goal of achieving herd immunity is demonstrated by our resources dedicated to the immunity incentive program," he finished.
The Casino has vaccinated some 2,500 employees and their relatives over the past month, with each one bringing the city closer to a return to normal operation. Not only was each employee offered a jab, but they were compensated around $100 to encourage them to come forward.
Headwinds to Come
Despite the return of international visitors, mostly from Mainland China, Macau's tourist numbers (and income) are still vastly down on the same months in 2019 before the pandemic.
Even Mainland visitors don't come with zero risk despite China's massive vaccine campaign. A local outbreak in Guangdong province last month caused Macau to tighten travel rules, with that province being home to a large percentage of Macau's Chinese visitors.
New York-based financial asset management and research firm Bernstein recently predicted that GGR (Gross Gaming Revenues) in Macau would continue to fall for a few months before experiencing "strong headwinds" as they recover towards the end of the year.
For the latest updates on the fortunes of the world's biggest gambling hubs, plus much more from all over the industry, keep checking gamblingtimes.com!