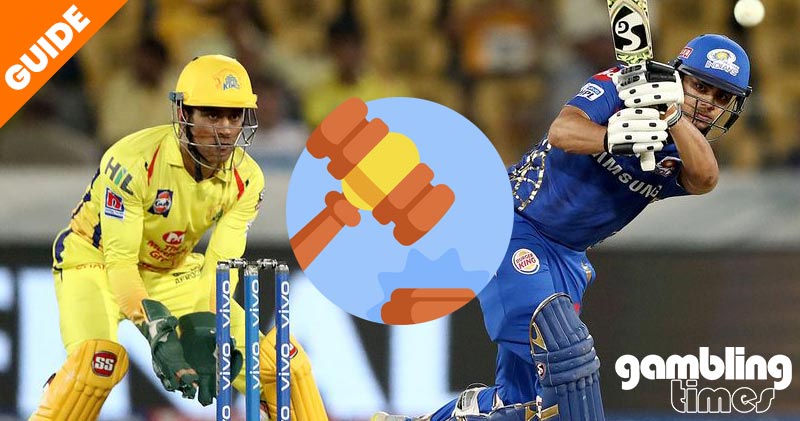 In this article, we will explore the legal state of the Indian online betting market. So is betting online legal in India?
The short answer is yes, but the long answer is a bit more complicated.
India doesn't have national laws preventing online betting. It's actually considered legal in most parts of the country.
The Public Gambling Act of 1867 is the principal law that governs gambling. The act does not distinguish between land-based and online gambling. Yet, some Indian states may have more restrictive laws as it is up to each state to implement its own gambling laws.
Online betting will remain a legal grey area until a clearer set of laws is applied for the entire country.
Also read:
The Online Gaming Industry in India
India's gaming industry has the following categories:
Games of skill
Games of chance
Horse racing
Prize competitions
Lotteries
Sports betting
Games of Skill
Skill is more important than chance in this category of gambling. Card games such as rummy and bridge, along with sports like chess and golf, are some well-known games of skill. Poker and darts are also considered games of skill.
The Nagaland Act
The Nagaland Prohibition of Gambling and Regulation and Promotion of Online Games of Skill Act of 2015 defines games of skill as:
Skill plays a bigger role than chance does in these types of games. Skill can relate to strategising around placing wagers or even might be needed for team selection or choosing virtual stocks based on analysis. Skill can also relate to how the player makes moves in a game. This is done by using physical and mental skills.
All the games in Schedule A of the Nagaland Act are games of skill: chess, sudoku, bridge, poker, quiz, rummy, nap, virtual games (such as racing or monopoly), virtual sports and virtual fantasy games.
Games of Chance
The outcome of a game of chance is influenced by a randomising device such as dice, roulette wheels or numbered balls drawn from a container. Indian law considers chance-based casino games as gambling activities and prohibits them. Even so, the majority of the laws refer to gambling in physical locations since they came into being before the advent of online casinos. So online gambling continues, as this form of gaming is not mentioned by the laws.
Horse Racing
The Supreme Court of India recognises horse racing as a skill since players have to consider the form of the horse and the jockey, as well as the nature of the race.
Prize Competitions
The Prize Competitions Act of 1955 defines prize competitions as an event where participants receive prizes for the solution of crossword puzzles, missing-word games or other related puzzles.
Lotteries
The Lotteries (Regulation) Act of 1998 defines a lottery as a scheme where people who buy tickets to take part in this game of chance receive prizes.
Sports betting
The Supreme Court of India has not clarified the status of sports betting as a game of skill or of chance. Sikkim is the only state that has taken the initiative to have online sports betting legalised due to the Sikkim Online Gaming Act of 2008. According to this act, a licence can be issued for placing bets on sports games such as cricket, football, lawn tennis, chess, horse racing and golf.
Online Gambling Laws in India
Online gambling is not considered illegal in India due to two separate laws.
The Public Gaming Act (1867)
The Public Gaming Act of 1867 prohibits any public gambling house from operating and makes it illegal to oversee one. However, there's a loophole for online betting, as it's not mentioned in this act. Thus, it's not illegal to place your bets online in India.
The Information Technology Act (2000)
The second law, the Information Technology Act of 2000, provides a legal structure for electronic governance and takes a look at cyber crimes like hacking and phishing. It doesn't deal with online betting or gambling in India.
The country's different states have different and sometimes contradictory laws.
Kerala prohibits online lotteries in its territory.
Sikkim permits online sports betting offered through gambling parlours on an intranet network.
The Nagaland Act allows games of skill to take place across India.
Betting Sites
Indian betting sites are not allowed to operate in India in any capacity. This means that Indian players need to seek betting sites that can be used outside the country.
Indian players visit trusted betting sites such as Bet 365, Betway Sports and 10Cric.
What to Consider when Choosing an Online Betting Site
It's crucial that you do your homework when selecting a betting site since the Indian gambling market isn't regulated. There are some factors you need to consider to protect yourself from possible, significant financial loss.
Gambling Licence
Make sure to check that the online betting site has a licence from a jurisdiction like Malta, the UK or Curacao. Licensed bookmakers have to follow rules about fairness and payout. They need to follow regulations to avoid losing their licences.
SSL Certificate and Encryption
You want to be sure that your financial and personal information will be safe when you enter it into the betting website. The site must have proper encryption and a SSL certificate. Your sensitive information will not be safe on the internet if the betting site doesn't employ these safeguards.
Bonuses and Promotions
Make sure that you check for welcome bonuses before signing up at any gambling site. If you're a returning player, you may be able to score unique promotions. Welcome bonuses are beneficial for new players, as they can play for longer without spending their own money.
Easy Deposits and Withdrawals
You'll find that a high-quality Indian online casino makes deposits hassle-free. It should be easy to withdraw your winnings by the end. Avoid playing at bookmakers with complicated withdrawal policies.
Check the payment methods and make sure that you'll be able to deposit money without any hassle. Also, make sure that the casino accepts Indian rupees.
Customer Support
Some players might need help setting up their accounts as well as making their first few bets. It's essential to register with an online casino that has high-quality customer support.
How to Start Betting Online
You've done your homework and selected a casino that meets your requirements. How exactly do you start placing your bets?
Register Your Account
You can set up a free account at most online betting sites. It's best to try out different online casinos to find which one you're most comfortable playing at. Each site will need your basic contact information; you'll also be asked to create a password.
Navigate each site to see what every casino offers. Do they have games you like to play? Do they offer betting odds on sports you enjoy betting on? Can you deposit and play with rupees? Also, don't forget to test the website on your mobile devices.
If you like the site, deposit money into your account to start playing or log out and look for another website that suits you better.
Deposit Money Into Your Account
Depositing money into your account is a simple process. Fill in how much you want to deposit, and once the transaction is final, you can start placing bets.
The top deposit methods for Indian players are either UPI or NetBanking. You can also use credit cards or e-wallets like Neteller or Skrill.
Betting on Sports
If you want to bet on sports, you'll need to go to the sports section of the website. Then, you can select a category, particular sport and event. Click on the odds when you find a bet that you want to make. Usually, a bet slip is created, which will add your bet to your selected odds. Insert the amount you're betting and then click on "Place Bet". The online site will register your bet and deduct the money from your account. If you win, the casino will credit your earnings to your account.
Withdrawing Your Money
You should be able to withdraw your money using the same method you used for your deposit.
It might take some time to get your money, especially if it's the first time you're making a withdrawal. This happens because online gambling sites need to follow a verification routine to check your identity and also to confirm that the funds you're using weren't obtained illegally. They'll likely ask you for proof of identity and address, as well as a recent photograph.
If you can't provide an accepted form of identification, such as your driver's licence or passport, you might not be able to withdraw your money.
10Cric
10Cric is a popular online casino that has been operating in India for some time. This online gambling provider specifically focuses on the Indian market.
Punters can bet on tennis, football, horse racing and esports, as well as the Indian Premier League cricket tournament. Additionally, 10Cric provides some generous welcome bonuses to new players.
Betting on Mobile
Droves of people find using an app on their phone, instead of a website, more user friendly. Phones have limited processing power and data. Operators who understand that Indian players face these issues have started online betting apps to solve this problem.
Indian Betting Sites
Before online betting, people would get together at bookmakers in India. However, most of the local bookmakers have moved on to local betting websites.
While betting with a local site can have some benefits, such as betting on credit as well as in-person help, it's actually illegal. You're also limited to betting only. Additionally, local website and app designs are often terrible. The larger offshore betting sites can offer you substantially upgraded quality. The safest option is to find a regulated online casino that also meets your personal requirements.
The Future of Online Betting in India
Online gambling operators use outdated Indian gambling laws to their benefit in order to operate in the Indian market. Since these operators aren't located in India, they don't face legal responsibilities in the country and operate away from the local law and jurisdiction.
Online casinos that operate from countries outside India don't face prosecution. This means that well-established casinos from the rest of the world have taken the opportunity to enter the Indian market.
Authorities can still shut down local online gambling websites and fine them.
Sikkim Act
Sikkim is the only state to have a law specific to local online gaming within India. The Sikkim Online Gaming (Regulation) Act of 2008 allows operators to obtain licences for online gambling in the following categories: blackjack, punto banco, roulette, pontoon, bingo, casino brag, poker dice, poker, baccarat, backgammon, chemin-de-for, keno and Super Plan 9.
The Sikkim Act has been amended so that it limits online gambling to the premises of gaming parlours through special intranet gaming terminals. Operators must meet other limitations and approvals. For example, the state government must certify and approve the computer system via which patrons play the games.
The licensee may also only offer these games to patrons over the age of 18.
Online Lotteries in India
The government of Punjab runs an online lottery scheme even though some of the other states ban online lotteries. Any citizen of India can partake in this lottery and buy tickets online.
The Supreme Court ruled that it's constitutionally valid to regard online and paper lotteries as two different types of lotteries in terms of the Lotteries Act. A state government may ban online lotteries even if the government itself is conducting paper lotteries. According to the ruling of the Indian Supreme Court, a state may ban a class of lotteries conducted by other states in its territory as long as the state itself isn't participating in a particular class of lotteries.
Other Laws That Affect Online Betting
Other laws that affect the online gambling industry include cyber laws, tax laws, exchange control regulation, and anti-money laundering legislation. For example, an intermediary must observe 'due diligence' in the discharge of duties in terms of the Information Technology Act of 2000.
According to Circular 15 issued by the Central Board of Direct Taxes in 2015, e-wallets or virtual card accounts kept with foreign online gaming and poker websites are regarded the same as bank accounts due to money coming and going from accounts. Gambling patrons must declare these as they do with their bank accounts.
Discrepancies in Laws
There are a multitude of discrepancies in gambling laws. Horse racing is legal, as it is a game of skill, but betting on cricket isn't legal. In turn, Indian law says the lottery, which is a pure game of chance, is legal. The Indian government regulates the lottery. Online Texas Hold'em Poker, which is a game of skill, is legal in some states, but not in others.
Frequently Asked Questions
Is it Legal to Bet Online in India?
This is a legally grey area, as there are many variations in law and discrepancies between national and state laws. Patrons are not arrested for online betting in India, as there are no laws that make it illegal.
How Do I Start Betting Online From India?
Find a betting site that meets your requirements, register an account and deposit funds into it to start placing bets. The article provides more information on how to start betting online while in India.
Can I Bet on Cricket Online?
Cricket is a popular sport worldwide, and especially in India. Any excellent online betting website should have the odds for major cricket events.
Final Thoughts
The online betting situation in India remains complicated, especially since state laws and federal laws can contradict each other. However, the online industry is growing and is becoming increasingly popular in the country.
More Indians are gambling and not being prosecuted and convicted for using online gambling websites. The legality of online betting will remain uncertain until the Indian government formulates and imposes clearer laws across the country.