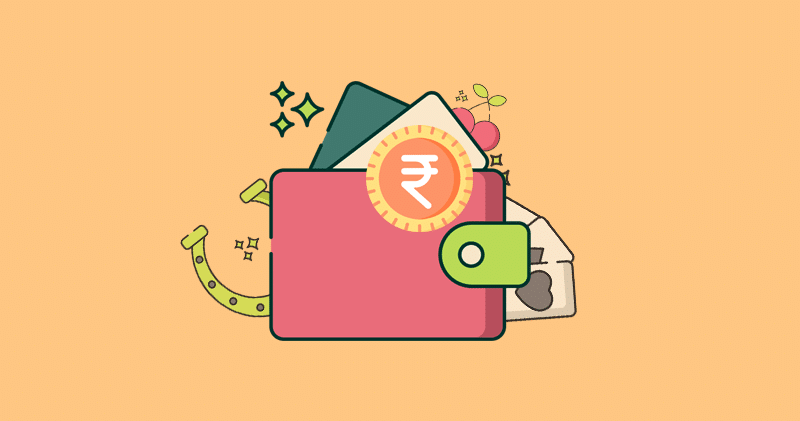 With all of the different payment options available today, it can be a daunting task to decide which one is for you.. Which payment method is the most secure or the fastest for deposits into an Indian online gambling site?
We've looked at all of the options and drawn up some guidelines to help you choose the best option. We'll take a look, in detail, at each of the payment systems listed here and provide some pointers about which ones you should use.
Every payment method comes with advantages and disadvantages. We'll help you decipher the financial mumbo jumbo and we'll break down every option in understandable terms.
Prepaid Cards
Prepaid cards are one of the most popular methods for depositing money into casino accounts. You don't even need to use your bank card or make a transfer.
You'll have to buy a card with enough funds for your purposes and then deposit the money into your online gaming account. When you've done that, the account functions like a regular debit or credit card.
Astropay
AstroPay is available at plenty of casinos operating in India. You can purchase this virtual card online and it's available in many currencies, including rupees.
Paysafecard
Paysafecard is another online option to consider when depositing funds at an Indian gambling site. It's available in over 40 countries worldwide and is a suitable method of payment at casinos. It's also available in Rupees.
E-Wallets
E-Wallets allow you to deposit money into an online casino account and are convenient and straightforward to use. Transactions only take a few minutes, and the system will enable you to fund your account without making the casino working with your bank. You can also deposit money in a range of currencies and convert from one to another without interference or legal issues.
These systems are safe and secure, and you've access to your transaction history. E-wallets are quick, reliable and available 24/7. They're among the best methods available.
E-wallets may be the fastest method for making deposits at online casinos in India as they're designed for online usage. Debit and credit cards also provide you the ease of speedier payment.
The largest global e-wallets are Skrill, Paypal, and Neteller, while the biggest Indian e-wallet is Paytm.
Skrill
Skrill has lower fees than the majority of e-wallets, making it quite popular. People prefer to use it on a multitude of e-commerce sites, you should have no problem depositing funds into an Indian casino account.
Neteller
Players have been using Neteller to deposit and withdraw funds from casinos for many years. It's like Skrill, and both systems accept Indian rupees, so you should have no issues using this method.
Paypal
Paypal is the oldest money transfer service and is famous worldwide. It's a secure way to transfer money, and they've got an excellent backup service if you have problems with the merchant. One of the negatives is that they have a higher than average fee of 10%. Sometimes there are issues with regulators who see the transactions as connected to money laundering.
Paytm
Paytm is an Indian e-wallet system available in 11 Indian languages. Indian bettors find this a convenient method of payment on e-commerce sites. See all Indian casinos with Paytm here.
MuchBetter
MuchBetter is an award-winning financial app and considered to be one of the leading e-wallet systems. It lets you store, send, and move money securely and quickly.
Bank Cards
All significant casinos accept bank cards such as Visa, Mastercard, Maestro, and Rupay. Bank cards are popular because they offer several advantages. They're easy and quick and casinos guarantee the security of the funds. Usually, this is a fast and convenient method, and all you have to do is enter the card details, the amount you want to deposit, complete a security check, and start playing.
The credit card company provides you with insurance and fraud prevention protection, ensuring that your identity and transactions remain safe.
It's not always so straightforward, and we offer a word of caution about this payment method. Some banks may not allow gambling transactions, and you may have a problem with depositing funds into the casino's account. Some specific sites are blacklisted while others aren't, so sometimes funds will go through, and at other times they won't. Check with your institution if you are in doubt.
Another issue is that you can't withdraw money using these cards, as the casinos don't have the means to access your account with the card details. You may have to use an e-wallet to withdraw your winnings.
If you have a credit/debit card at your disposal, give it a try as it's one of the easiest and safest methods. If the funds don't go through, they will be returned to your account, so there's no risk.
Visa, Mastercard, and Maestro
Most casinos accept Visa, Mastercard and Maestro cards for deposits. They're all very popular in India. They're localised but they sometimes have higher costs than local cards such as Rupay.
Rupay
RuPay is another innovation of the Indian government, like UPI, created to boost the gambling industry. RuPay cards are more secure and the charges are significantly less than traditional credit cards because they operate in India only.
There are some limitations with the RuPay card as it offers only debit for online transactions, whereas Visa and Mastercard both provide debit and credit card options.
Mobile Payments
Mobile online casinos and mobile payments are growing in popularity. Currently, not all online casinos have this option, and you will need to check beforehand. Mobile payments allow you to deposit money without using an e-wallet, debit card or credit card. Additionally, you can transfer funds between bank accounts and your mobile phone. PhonePe is an example of a mobile payment product that's popular in India.
UPI: Unified Payment Interface
The National Payments Corporation of India has developed the Unified Payment Interface (UPI) as a mobile payment system to assist online gambling. It's available to Indian bettors and integrates numerous bank accounts with several features in one app. It's favoured among players and is a significant innovation of India.
Boku
Boku is a mobile app that allows users to buy goods and services from their phones. It's a California-based operation.
Zimpler
Zimpler is a Swedish system that lets customers make payments in a simple manner. Players control their transactions and keep multiple cards in one secure location. Online payments and transfers to their bank accounts are both possible.
PayForIt
PayForIt Mobile is a brand-new app designed to offer a fast and powerful mobile experience. Users can complete safe, secure and anonymous transactions online via their mobile devices. Recently, several PayForIt casino sites have popped up across the web.
Bank Transfer: EFT
EFT is a method of transferring funds from your bank account, which you can use with your online casino account. There's a small fee charged for each transaction, but the greater the amount, the less significant the fee.
EFT is sometimes the preferred method to transfer large sums of money because it's safe and secure. Sometimes you'll need to notify your bank of these types of transfers and their purpose. This is done for security and so they keep copies of all transaction documents and codes.
Cryptocurrency
Cryptocurrency, like Bitcoin, is the latest and the least-used deposit method that is accepted by most reputable online casinos. It's a currency that exists online and traded like any foreign exchange, but with fewer localized control problems.
Cryptocurrency transactions are quick and secure. They allow you to fund your casino accounts so you don't have to deal with the banks. You'll have to open a cryptocurrency account at the casino and deposit your funds into it in order to take advantage of this payment method.
See all Bitcoin casino sites in India here.

In Conclusion
Now that we've laid out all the pros and cons of the stated payment methods, your next step is to sign up to your favourite gambling site, Once you understand what options are available, you can compare them to our breakdown and pick your favorite.
Whether you choose prepaid cards, e-wallets, bank cards, mobile payments, bank transfers or cryptocurrency as your funding method, it's most important that you are able to have fun and enjoy yourself. All the options listed above are safe and secure, and every technique you employ protects your transaction.
You can always change your payment methods as you gain experience, so let's create an account with a trusted casino and start having a fruitful gaming journey. We'll see you at the casino.