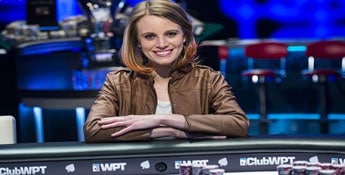 Cate Hall net worth: Poker is one of the most popular games in the world and often has the highest stakes. What does it take to play at a professional level, and how much can a person win? Cate Hall, one of the most prolific players around, can give us the answers to these, and other, poker questions. This article looks at Cate Hall's net worth, life, and related achievements.
| | |
| --- | --- |
| Name | Cate Hall |
| Profession | Professional poker player |
| Born | 19h of September, 1983 |
| Net Worth | $1,086,451 |
Early Career
Born on September 19th, 1983, in Tucson, Arizona, Cate Hall developed an interest in competitive games from an early age. Her grandmother taught her to play cards at the tender age of seven, and then at elementary school, Cate played competitive chess for several years. "These kinds of things have always been attractive to me because I like mental competition," she said.
That attraction took her from working in a Washington, DC law firm to the world of poker in 2015, but for many, her true breakout year was 2016. This is when she made the final table at a World Poker Tour event and won over $410,000, after that becoming a focal point in the world poker community.
Professional Poker Career
It's unusual in any sport for a player to come out of nowhere, but for all intents and purposes, that's precisely what Cate did.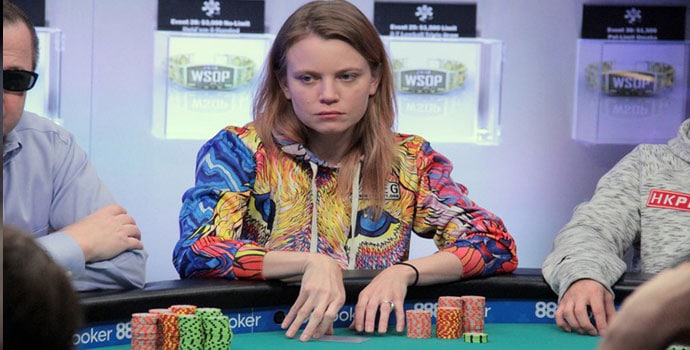 "I think the primary motivation for me to pursue poker was [that] I wanted to do something different," she said at the time. This drive lead to Cate taking part in her first live tournament in July 2015, and then in under a year, she cashed in 12 events, making three World Poker Tour main event final tables. She also came close to being awarded that tour's Player of the Year award.
"I felt that [tournaments] were a lesser form of poker when compared with cash games. But that started to change once I got a bit more experience playing tournaments," she said.
In October 2016, she sat for the third time at the final table of a World Poker Tour main event and was sixth in Hanover, taking just under $70,000. February 2017 saw her win the Player of the Year award, which was soon followed by a so-called grudge match with Michael Dentale, who'd referred to her as a "bad player." She won 2-0.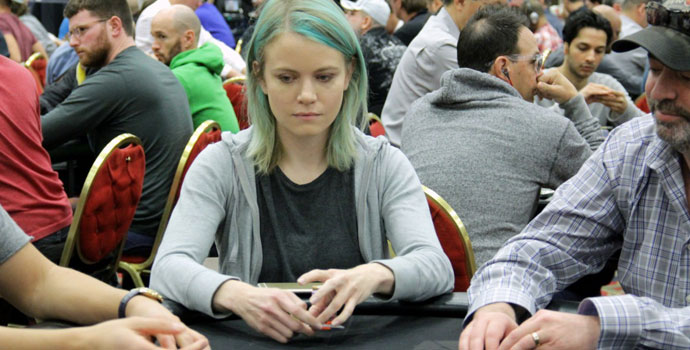 2017 also saw Cate Hall's net worth increasing as she won big in several events: The World Series of Poker (WSOP) in June, where she won $27,000, and the WPT Five Diamond Classic, where she cashed in almost $20,000.
In the World Series of Poker 2018, Cate finished eighth with around $65,000, which helped bring her total winnings up to over $1,000,000 overall.
Cate Hall Achievements at a glance
Cate Hall Biggest Cashes
| | | |
| --- | --- | --- |
| Tournament | Winnings | Year |
| $10,400 No-Limit Hold'em2015 Five Diamond Classic (WPT) | $291,320 | 2015 |
| $3,500 No-Limit Hold'em $2 Million GTD2016 SHR Poker Showdown (WPT) | $65,404 | 2016 |
| $3,500 No-Limit Hold'em $1.5 Million GTD2016/2017 WPT Maryland Live! | $68,554 | 2016 |
| $5,200 No-Limit Hold'em2016/2017 WPT Five Diamond Classic | $95,375 | 2016 |
| $2,620 No-Limit Hold'em Marathon (26,200 starting chips; 100 min levels)2018 World Series of Poker | $65,875 | 2018 |
Cate Hall Recent Earnings
Cate Hall said in 2016, "Poker is something that I'm not planning to do for a long time, probably only a year or two more." She appears to have made good on this promise, as she hasn't played poker (or at least any well-known large-stakes games) since 2018.
Cate Hall Net Worth
As noted above, Cate Hall's net worth is estimated to include a total of $1,086,451 from playing poker, with $549,347 coming from cashes in the World Poker Tour. As of 2022, her ranking, according to the Global Poker Index, puts her at number 7102 in the world, but 4427 in the United States. Her top rank was 66, and the highest she ever placed in a tournament was 2nd (No Limit Hold'em #7 Sep 29, 2016 Maryland Live! Casino, with winnings of $27,225).
Personal Life
Cate Hall was, and remains, a private person. Most of the information about her online comes from the same few sources, but it's interesting none-the-less. Aside from the interest mentioned above in games involving strategic thought (chess and cards), Cate got involved in gaming, in a general sense, by heavily playing the MMORPG World of Warcraft. She did this whilst studying for undergraduate degrees in biochemistry and philosophy.
"For all of my life I've had phases of interest," she commented back in 2016. "So I ended up doing a dual-degree program and graduated with a second degree in philosophy, with the intention of going to law school."
This intention led to Cate working as a clerk in a New York law firm for a couple of years. She then moved to Washington, DC (where she still lives), and spent four years in a firm specializing in Supreme Court and Court of Appeals cases. However, the stress and workload of this career began to affect her, which is how she got involved in poker.
"I think the primary motivation for me to pursue poker was not anything having to do with the game itself, but rather had more to do with the fact that I was not happy as a lawyer," she said. Cate started taking poker seriously after playing several games in the nearby Maryland Live! Casino, netting her first big win of $58,589 in September 2015.
The next few years saw Cate regularly compete in World Series of Poker and World Poker Tournament events, where she soon made a name for herself as a player to watch. However, this attention also led to her gaining a somewhat unexpected status as a spokeswoman for gender issues.
Although many professional poker players manage to make their actual career, Cat Hall was under no such allusions. In 2016 she said about her future: "I might want to work for an NGO (Non-Governmental Organization) that is focused on rationality or I might end up going back to grad school to help me in one of those fields. I really don't know."
From 2018 to 2020, Cate was away from the world of professional poker, with one poker-related experience of note: a very public disagreement between herself and Chad Power, another player from Washington. It's not uncommon for players to back other players in the world of poker, and this is what happened with Cate and Power. The dispute involved Power claiming Cate owed him $60,000 that she used to play poker, whereas no such actual agreement was ever made.
This situation led to Cate leaving Twitter until late 2019, when this old problem reared its head again thanks to Power mentioning it. On December 13th, 2019, Cate tweeted, "Getting back on Twitter was a mistake," and has barely used it since.
Conclusion: A Bright Star Burns Out
Cate Hall undoubtedly had real skill and still does, when it comes to playing poker. However, like any normal human being, stress and bad experiences almost certainly helped wear her down, so much so that she had to effectively quit due to a mental health crisis.
Thankfully, she appears to be doing well enough now, although there is the lingering question of whether she'll ever return to professional poker. Should she choose to, there's no doubt she will once again be a player to watch out for.
Related posts: