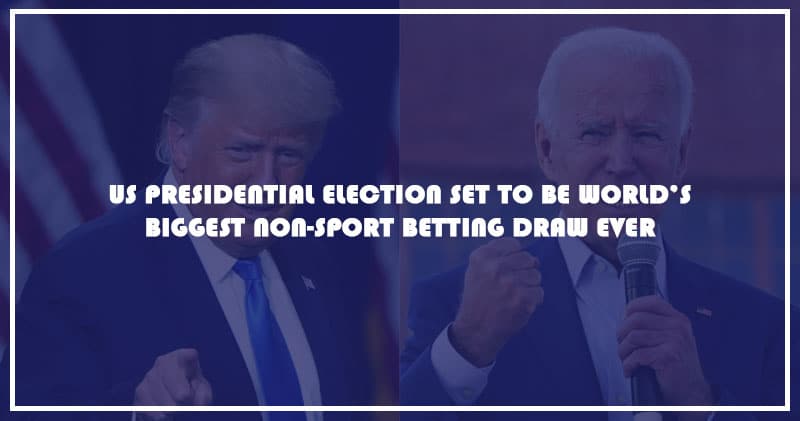 It may be illegal to bet on it from within the USA. However, the rest of the world has been putting down heavy wagers on the presidential (and, dare we say, cultural) race between Democrat Joe Biden and Republican incumbent Donald Trump.
Betfair Exchange of Flutter Entertainment expects over $1.5 billion to be wagered internationally on the outcome of this hotly contested election.
To put that number in context, that's about ten times the Kentucky Derby's record wager total of $165 million in 2019.
However, it pales compared to the world's biggest sporting events – such as the $6.8 billion pulled in by Superbowl betting in 2019 or the incredible €136 billion ($159.228 billion) that was put down in bets during the FIFA World Cup in 2018.
Record Bets
Despite that, the bookies are still laughing at the amount of interest this election has stirred up.
One bettor from Britain put down a cool £1.5 million ($1.3 million) on a Joe Biden win at Betfair UK. The European bookmakers expect to take $500 million in wagers on the election.
Regular American readers may recognize Betfair as the betting exchange platform that recently shut up shop in New Jersey – however, it does big business across the pond.
Other, less well-known sportsbooks have also been taking bets on the election. One Curacao-based offshore private bookmaker reportedly took a $5 million wager on a Donald Trump victory from an unnamed American businessman.
If true, that would undoubtedly be the biggest (conventional) political wager in history.
A Ladbrokes insider told British newspaper the Sun that "Biden looks home and hosed according to the bookies and pollsters, but even at the eleventh hour, punters are continuing to back Trump at the odds on offer."
More money has been bet on President Trump, Betfair confirmed. However, the top ten biggest bets placed at Betfair on the race have all been on a Joe Biden win.
Make of that what you will – we certainly aren't sure what it means.
Odds and Outcomes
Mr. Trump took the Presidency against the odds back in 2016. Despite him being the underdog again this year, it seems many bettors are unwilling to count him out completely this time, either.
Respected political poll aggregator and research company FiveThirtyEight gived President Trump around a 10% chance of winning his second term.
Its analysis cited the smaller number of undecided voters this year and a stronger polling lead for Biden in key states than his Democratic counterpart Hilary Clinton had on the eve of the 2016 election.
However, they noted that the possibility of underhanded tactics from President Trump could not be accounted for in their forecasting.
Regardless, that offshore Curacao bettor stands to possibly win $15 million on a 1 in 10 event – not bad odds.
However, they might want to have some contingency plans in place in case of a disputed outcome. Imagine losing $5 million on a technicality, as well as dealing with the election result – whatever it may be.