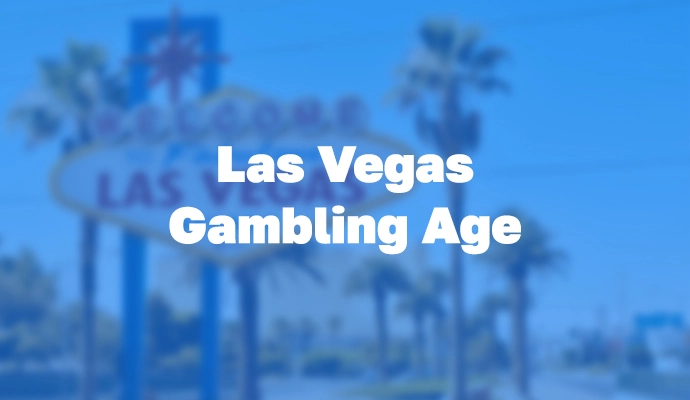 Las Vegas, the gambling mecca of the world, attracts millions of visitors each year with its alluring casinos and vibrant nightlife. As a tourist hotspot, it's important for visitors to be aware of the legal gambling age in Las Vegas to ensure they don't land themselves in hot water. The gambling laws in Nevada, the state in which Las Vegas resides, dictate that individuals must be at least 21 years old to gamble in both casinos and online platforms.
While the bright lights of Las Vegas may call out to those under the age of 21, it's crucial to understand that breaking this law may result in serious consequences, including criminal charges and heavy fines. However, for those looking to gamble legally at a younger age, it's worth exploring neighboring states and their respective gambling laws, as some allow gambling at age 18.
Key Takeaways
The legal gambling age in Las Vegas is 21 years old
There are serious consequences for underage gambling in Las Vegas
Some neighboring states allow gambling at age 18.
What's the Legal Gambling Age in Las Vegas?
In Las Vegas, the legal gambling age is strictly enforced by the state of Nevada. The minimum age to participate in any form of gambling, be it casino games, sports betting or otherwise, is 21 years old. This age requirement is the same for both residents of Nevada and visitors to the United States.
Las Vegas, being a part of Nevada, follows the same laws and regulations as the rest of the state. According to NRS 463.350, it is illegal for anyone under the age of 21 to partake in gambling activities within the state boundaries. Violation of this law may result in the charge of a misdemeanor, and in severe cases, it can lead to up to 6 months in jail.
The strict enforcement of the gambling age does not stop at the casinos' doors, as it applies to all gaming locations, including online platforms. This means that even when using mobile apps or web-based casinos within Nevada, players must still meet the 21-year-old age requirement.
It is important to note that while individuals under the age of 21 are allowed to walk through Las Vegas' casinos, they cannot stand around the gaming areas, even if accompanied by an adult. In addition, most Vegas hotels require a person to be 21 or older to book a room.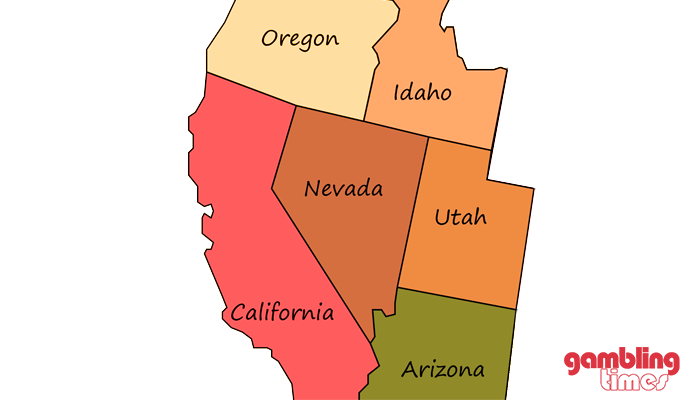 Which states close to Nevada have casinos?
Several states surrounding Nevada offer casino establishments, allowing gamblers to enjoy gaming activities within driving distance from Nevada. These neighboring states provide a variety of gaming options, from smaller casinos to full-scale resorts.
California has numerous casinos, with a mix of tribal establishments and card rooms. The legal gambling age in California varies between 18-21, depending on the establishment. With a wide selection of casinos to choose from, visitors can enjoy everything from slot machines to poker and various table games.
Arizona also hosts a variety of casinos operated by Native American tribes. These establishments offer slot machines, table games, and poker. The minimum gambling age in Arizona is 21 years old. Notable locations include the Talking Stick Resort and Casino Arizona.
Utah, on the other hand, has restrictive gambling laws and does not permit casinos within its borders. However, neighboring states such as Nevada and Arizona provide gambling options for Utah residents and visitors.
Idaho has a handful of tribal casinos, offering amenities like slot machines and bingo. The legal gambling age in Idaho varies, with some casinos requiring players to be 18 and others setting the minimum age at 21.
What states allow gambling at 18?
Alaska
In Alaska, the gambling age is 18 for charitable gaming activities such as bingo and pull-tab games. Casinos, commercial gaming, and other forms of gambling are not permitted.
Florida
In Florida, the gambling age is 18 for playing poker and bingo at tribal casinos. However, gamblers must be at least 21 years old to play slot machines.
Idaho
Idaho allows gambling at the age of 18 for tribal casinos that don't serve alcohol. This includes casino games like poker, blackjack, and slot machines.
Minnesota
In Minnesota, 18-year-olds can gamble at tribal casinos that do not serve alcohol. These casinos offer a variety of games, including poker, bingo, and slot machines.
New York
New York permits gambling at the age of 18 for certain activities. This includes betting on horse races, as well as playing the lottery and bingo games. However, casino gambling is restricted to those aged 21 and over.
Washington
In Washington, the gambling age is 18 for some tribal casinos that don't serve alcohol. These casinos may offer games such as poker, blackjack, and slot machines.
Wyoming
Wyoming allows gambling at the age of 18 for certain forms, such as pari-mutuel wagering on horse races, as well as participating in the state lottery and charitable gaming activities like bingo.
Legal Consequences for Underage Gambling
In the state of Nevada, the legal gambling age is set at 21 years old. It is crucial for casinos and individuals to abide by this law, as there can be several penalties for those caught engaging in underage gambling.
One of the primary consequences for underage individuals caught gambling in a Las Vegas casino is the potential prosecution for a misdemeanor. A misdemeanor, while not as severe as a felony, still signifies a crime and can result in time spent in jail and fines. In addition, the underage gambler may be forced to forfeit their winnings.
Casino establishments also face penalties if found allowing underage gambling on their premises. Under Nevada law, casinos can be fined up to $10,000 for each instance of underage gambling. This serves as a strong incentive for casinos to enforce age restrictions and closely monitor their gaming areas.
Nevada law (NRS 463.350) does not permit anyone under 21 years old to play, place wagers, or collect winnings from any gambling game, slot machine, race book, sports pool, or pari-mutuel operator. This legal requirement applies whether the underage individual is gambling personally or through an agent.
For young people, engaging in underage gambling is not a harmless activity, and they risk developing a gambling problem in addition to facing legal consequences. It is essential that parents, guardians, and the community as a whole work together to prevent underage gambling and educate young people about the risks associated with this activity.
ID Requirements
To ensure that the age requirement of 21 is met, casinos in Las Vegas will check for a valid identification document. Acceptable forms of ID include a driver's license, military ID, or a current passport (either United States or foreign). These identification documents must have a photo and be current and not expired.
Las Vegas casinos take the matter of age verification very seriously. If someone is suspected of being underage, they will be asked to produce a valid ID to prove their age. Bartenders, dealers and casino security personnel may all request an ID from a guest as needed.
It is important to note that using a fake ID in an attempt to gamble underage is illegal and can lead to serious consequences. Violation of the minimum age requirement for gambling can result in a misdemeanor charge and may include up to six months in jail.
State by State Gambling Age Differences
Gambling age laws in the United States differ from state to state, with most states setting the legal age limit at either 18 or 21 years old. These regulations are applied to various gambling activities, such as casinos, lotteries, and sports betting. It is essential to be aware of these laws when participating in gambling activities as each state has its own guidelines.
In states like California, Idaho, Michigan, Minnesota, Montana, New York, Oklahoma, and Rhode Island, the minimum legal age for casino gambling is typically set at 18. These states mainly have tribal casinos, but they may also permit non-tribal casinos that don't serve alcohol to allow players who are 18 and older.
When it comes to lottery games, most states maintain a legal gambling age of 18. However, certain states may have specific regulations depending on the type of lottery game being played. For example, Washington State allows residents to participate in the state lottery at the age of 18, but they must be at least 21 years old to take part in other forms of gambling, such as casinos or sports betting.
In contrast, states like Wyoming set a higher minimum gambling age limit, ranging from 18 to 21 for casino games, depending on the location and type of establishment. Therefore, it is crucial for individuals to be familiar with their state's gambling laws before engaging in any activities.
To summarize, gambling age laws differ significantly across the United States, and players should familiarize themselves with the regulations in their respective states for a safe and enjoyable gambling experience. Whether it is lottery games, casino gambling, or sports betting, being aware of the legal age limitations is essential to avoid any complications or legal issues.